"The impact was so big, I thought my leg was off" – Baz injury update, targets Assen return
Monday, 13 March 2023 10:42 GMT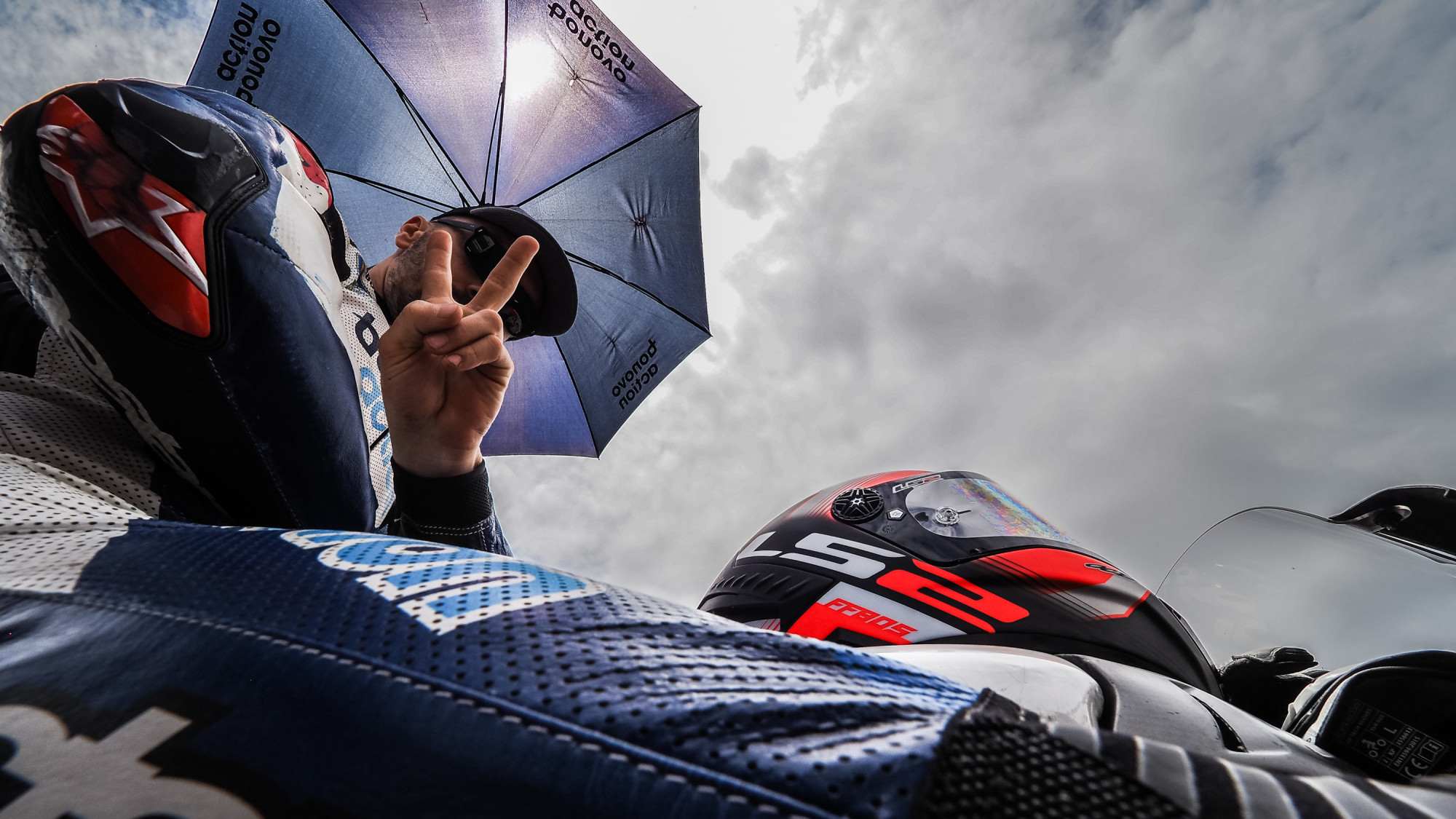 In one of the strangest incidents, Loris Baz feared that his leg had suffered much more severe damage after his Superpole Race collision with Alex Lowes, but is hopeful of being back for Round 3
It was looking like a much more positive weekend in Indonesia for Loris Baz (Bonovo Action BMW), with the Frenchman making gains on Saturday at the Pertamina Mandalika International Street Circuit and hoping for more on Sunday. Instead, a freak collision with Alex Lowes (Kawasaki Racing Team WorldSBK) saw Baz have his leg run over in the braking area for Turn 10, leaving him with a fractured fibula as well as a lot of damage to his ankle ligaments. We caught up with the Frenchman, who returned home, as he detailed his first thoughts on the incident, the long flight home, the chain reaction that caused it and the remarkable ambition to be back at the next round.
THE INJURY: instant thoughts, flying home and the surgery
"I felt straight away that there was something broken on the leg," began Baz, at home after a first surgery. "Honestly, my first thought after the impact was checking if I still had the leg because the impact was so big, I thought my leg was off. It wasn't nice but after that, the medical team did a great job. We saw the fracture of the fibula straight away, in the high part close to the knee. It was clear that there was some damage done to the ligaments of the ankle as they could see on the x-ray that there were more gaps in between the bones. I had a lot of pain, and the ankle was three times as big as normal. They told me that I needed surgery for the ankle for sure, but I decided to come back home and have the surgery there, as I have a great specialist. In 2016, I think I had 20 or 21 fractures in the foot after my Turn 1 crash at Mugello.
"I wanted to come back home, and it was a good choice; I saw him on Tuesday, as soon as I landed, and he did the surgery on Friday. He went inside the ankle with a camera to check all of the damage that could have been done. It's not a fracture by the impact, it's a fracture by the movement; when Alex hit me, the ankle went completely outside, so it's like a strain but it went so much harder that the ligaments of the ankle are broken. I thought that maybe just one was broken, but it was all of them. The fibula will recover alone, but I'm not sure exactly what the surgeon did – he told me when I woke up, but I don't remember! He told me there was more damage than first thought and that there's work to do, but he's happy with the job he did. I just need to be patient now."
Talking about the journey home, Baz said it wasn't nice but the pain wasn't too bad: "Honestly, the journey wasn't nice, but I am lucky that I was in a lot of pain for five minutes after the impact, but basically no more pain after that until I arrived home. If I moved, I could feel my fibula moving and cracking but if I didn't move, then I didn't have pain. After the surgery, I had a lot of pain because surgery on ligaments is kind of worse than any other bone. The worst thing is to do all the paperwork with the insurance, modifying flights, getting assistance but I am lucky that Eugene was there with me. Even though he's used to that, it was his first time doing it in the other side. He called the insurance, my girlfriend and parents... it went pretty well. The journey was long because it was a 40-minute flight with an eight hour wait, then an eight-hour flight with another eight-hour wait and then an eight-hour flight again! As soon as I was in the airport, I had the assistance, but I just had to wait for eight hours… it was boring but OK! I was expecting to suffer much more on the way back."
The Frenchman also recalled the importance of feet when racing and looked to countryman Jules Cluzel's previous injury: "We really need our feet to ride a bike well, so you need to have a good surgery, you need to take care when you come back. I had some experience from Jules Cluzel, who had the bad injury on the left foot and then he was struggling a lot to ride after that."
On the incident itself, Baz went through each detail, from a thin racing line to other factors, such as wind and more: "Everything can happen, but I think it was just a chain of events that caused the problem. The first is the condition of the track: you clean the track on one line as we're all riding the same line, but when you need to overtake, you have to go on the dirtier part of the track, but you don't want to be completely in the dirty part. So, you try and stay in the clean part as much as possible and you don't have this margin. Also, for Alex, the wind brought him closer than usual and then if he'd gone more to the inside, then he'd have gone straight on or crashed. The level is also so high, so it is harder to make a move with a lot of margins. All those details together create a chain movement, and I was the unlucky one at the end of the chain."
SEASON SO FAR: "We've made a step but not big enough, we'll get there for sure"
"It's been tough, but we've only had two rounds," continued the 30-year-old. "I thought all winter that we need to go racing to see where we are. Phillip Island was really difficult; apart from Michael who was riding really well and had something more than us, no BMW was faster than the other one with three completely different setups. In Indonesia, honestly, I felt a bit better straight away and I felt a bit better on Saturday. We made a good step and then in Race 1, after a Superpole, I lost a lot of time at Turn 1 with Rinaldi's incident, but I was able to come back closer to the top ten and with a lot of inputs, knowing where to improve. In Australia, we were really far off, and we didn't know where to improve. On Sunday in Indonesia, both times when we had incidents, I was in the top six and it is somewhere I haven't been since the first half of last year.
"Everyone in BMW and in the team is working really hard and nobody gave up. You can see with Kawasaki, we're not the only ones struggling, as Yamaha and Ducati are putting the level so high – especially Ducati. That's good for the Championship as there're faster bikes than last year and it's so tight. It's super easy to look stupid further down but you're going faster than last year. The level is much denser. I feel the improvement and we've made a step, but we haven't done a big enough step, but keep in mind that the winter was really short. I believe a lot in the project, and we'll get there for sure."
RECOVERY TIME: Assen likely, ligament healing crucial
Talking about recovery time, Baz has his sights on the next round, five weeks from now: "I don't know exactly the time of recovery, but the target is to be back at Assen and as fit as I can. At the moment, I can't do anything; I'm just sat on my sofa, with the leg up and with some ice. The goal is to be back at Assen as fit as possible, something that the surgeon also agreed on which is positive. For the first two weeks after the surgery, I can't do anything as I need to have two weeks of being completely off, so that the job he did with the ligaments can start to work. Then, I'll start the physio in ten days at the same place; the rehab centre is at the same place I have the surgery.
"I will miss the test but hopefully I can be back at Assen; I think it can be a good track for us, so we'll see. I think that 95% I will be at Assen; I'm not sure which shape I will be, but it is five weeks from now – a lot and not a lot! I'll have a bit less than three weeks when I start the rehab. I've had a lot of bone injuries and I know what to expect when you have a bone injury, but with ligaments, I don't know as the most important thing is to get back the movement of the ankle. I have a good physio, so we'll put in the work together."
Watch 2023's title race in style with every round LIVE and uninterrupted with the WorldSBK VideoPass!