TITANIC TRIO: the three stars on battling each other in head-to-head thrillers
Wednesday, 1 June 2022 05:27 GMT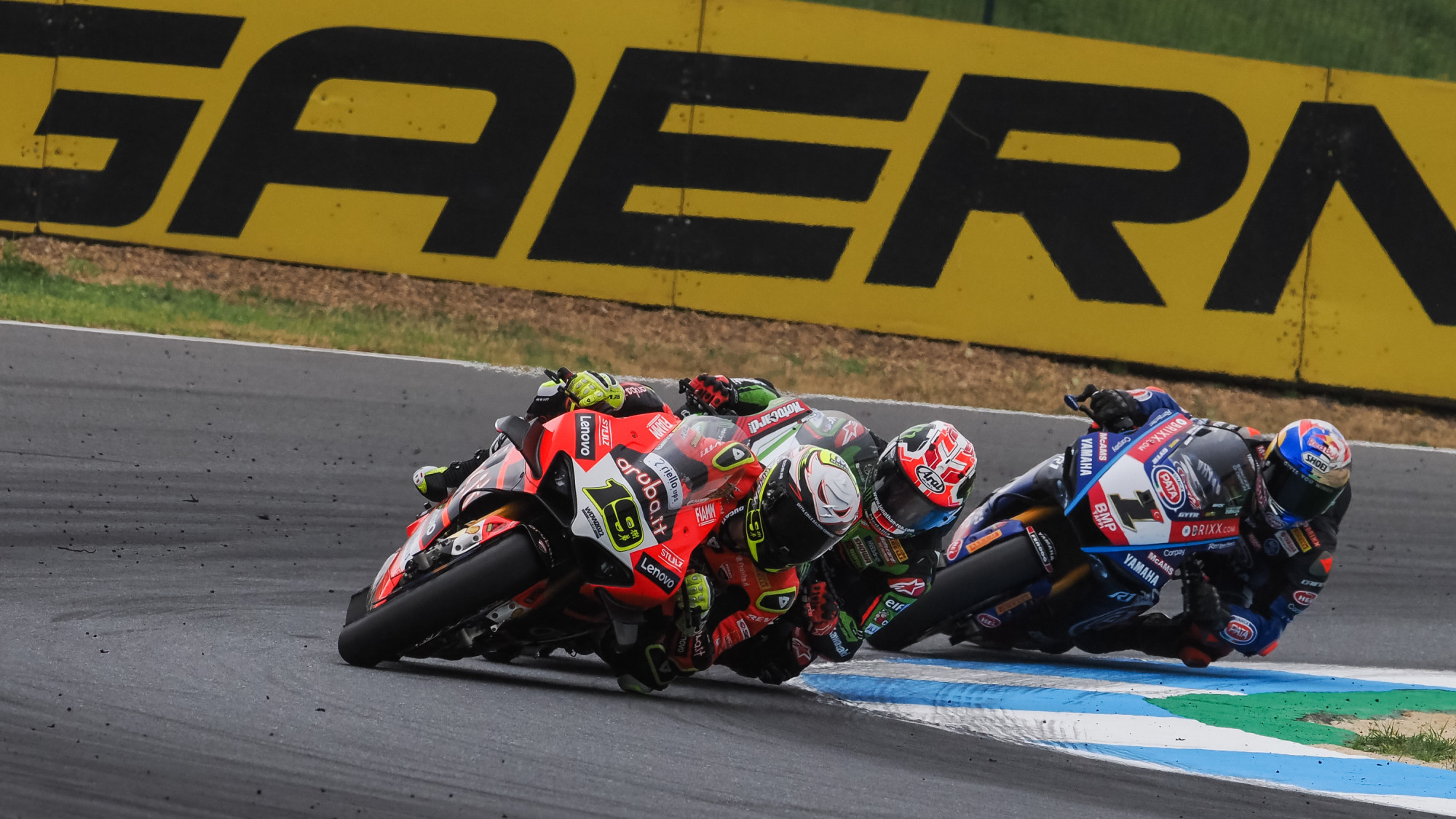 With all three going head-to-head in final lap showdown with each other, they – along with others – gave their thoughts on a stunning Estoril Round
The MOTUL FIM Superbike World Championship's visit to the Circuito Estoril for the Estoril Round was a spectacular affair with three incredible last-lap showdowns involving the top three in the standings. Alvaro Bautista (Aruba.it Racing – Ducati), Jonathan Rea (Kawasaki Racing Team WorldSBK) and Toprak Razgatlioglu (Pata Yamaha with Brixx WorldSBK) all showed their incredible skill and race craft to fight right until the end of the race in all three clashes. However, all three battled head-to-head with each other, as Rea took on Razgatlioglu in Race 1 and the Superpole Race, Bautista took on Toprak in Race 1 and Rea fended off Bautista in Race 2. Afterwards, they were all on hand to give their reaction to the battles as well as stars from MotoGP™ reacting to Razgatlioglu's incredible save.
THE BATTLES: the top three react after epic last-lap shootouts
In Race 1, Razgatlioglu and Rea switched positions no fewer than eight times throughout the 21-lap classic, but in the end, it was Bautista who came through to take victory after a last-lap battle with Razgatlioglu. The Superpole Race was decided on the last lap too, with Rea able to capitalise on Razgatlioglu's save to take victory. It was Rea who prevailed in Race 2 as well after battling back to pass Bautista at Turn 9 and claim victory, despite a huge slide through the final corner.
Speaking about Race 1, Bautista commented on striking at the right time: "I led the most important metres of the race! I tried to pass Toprak, but he was very strong at the braking points and the only point that I really matched him was on the exit of the last corner. My traction, especially in the last laps, was better and I gained a lot of distance there. I just played my card on the last lap. I tried to be very close to him at that point on the track. In the end, I can exit faster than him from the last corner."
After his Superpole Race final lap save, Toprak Razgatlioglu wasn't beating himself up too much: "We train with Kenan on his karting track, it's a small track and I'm always losing the front there and I try to pick it up! Only this time, the bike was a bit heavier! I'm always watching Marc Marquez, it's the same style! I remember 2020 at Jerez, I tried to pick up the bike, but I couldn't, so I had a small crash. However, today I said, 'I need to pick it up!' because I'm fighting! I'm very happy, we take good points and second is better than a crash. It was a strange weekend!"
Talking about Race 2's final lap showdown, Rea said: "I made a good Turn 1, by Turn 3 I was already there so I could be calmer at the rest of the track just to stay there. When it came to plotting a last lap move, I made a mistake with two laps to go and I had to arrive. It was really tough. I thought 'should I make a big lunge into six?' but he had such good traction through Turns 4 and 5 and along the back straight so it would've been too much.
"My mechanical traction from six was incredible. Parked the bike on the apex of Turn 7 and saw what I could do. He cut back again and then I thought about the chicane. Just go, park it on the apex, and try to cover my line. It was enough although I had a big slide at the last corner. I thought he was going to get me on the line, so I tried to make myself as small as possible. It was really, really exciting especially when you come out on top in a race like that." Get the full reaction from both Rea and Bautista here, whilst find out how exactly Rea stayed ahead of the Ducati here.
THE SAVE: making a MotoGP™ Champion jump off their sofa…
Razgatlioglu pulled off an incredible final-lap save in the Superpole Race of the Estoril Round which led to eight-time World Champion Marc Marquez jumping off his sofa, while reigning Champion Fabio Quartararo described it as "really crazy". The save drew comparisons between Razgatlioglu and Marquez, including from 2021 WorldSBK Champion Razgatlioglu.
Discussing Razgatlioglu's save, Marquez said: "I was sitting on the sofa in my house watching the race, and straight away I stood up! When I saw the save, it was a great show, it was a really difficult save. It's a really slow corner, uphill and also some wet patches." 2021 MotoGP™ Champion Quartararo, currently leading the standings this season, added about Razgatlioglu's save: "I'm following the Championship. I love it so much and I think it was crazy. The save from Toprak with the front, it was really crazy, and I really loved that."
THE VERDICT: "I've never seen anything quite like it!"
There was even more cheering from FIM President Jorge Viegas, who commented on what he described as some of the best racing he'd ever seen: "I think this was one of the best weekends of racing I have ever seen. All races, WorldSBK, WorldSSP, WorldSSP300, were fantastic. I think the public really enjoyed it because these are real races. Here, I think it was the most competitive, the most emotional because nobody knew who was going to win. You saw that a lot of races were decided over the finish line and in the last turn. I think the season up to now is great. The first three are really, really fighting for the victory in every race but Estoril was special." You can enjoy the full interview with Viegas here.
All three races, plus Razgatlioglu's save, drew widespread acclaim for the incredible action and skill on display, including from Keith Huewen on the MotoGP™ Crash.net podcast. After the Estoril Round, he said: "When you watch what they're doing with those bike... of all the races that I watched during the weekend, that was the one: Estoril between Toprak and Jonathan were just throwing their motorbikes at each other, and I've never seen anything quite like it! Extremely skilful stuff, stunningly skilful stuff; you would've called it reckless I think in the past but because it was those two, it was just brilliant to watch! The hairs are standing up on my arms now just talking about it, let alone watching it! It really was something a bit special!"
Watch the incredible 2022 season unfold using the WorldSBK VideoPass!