SCHEDULE: check out the all-important times for WorldSBK's return to action!
Monday, 5 September 2022 12:59 GMT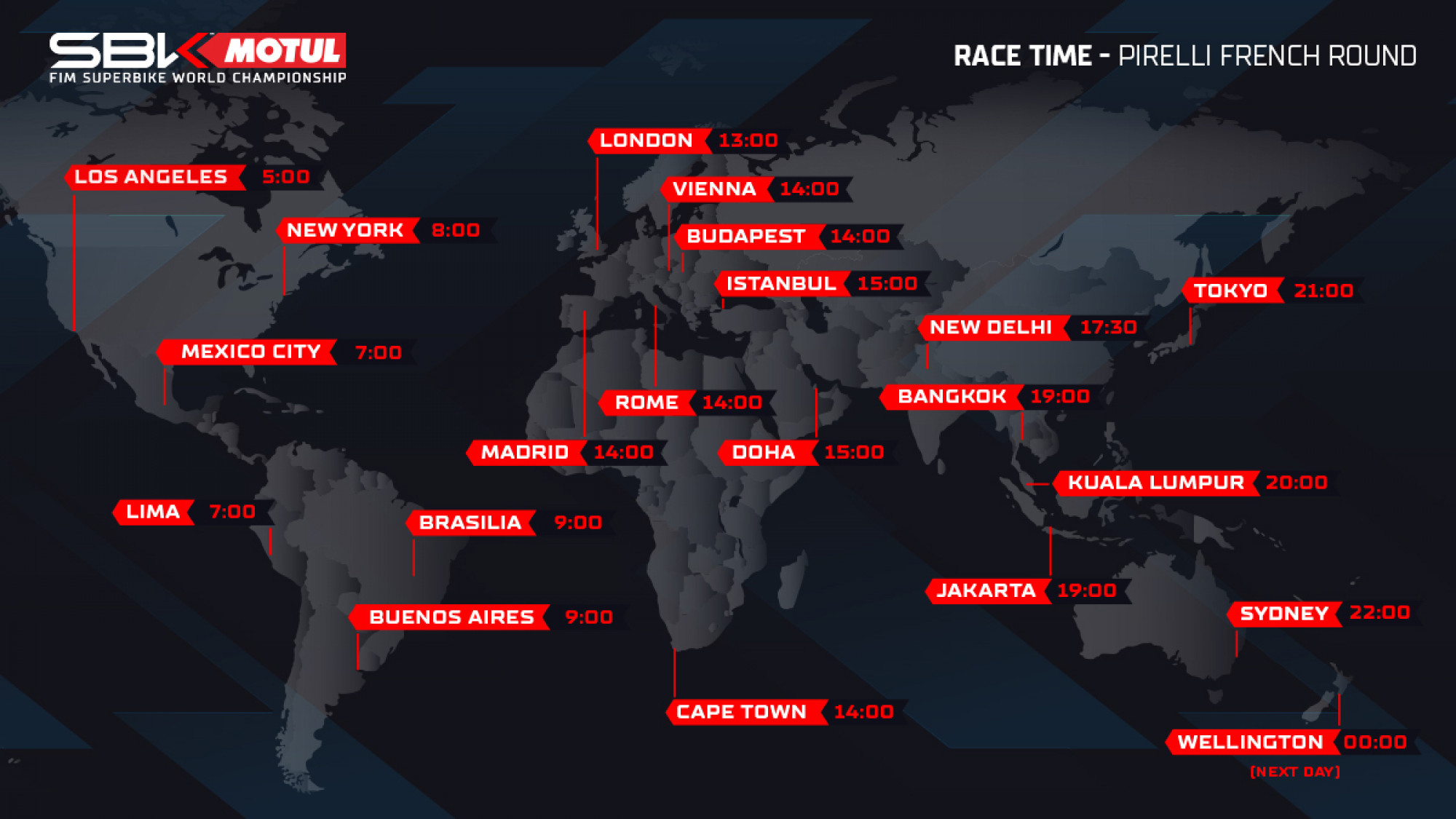 After a summer break, WorldSBK bursts back into action at Magny-Cours with the three-way title fight raging on
The MOTUL FIM Superbike World Championship returns to action at the Circuit de Never Magny-Cours for the Pirelli French Round, the seventh round of an enthralling campaign so far. Action kicks off on Friday at 09:00 Local Time (GMT+2) with the Yamaha R3 Cup before WorldSSP300, WorldSBK and WorldSSP Free Practice 1. In the afternoon, Yamaha R3 Cup's Superpole starts at 13:30 before WorldSSP300 Free Practice 2 at 14:15, followed by WorldSBK at 15:00 and WorldSSP at 16:00. On Saturday, WorldSBK machinery kicks off the action at 09:00 with Free Practice 3 before the all-important Tissot Superpole sessions. WorldSSP300 Superpole is at 09:45, WorldSSP at 10:25 and WorldSBK at 11:10. Racing starts with the Yamaha R3 Cup Race 1 at 11:45, before WorldSSP300 at 12:30, WorldSBK at 14:00 and WorldSSP at 15:15. On Sunday, three warm-up sessions start the day from 09:00 before jumping straight into four crucial races. At 11:00, the 10-lap WorldSBK Tissot Superpole Race takes place before WorldSSP Race 2 at 12:30, WorldSBK Race 2 at 14:00 and WorldSSP300 Race 2 at 15:15.
Follow every moment of action from Magny-Cours using the WorldSBK VideoPass!
Friday, 9th September (all times Local Time, GMT+2)
09:00-09:30 – Yamaha R3 Cup Free Practice
09:45-10:15 – WorldSSP300 Free Practice 1
10:30-11:15 – WorldSBK Free Practice 1
11:25-12:20 – WorldSSP Free Practice 1
13:30-14:00 – Yamaha R3 Cup Superpole
14:15-14:45 – WorldSSP300 Free Practice 2
15:00-15:45 – WorldSBK Free Practice 2
16:00-16:45 – WorldSSP Free Practice 2
Saturday, 10th September
09:00-09:30 – WorldSBK Free Practice 3
09:45-10:05 – WorldSSP300 Tissot Superpole
10:25-10:45 – WorldSSP Tissot Superpole
11:10-11:25 – WorldSBK Tissot Superpole
11:45 – Yamaha R3 Cup Race 1 (9 laps)
12:40 – WorldSSP300 Race 1 (dry race of 13 laps, wet race of 11 laps)
14.00 – WorldSBK Race 1 (21 laps)
15:15 – WorldSSP Race 1 (19 laps)
16:15 – Yamaha R3 Cup Race 2 (9 laps)
Sunday, 11th September
09:00-09:15 – WorldSBK Warm Up
09:25-09:40 – WorldSSP Warm Up
09:50-10:05 – WorldSSP300 Warm Up
11:00 – WorldSBK Tissot Superpole Race (10 laps)
12:30 – WorldSSP Race 2 (19 laps)
14:00 – WorldSBK Race 2 (21 laps)
15:15 – WorldSSP300 Race 2 (dry race of 13 laps, wet race of 11 laps)