SCHEDULE: all the key times as WorldSBK descends on Portimao!
Monday, 3 October 2022 08:21 GMT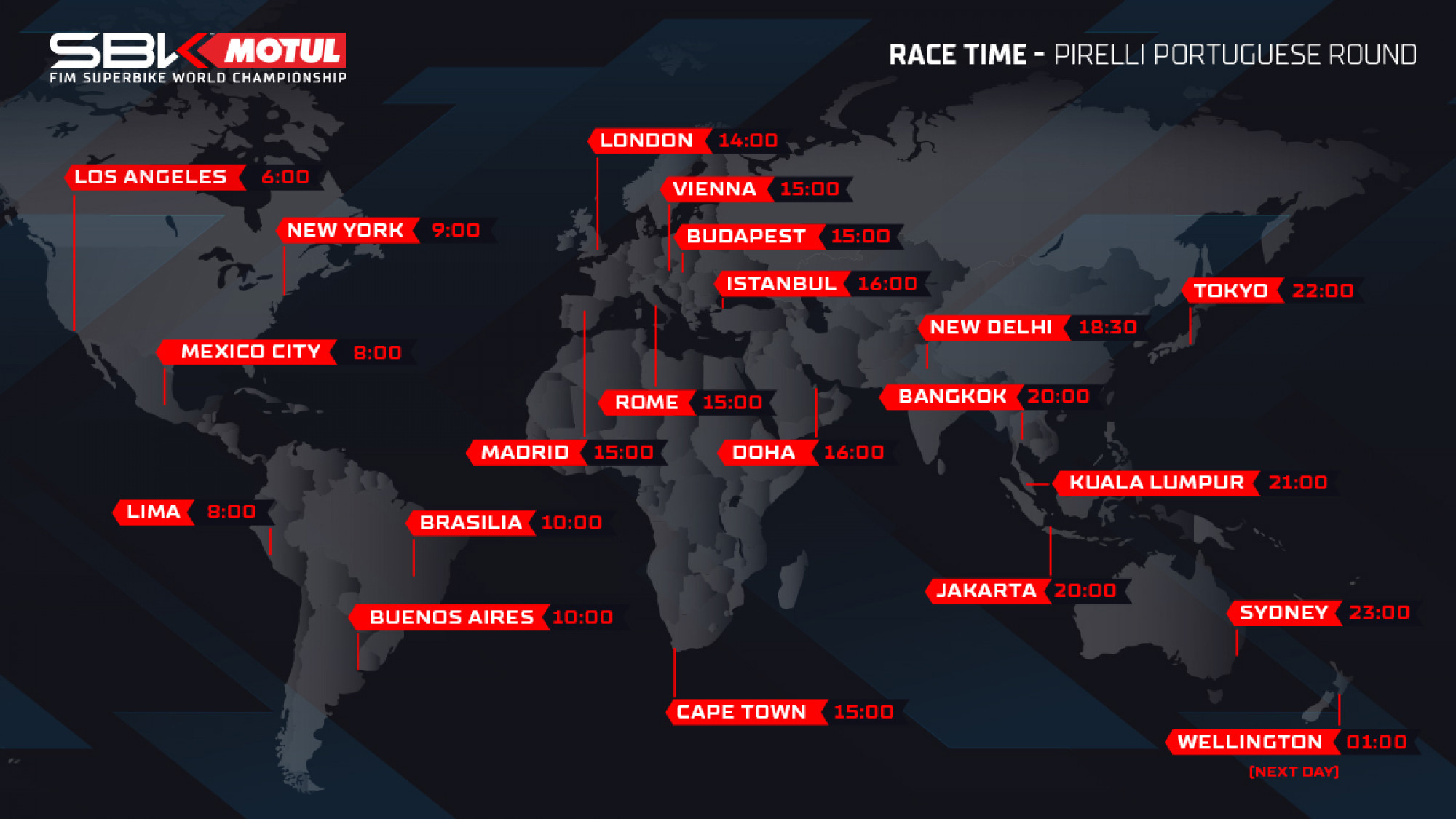 The WorldSBK paddock heads to Portimao for the final European round of the season with titles up for grabs in some Championships…
The MOTUL FIM Superbike World Championship heads to the Autodromo Internacional do Algarve for the final European round of the year, and plenty up for grabs in Portugal. All three classes head to Portugal for the Pirelli Portuguese Round, where the WorldSSP300 title will be decided. That Championship takes to the track first on Friday at 09:45 Local Time (GMT+1) with FP1, followed by WorldSBK and WorldSSP. The afternoon follows the same format with track action starting at 14:15 with WorldSSP300, WorldSBK at 15:00 and WorldSSP at 16:00. On Saturday, WorldSBK FP3 starts the action at 09:00 before the all-important Tissot Superpole sessions. WorldSSP300 will set the grid at 09:45, followed by WorldSSP and WorldSBK. Racing starts on Saturday afternoon with WorldSSP300 at 12:40, where this year's first Champion could be crowned, followed by WorldSBK at 14:00 and WorldSSP at 15:15. On Sunday, all three classes have Warm Up sessions from 09:00 before racing starts at 11:00 with the Tissot Superpole Race. Three races follow on from that with WorldSSP Race 2 at 12:30, WorldSBK Race 2 at 14:00 and WorldSSP300 Race 2 at 15:15.
Watch every moment from a potentially pivotal Portuguese Round using the WorldSBK VideoPass!
Friday, 7th October (all times Local Time, GMT+1)
09:00-09:30 – Yamaha R3 bLU cRU SuperFinale Free Practice
09:45-10:15 – WorldSSP300 Free Practice 1
10:30-11:15 – WorldSBK Free Practice 1
11:25-12:10 – WorldSSP Free Practice 1
13:30-14:00 – Yamaha R3 bLU cRU SuperFinale Superpole
14:15-14:45 – WorldSSP300 Free Practice 2
15:00-15:45 – WorldSBK Free Practice 2
16:00-16:45 – WorldSSP Free Practice 2
Saturday, 8th October
Saturday, 8th October
09:00-09:30 – WorldSBK Free Practice 3
09:45-10:05 – WorldSSP300 Tissot Superpole
10:25-10:45 – WorldSSP Tissot Superpole
11:10-11:25 – WorldSBK Tissot Superpole
11:45 – Yamaha R3 bLU cRU SuperFinale Race 1 (11 laps)
15:15 – WorldSBK Race 1 (14 laps)
16:20 – WorldSSP Race 1 (12 laps)
17:15 – WorldSSP300 Race 1 (restarted race, 8 laps)
16:15 – Yamaha R3 bLU cRU SuperFinale Race 2 (11 laps)
Sunday, 9th October
09:00-09:15 – WorldSBK Warm Up
09:25-09:40 – WorldSSP Warm Up
09:50-10:05 – WorldSSP300 Warm Up
11:00 – WorldSBK Tissot Superpole Race (10 laps)
12:30 – WorldSSP Race 2 (17 laps)
14:00 – WorldSBK Race 2 (20 laps)
15:15 – WorldSSP300 Race 2 (dry race of 13 laps, wet race of 11 laps)