Rookie Huertas 'missing winning feeling' in WorldSSP, "several teams" interested for 2023
Thursday, 23 June 2022 08:09 GMT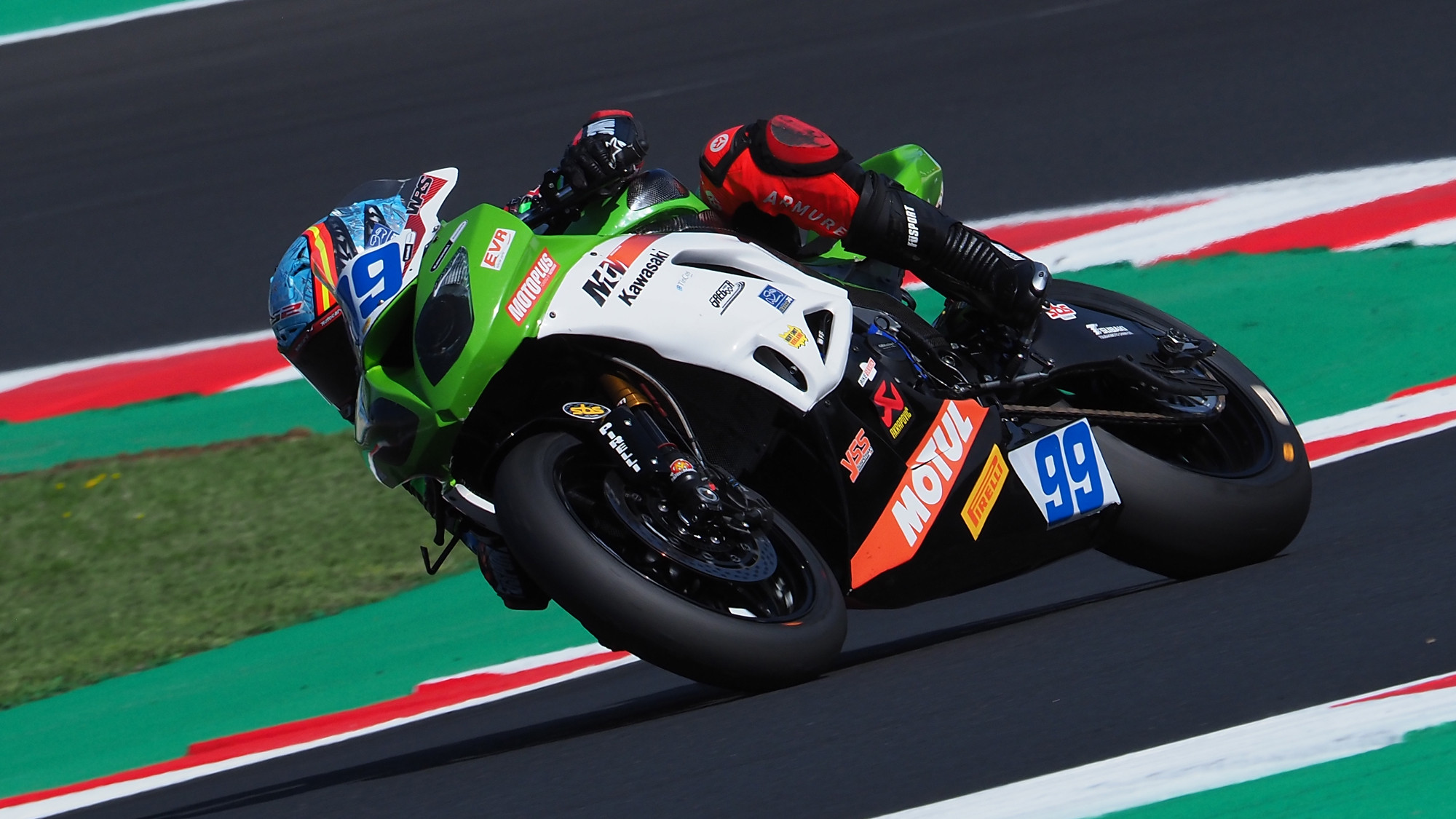 Without making much noise, newcomer Adrian Huertas is gradually moving forward in adapting himself to WorldSSP and a look ahead to his bright future...
The 2022 FIM Supersport World Championship has been an epic battle at the front of the field, whilst there's been plenty of impressive rookies too. Adrian Huertas (MTM Kawasaki) made the leap to the category together with his WorldSSP300 title-clinching team from 2021 and currently occupies tenth in the Championship, making an immediate impression as a potential front-runner. After the Pirelli Emilia-Romagna Round at the Misano World Circuit "Marco Simoncelli", the 18-year-old opened up about his season so far, aims and targets for the future and the impact he can make.
SO FAR, SO SOLID: Four top ten results from eight races, seven points finishes
"I think I am learning well, I am at a high level of riding," began the Spaniard, born in Madrid. "It's true that the level of the category has grown; there are some riders who have come from Moto2™ and brands have also entered, so it's complicated, but I am improving little by little. It is difficult because I am in a rookie team, and I am also a rookie in the category, so the problems multiply. But we are dealing with the situation. I think that if we had a few more resources for the bike, we could be fighting for the top five in the Championship. It's true that the Kawasaki is suffering a bit in WorldSSP, but we're not far away and the balance is positive."
Huertas has been in the battle at the front on several occasions, with a top seven finish in Race 2 at Estoril as his best result, despite a technical issue meant that data acquisition throughout the weekend was impossible. In Italy, however, he finished 15th in Sunday's race, his lowest finish of the season except for Race 2 at Assen in which he didn't finish. Despite everything, he remains only three points behind eighth in the general classification.
LEARNING CURVE: experience is everything, but the podium fight is tempting
Talking about his last race at Misano and 'what could've been', Huertas stated: "Yes, I could be higher, because in Sunday's race at Misano another rider touched me on the last lap when I was twelfth. We are regularly in the top ten and I think there is still room for further progress, because we are still in a process of improvement, so I think we will get there."
Is the idea of ​​getting his first podium in the category going through his head? The reigning WorldSSP300 Champion already sets deadlines for it, but no pressure: "The fight for the podium right now is not my place. We can be there if we are there at the right time, but it is not our place to fight. At Misano, we had a reality check, we saw that it is not our place yet and that we still have a lot to learn.
"I was clear that I am a fast rider, and a fast rider is there to be competitive with the bike they give him," continued the Spaniard. "You have to burn stages in the category. I would say that we are burning them quite quickly and I hope to have them all burned by the summer break to start fighting for the podiums in the second part of the Championship."
Huertas acknowledges that nobody is asking him for results in his debut in the category, but the desire to achieve success is always present: "Everyone takes pressure off me, but the one who puts it on is me. I really like winning! Last year, I got used to it; this year, I really miss the feeling of winning, so I'm the one putting pressure on myself to get it again. This is a year without pressure, and everyone knows it. I'm doing the best I can with the material I have and we're learning a lot."
SILLY SEASON: 'Several teams interested', maybe swapping categories?
Although the 2022 campaign has only reached the first third, it's the time of year when there is talk of renewals and signings. Silly season is already underway, especially for Huertas: "A lot of things are shaping up, because there are several teams that are looking at me, they see that I'm doing well with somewhat limited material, so things are moving for the future, but I don't know when they can announce what I will do next year, my manager is on it.
"I know that there are several options, both to continue in WorldSSP and to change categories, so I am very happy with what is to come, and I took it as something motivational, not as extra pressure. It would motivate me a lot to be the first rider to pass through the three categories of the Superbike World Championship. The options are there; I think there are even options to go to the MotoGP™ paddock, but I feel very comfortable in this paddock, and I want to continue here."
Follow the 2022 WorldSSP season wherever you are with the WorldSBK VideoPass!