RINALDI OPENS UP: "Alvaro's arrival in the team makes life easier… he brings us just one way to work"
Friday, 22 April 2022 07:32 GMT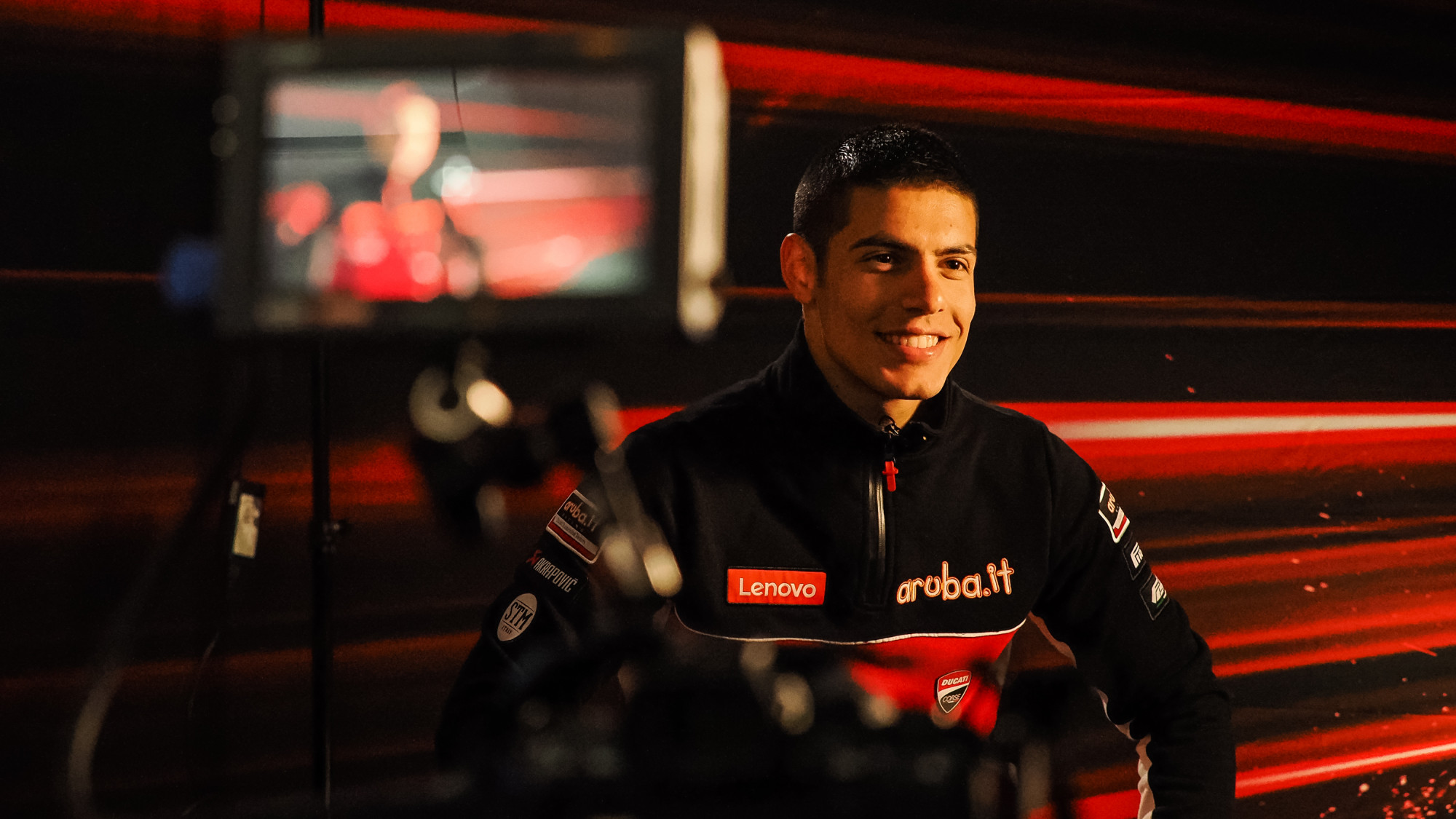 Before the Dutch Round, Italian rider Michael Ruben Rinaldi opened up on life with teammate Alvaro Bautista and battling at the front but missing out on podiums
The 2022 MOTUL FIM Superbike World Championship started with three fourth-place finishes for Michael Ruben Rinaldi (Aruba.it Racing – Ducati) as he starts his second season with the factory Ducati squad. Ahead of the Motul Dutch Round, Rinaldi sat down to discuss in-depth about the start of the 2022 season, how teammate Alvaro Bautista helps him and the team and the improvements he has looked to make on his Panigale V4 R machine as he goes in search of more podiums and victories.
A NEW TEAMMATE FOR 2022: Rinaldi reveals how Bautista benefits him…
Now in his second season with the Aruba.it Racing – Ducati squad, Rinaldi finds himself with a new teammate on the factory Panigale V4 R with Bautista making a return to the team. Bautista first joined the team in 2019 when he first moved into WorldSBK, but, after two years with Team HRC, returned to winning ways at Aragon. Rinaldi explained how having Bautista alongside him in the box for setting up the bike, analysing data and more.
He said: "The arrival of Alvaro in the team makes, I think, life a little bit easier. My relationship with Scott was good, it is still good also, even if he's not my teammate, but the reality is that he is different than me physically. He is taller than me, he is heavier than me, he's using a totally different setup because he is his own weight. What Alvaro brings to us is just one way to work for the team. When we are in trouble, we can see his data. For myself, his riding style is similar to mine and he's small like me. When it's difficult and we see that the bike is more or less good, but I'm still a little bit slower, I say 'okay, stop guys, I'm looking at the data'. I understand that it's me missing something at some points of the tracks, so I can improve that because I'm seeing what I'm missing. This is really good for me because since I arrived in WorldSBK, it was never possible for me."
Bautista's return to racing with Ducati was marked with victory in Aragon when he won both the Tissot Superpole Race and Race 2, with Rinaldi able to battle with him in the early stages of both races before dropping back. The results mean Bautista leads the Championship for the first time since 2019 but Rinaldi believes this suits him. He said: "I love that he is the man right now because all the pressure is on him, so I'm the underdog right now. Life is simple, all the pressure is on him. My goal is to beat him and beat everybody else. But doing that without pressure is good. A few wins when nobody may be expecting that or he's the one that you expect to win, it gives me a little bit less pressure and I'm enjoying riding the bike."
BOUNCING BACK: can 'mixed' Aragon help Rinaldi to Dutch delight?
Rinaldi claimed three fourth-place finishes at the season-opening Aragon Round after battling in the lead group of all three races as he looked to start his second season with the factory squad in style. Teammate Alvaro Bautista went on to win two of the three races after thrilling battles with Toprak Razgatlioglu (Pata Yamaha with Brixx WorldSBK) and Jonathan Rea (Kawasaki Racing Team WorldSBK). Ahead of the Dutch Round, Rinaldi explained how he hopes races at MotorLand Aragon can help him to stand on the podium at the TT Circuit Assen; something he achieved in the Tissot Superpole Race at the same venue in 2021.
The Italian said: "The Aragon Round was quite positive for us. We ended up fourth in all three races, battling with the first group. It's like mixed emotions. For a lot of time, I was there in second, third, fighting for the podium and in the last laps, I couldn't fight with them anymore. I finished fourth, so I'm happy about the big picture of the weekend. But I remain a bit disappointed about the podium because we missed it. When you give your 100% and you don't achieve the podium, even if it's close, it's a little bit frustrating. I gave my maximum and they were faster than I was at the end of the race. We have to accept the reality. But we showed that our speed is there. And we need to find that consistency in the whole race and also the last laps. If we find that, we will be there. At the moment, we have done just the Aragon Round, so I only have the feeling from that circuit. I think that turning the bike, I need to use a lot of rear grip in the entry of the corner. When the rear tyre goes down, I lose a little bit of confidence and I can control the bike less. I think we have to focus on that. Just make the bike turn a little bit better. Here we are at a different track, I think it has fewer long corners, so maybe the tyres can last a little bit longer. The goal is to be able to fight for the podium in all three races. After we have missed the Aragon podium, I want this one really, really bad. Every track is a different story. This is our goal."
SMALL CHANGES: the differences between 2021 and 2022 for Rinaldi
2022 is Rinaldi's second campaign with the factory Ducati squad and he now has more experience with the team and on the factory bike as he goes in search of a more consistent season. Rinaldi claimed three wins and seven podiums in 2021 and will be hoping to match, and better, that tally throughout the 2022 season, with changes made to his Ducati Panigale V4 R designed to help him with this.
Explaining the changes, Rinaldi said: "First of all, the difference between last year's bike and this year's bike, there is no difference. What changed for us is we tried a new swingarm. I can say it is not really a big difference. What we focused on in testing was to try to find our base and try to work better overall. Now the bike, compared to last year, is more or less the same. A different swingarm but more or less the same. I am able to brake really hard. If we have a bike that is really good in entry and can turn well and have a good balance at the exit of the corner, we can fight for the win. I think that now we improved the entry. We miss a little bit on the exit, but we have to compare everything, and we can be there. To improve our consistency in the Championship, we have to find a really solid base, and this is what we tried to do in preseason testing. Our job was to find a good base, not just a fast bike, but a bike that can be fast in different tracks. I think our base right now is better than last year, I can brake really, really hard compared to last year, and I can use the bike in a different way. I have a wider window to work in."
Watch every moment of action from the Dutch Round in style using the WorldSBK VideoPass!