Lowes on day 1 at Jerez: new items, potential benefits from Marino and fitness updates
Wednesday, 26 January 2022 17:51 GMT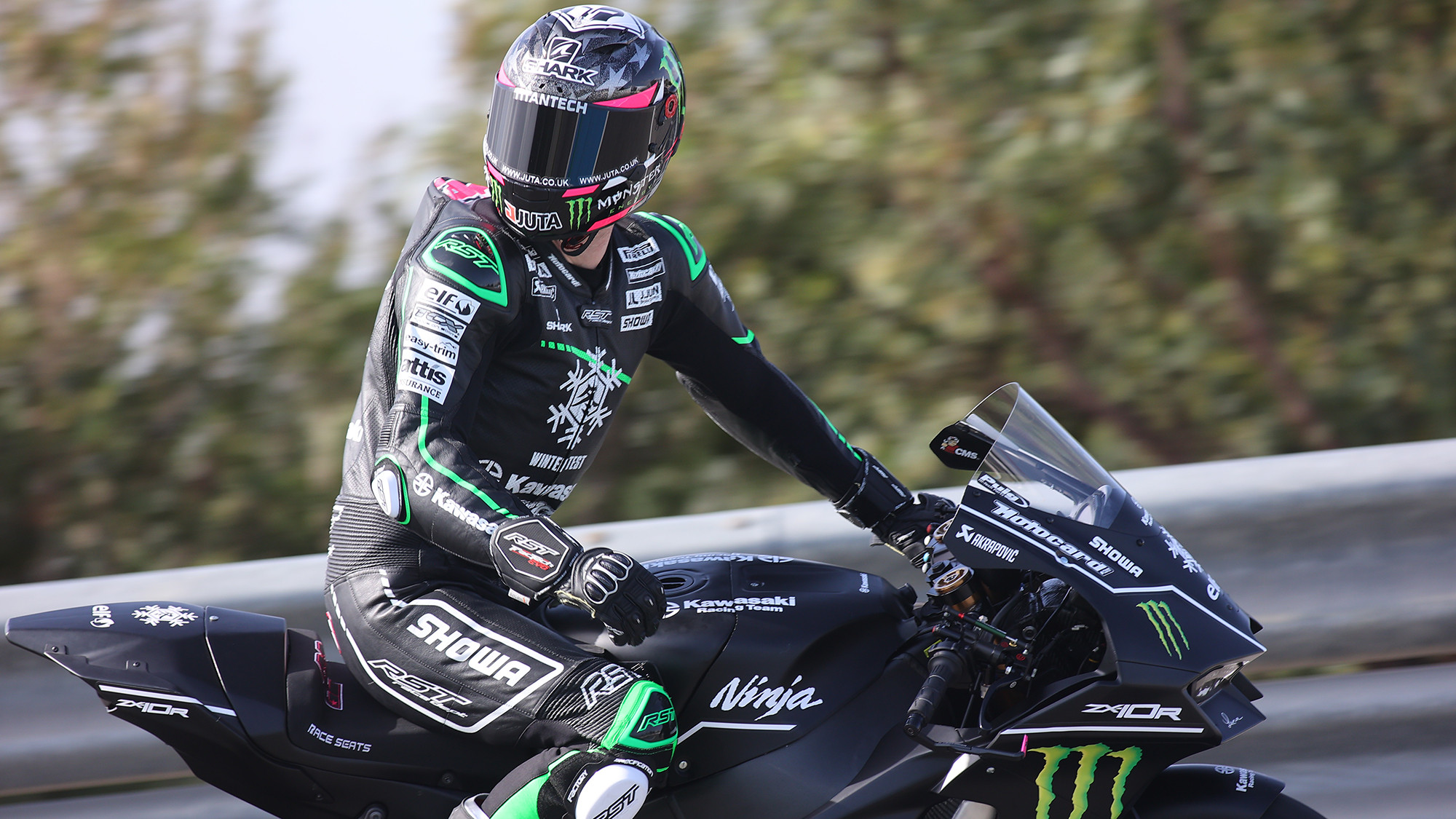 The Brit was the only KRT race rider on track at Jerez on Wednesday but was still able to find a lot of positives from his 41 laps
Alex Lowes and Kawasaki Racing Team WorldSBK were back on track as a two-day test got underway at the Circuito de Jerez – Angel Nieto for a few MOTUL FIM Superbike World Championship outfits. British rider Lowes was one of these after he completed half-a-day of action on Wednesday, looking to start 2022 in a strong way after an injury-hit campaign at the end of the 2021 season.
WHAT WAS LOWES WORKING ON?
After missing races at the end of last season, Lowes was back on track in southern Spain to work on his Kawasaki ZX-10RR machine ahead of racing action starting in April. It was his first day on track since a two-day test at Jerez in December, with Lowes posting the fastest lap time of the day on the unofficial times, a 1'40.316s after completing 41 laps.
Explaining what he had been working on throughout the day, Lowes said: "We didn't make too many laps. We have a really good schedule of things to test so we need to make sure that if we choose something new, it's definitely better. It's easy to make the wrong decision. We tried a couple of things today; I have a couple more things to try tomorrow. Between here and the Portimao test, hopefully we can finalise our base bike for 2022. I tried some new things from Showa on the front of the bike, we tried some electronic things that were positive. Tomorrow, we're going to focus more on the rear of the bike to try to have some confidence in the middle of the corner, to lift the bike, and get off the corner a little bit better. Today was more focused on the front, and tomorrow we're going to look a bit more at the rear. If we get through another two or three items tomorrow, it's been a good test for us."
HELP FROM FLORIAN MARINO
While teammate Jonathan Rea did not test on Wednesday at Jerez, Kawasaki did utilise two bikes with former WorldSSP, STK1000 and STK600 rider Florian Marino taking to the track. Marino has acted as a coach for Lowes inside the KRT box, and the six-time STK1000 podium finisher was able to get on track with Lowes at Jerez.
Explaining the thought process behind this, and the potential benefits for himself, Lowes said: "Florian was able to help us with introducing a couple of new things, to try and get them more ready for when me and Jonathan ride. It's nice to have Florian on the bike. I work with him every weekend as a coach, and if he understands the bike a bit more from the experience, he gets from riding it, I think he's going to be able to help me a little bit more. It's positive for the team to try to help with the testing load and it's positive for me because I think he can give me some better information on the race weekends."
LOWES PROVIDES INJURY UPDATE
Lowes started the 2021 campaign strongly with KRT, claiming three podiums at MotorLand Aragon to kickstart the season. However, the Brit found himself on the sidelines at various points throughout rounds at Jerez, Argentina and Indonesia due to injury. Providing an update on this, Lowes said: "I feel good. It was nice to be back on the bike and start 2022. I need to be healthy, that's the main thing. Last year, I never rode at more than 80 or 90% fit. Last year I wasn't able to ride like I wanted to because of my body. The target this year is to try and stay as healthy as possible. If I'm healthy, I think I'll be fast. Last year, I didn't have any rhythm but when I was racing, even though I missed a lot of races, I was still able to be fast over time. The speed is there, and we just need to build up some confidence, some consistency to start the season."
Follow all the action from WorldSBK in 2022 using the WorldSBK VideoPass!