"He's exceptional… it's a pleasure to watch!" – Davies hails Bautista in 2022 title race
Wednesday, 24 August 2022 08:18 GMT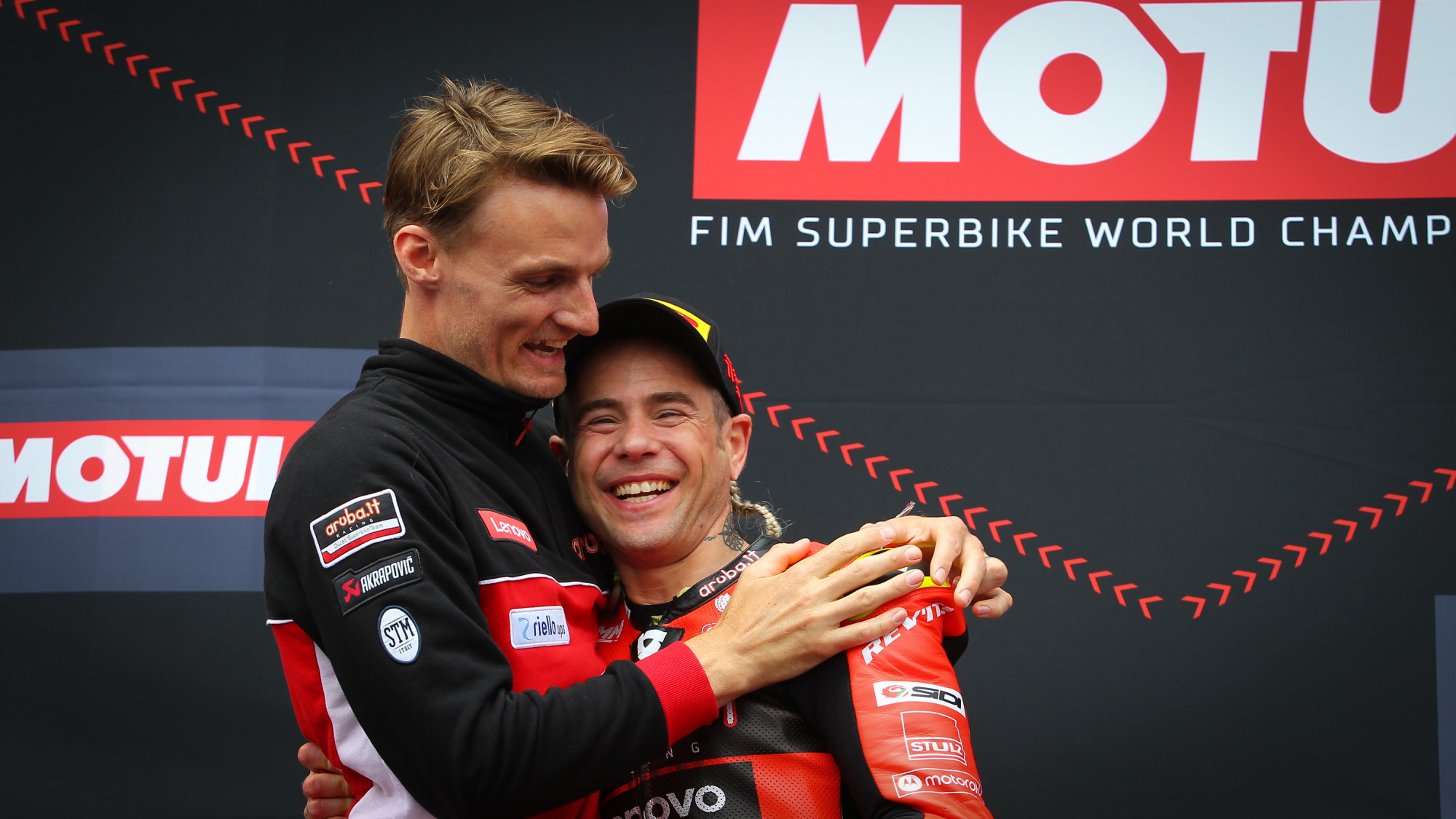 Once a rival, now a rider coach: Chaz Davies was full of praise about Alvaro Bautista's approach to success in 2022
Whilst the 2022 MOTUL FIM Superbike World Championship paddock is enjoying summer holidays before the quick-fire second half of the season, there's still plenty to talk about. Championship leader Alvaro Bautista (Aruba.it Racing – Ducati) may have a 31-point advantage over six-time World Champion Jonathan Rea (Kawasaki Racing Team WorldSBK), but it's not been as easy as it has looked at all times. We spoke with Aruba.it Racing – Ducati's rider coach and ex-WorldSBK runner-up Chaz Davies, to talk about Bautista's season and how Davies himself can influence the Spaniard.
Talking about Bautista's most recent victory at Most in Race 1 and also about his ability in general to come good in race trim, Davies said: "To be honest, Race 1 was a bit unexpected. I know Alvaro and one of his qualities, amongst many, is that he's so good at just taking another thousandth of a second away one lap, to the next lap, to the next lap and building up his rhythm and his confidence in the smallest steps. I wasn't sure about Race 1, I thought it could be a race to consolidate a few points and just keep the head about water. Once again, I think Alvaro's surprised a lot of people in the garage with the way he's able to build his rhythm through the race and also, I think, ride around problems. A lot of people probably watched that and think everything is perfect for him, but he's managing a lot.
"He's exceptional. He does such a good job at understanding where he can push, where he can't push in the races and also reading the races and the calm approach that he's bringing this year all season. He's taking his time to understand, then riding it to his feeling. His feeling is obviously at such a good level with this bike at the moment. It's just a pleasure to watch at the minute and it's really exciting to watch in the garage as well, to be part of it. I don't want to talk about the future and then long term of the Championship. I didn't do that as a rider, and I definitely won't do that as a coach. We'll stay focused and keep making small steps and keep Alvaro in the same confident position that he currently is. He looks like he's enjoying the bike and we try to keep it like that."
Talking about how he can help his ex-teammate from 2019, Davies stated: "With Alvaro, he has the same or more experience with me. The first thing is that I really respect his experience in this sport. He's not a young rider where you need to give 20 pieces of advice to after every session. It's really the opposite of that. I give a couple of bits of information per weekend. Not too much and keep it very simple, as simple as I can. What I say is something that I feel is really important. Then we work on it. I tell Alvaro directly, but I also work on it with his crew.
"Sometimes, it could be a line choice or maybe a way to interpret the corner, but on the other hand it could be something that I see maybe from his setup or his electronics setup or something like that. I ask him and I ask his crew and I try to piece the puzzle together. Then I piece the puzzle together with some video footage to show, to explain better what I'm saying. It's giving important information in small chunks and letting him do his job. I think he can do 99.9% and we just need to glue together the last little bit of the puzzle."
Watch the 2022 season in style with the comprehensive WorldSBK VideoPass!