HOT HEADLINES FROM ESTORIL: the latest instalment of fighting talk in 2022
Tuesday, 24 May 2022 07:27 GMT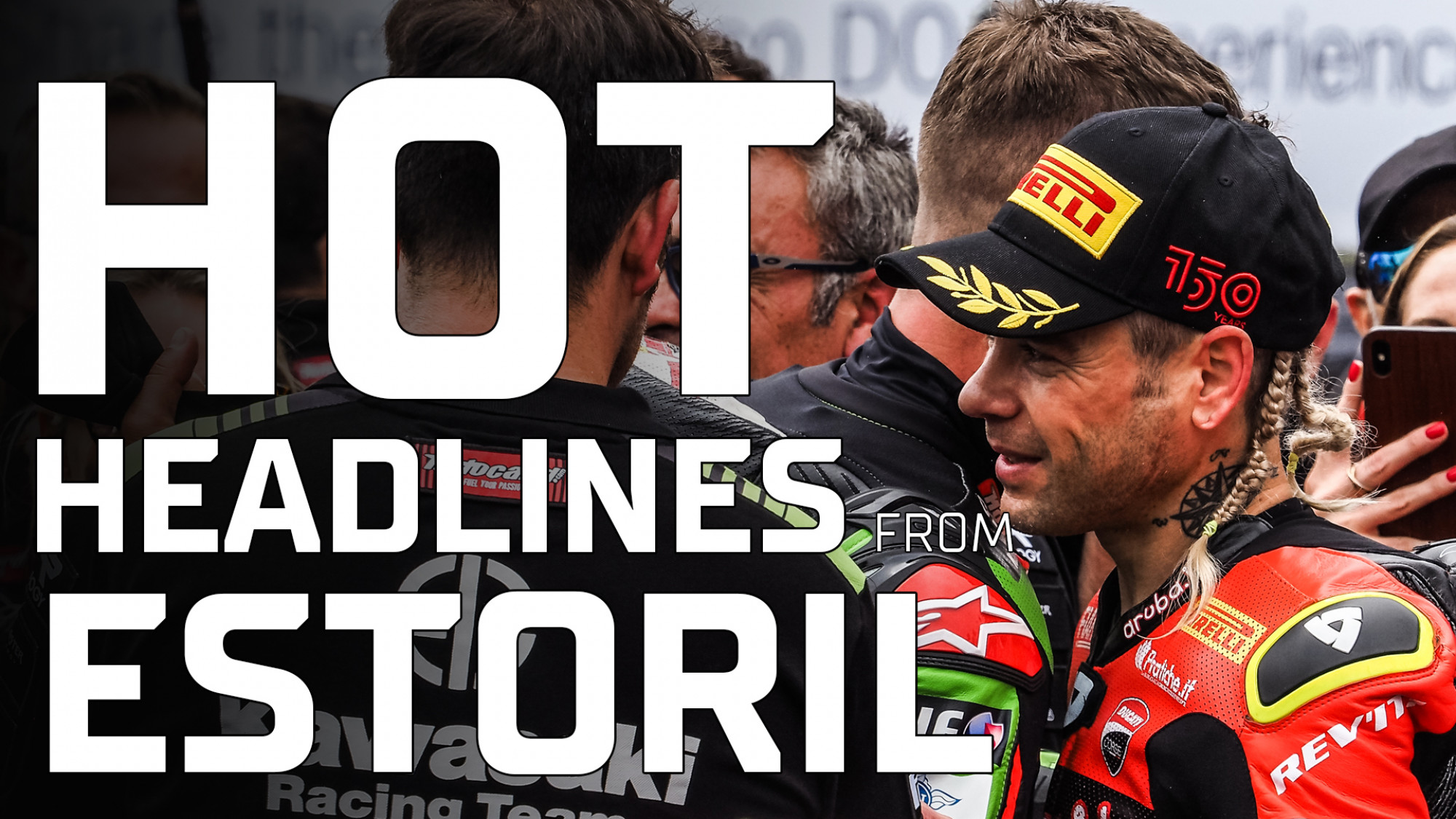 With final lap thrillers aplenty, there's no shortage of talking points from the weekend of action
The 2022 MOTUL FIM Superbike World Championship saw a history-making Estoril Round, with all three of the WorldSBK races being decided on the final lap, the first time this has happened since the introduction of the three-race weekend. We got down on the ground once the dust had settled, with some riders elated, other frustrated and one in particular surprised to be even racing at all – check out this week's hot headlines from Estoril.
Jonathan Rea (Kawasaki Racing Team WorldSBK): "I thought I f****d it to be honest!"
Getting the job done on the final lap of Race 2 but giving himself a late scare, Jonathan Rea took a stunning Race 2 win in Portugal: "I had two or three opportunities: Turn 7, Turn 9 where I passed or the cutback on the final corner, I thought I had enough edge grip so that I could go inside. I felt the earlier in the lap that I did it, the more I could gain track time for the long straight. I tried at Turn 7, but he cut back, so I parked it on the apex at Turn 9 and just stopped him a little bit from dropping on top of me, then I did my line and got a good exit. I thought I f****d it to be honest because I had such a big slide, so I thought he was going to do me on the line, but eventually, I was able to get the job done. It's nice when a last lap goes your way!"
Alvaro Bautista (Aruba.it Racing – Ducati): "I expected him to attack!"
Bracing himself for the final lap attack from behind, Alvaro Bautista was prepared to fight in Race 2: "I expected Jonny to attack! In Turn 7, he tried to pass but I was prepared. In the chicane, I knew he would try but I defended, leaving only a few metres between the inside kerb and me but he just put the bike inside. It's difficult to defend that corner more than I did. It's also difficult to recover the position because it's very close to the next corner and you don't have space. I tried to defend, and, in the end, I couldn't, and he gains it very well. We have some areas to improve. In the corner when we're without brakes and without the gas, the bike can turn a bit better. On the direction change, we need to have the bike a little more precise on the line and a little bit quicker. The bike's a bit slow right now; I think it's because the bike doesn't turn as well as others, so we're in a bit of delay."
Toprak Razgatlioglu (Pata Yamaha with Brixx WorldSBK): "On the last lap, I was watching the race between Jonny and Alvaro!"
Denied a race win at Estoril, Toprak Razgatlioglu lamented a lack of rear grip in Race 2: "Race 2 we started good, my plan was to follow Jonny and keep the rear tyre for the last lap. However, after 10 laps, I was feeling too much spinning. In the last corner, I lost time and there was a big gap, so around the rest of the lap, I tried catching back up again. Every lap like this, I didn't get a good exit. We were spinning, so I went back. I'm not really happy because I wasn't fighting for the win, only third. After 10 laps, I couldn't ride easily; I enter the corner and I felt the rear sliding and, on the exit, I tried to find grip, but I couldn't. On the last lap, I was watching the race between Jonny and Alvaro!"
Alex Lowes (Kawasaki Racing Team WorldSBK): "The settings of the bikes are quite different, but it's not through from my request"
Talking about whether or not his team could work with Jonathan Rea's a bit better, Alex Lowes commented: "Obviously, there'd be some benefit of the crew working together a little bit better to improve the package a little bit, because the other guys are improving a lot in WorldSBK, so we need to each other's help to push each other forward. Me and Jonny have a good relationship, especially in the garage, so hopefully we can work a bit better in the garage to help each other. The settings of the bikes are quite different, but it's not through from my request. The team decide to go a different way. The team have a different idea to the other side of the garage."
Scott Redding (BMW Motorrad WorldSBK Team): "I couldn't stop the bike… I was just hindered everywhere"
A change from Saturday to Sunday meant Scott Redding's potential was limited: "We made a change with the bike from Race 1 to the Superpole Race and Race 2. I used the SC0 rear tyre and thought that was some of the issue. I expected it to be better for Race 2 with the SCX but it was the same. No drive, I couldn't stop the bike, nothing more to say. I had good pace to fight for the top six but the change we made meant I couldn't stop the bike. In Race 1, I could stop the bike but the change we made meant it was gone in Race 2. Exiting the corner, I had no drive, I was trying to go with the guys. I was just hindered everywhere.
Iker Lecuona (Team HRC): "I heard an explosion on the Warm Up lap!"
Talking about racing without a mudguard in Race 2, Iker Lecuona said: "I don't know! I braked and I heard an explosion on the Warm Up lap and I can't do anything! I arrived to Turn 1, heard something on the bike and then something from the bike went really fast passed me on the right side! I thought, 'no way, it's not possible to me now in P4!'. The reality was that when I started the race, it was difficult to stop the race and there were some vibrations and to brake with angle. The bike moved a lot on the front so it was full vibrations but it was very difficult honestly. I went wide at Turn 1 and lost the top guys. I am happy because I could readapt everything in the race but frustrated because I know it was a good chance to stay in front. Two P6 and one P4 and also, P5 in the Championship!"
Andrea Locatelli (Pata Yamaha with Brixx WorldSBK): "If we can do more testing…"
Stating that with more testing, he could go quicker, Andrea Locatelli said: "If we can do more testing, I can ride the bike more and get more feeling and then improve. In WorldSBK, we can work with a lot of things; we can move the bike a lot, work on electronics etc, so we have a big package. For sure, it's important to ride and I remember last year, we had a lot of time, we can rest, think to do something to improve the bike and then I improved a lot. Last year, for me it was interesting; we did the Navarra test and after that, we go to Assen and at Assen, I got my first podium and then we continued in a good way. In the test, we found something good for me so when went racing, we arrived ready, at this point. So probably, with some tests, we can improve."
Xavi Fores (Team Goeleven): "I called my cousin to say bring my leathers, helmet and come flat out!"
A late call-up and from the commentary box to a double top ten, Xavi Fores was elated: "I called cousin to say to him to bring my leathers, helmet and come flat out! He was driving all night and arrived at 6am this morning, 7am I arrived here doing some checking and 9am, I was on the track! It was crazy but I enjoyed a lot! Session by session, we started to build the bike a bit more for me; in Race 1, I did a good job. I wasn't so strong with the start, but my pace wasn't bad, so to finish in the top ten in both races was nice and unexpected a little bit."
Watch the 2022 season in style with the WorldSBK VideoPass!