HOT HEADLINES FROM ARAGON: fall out and fighting talk from Round 1 of 2022
Tuesday, 12 April 2022 08:50 GMT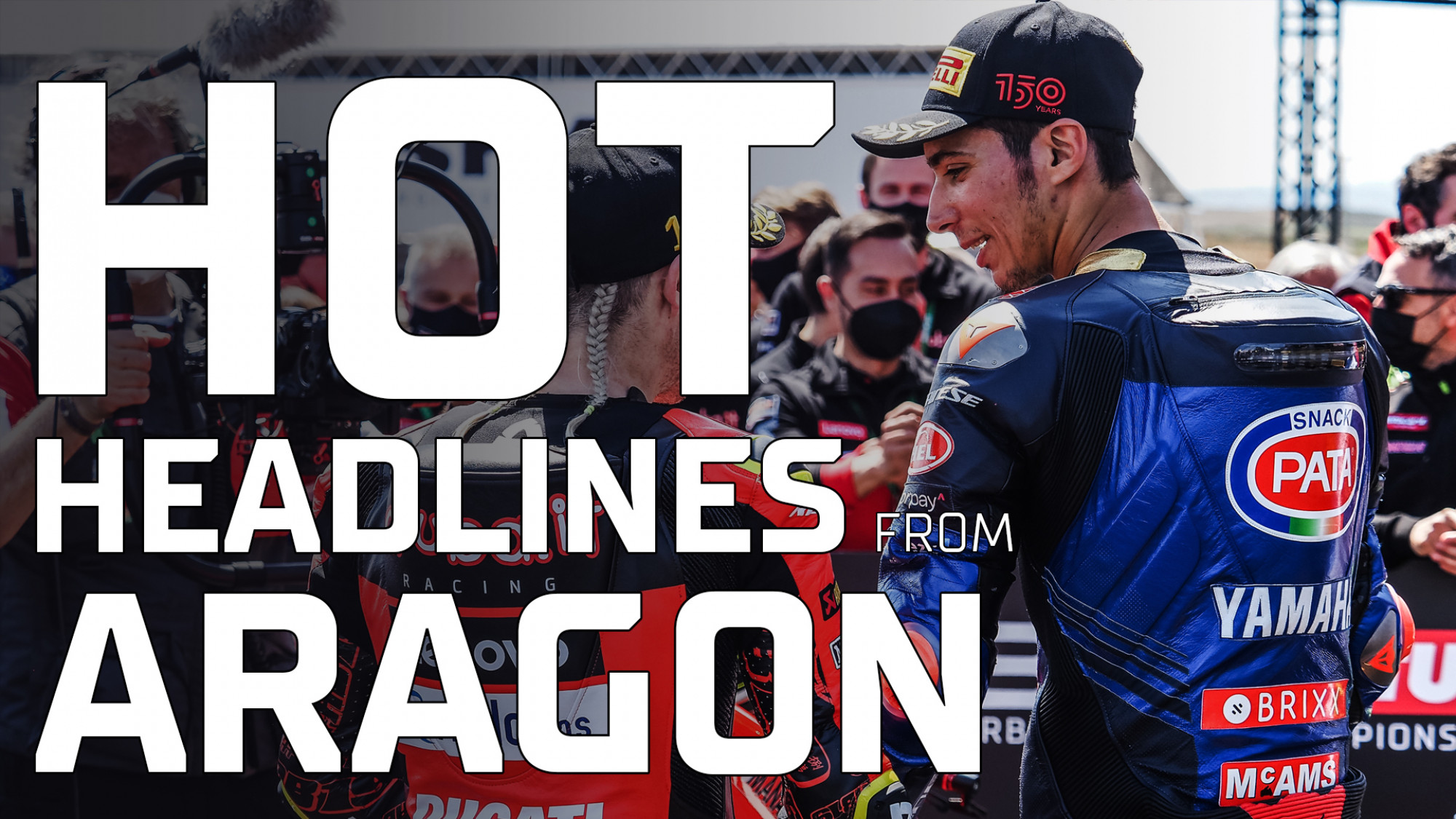 Apologies, denial, revelations and disappointment: the outspoken words from 2022's opening duel
The 2022 MOTUL FIM Superbike World Championship erupted into action this weekend as the preseason ended and racing ignited. With all the drama on-track, there were plenty of talking points once the dust settled, with riders commenting on their on-track fighting, their emotions of the success, as well as some big revelations that may impact on the coming rounds. Talking tough after fighting hard, there's plenty of hot headlines from MotorLand Aragon and the Pirelli Aragon Round.
Alvaro Bautista (Aruba.it Racing – Ducati): "Nobody's unbeatable; I feel better now than in all my career"
It was a Sunday double for Alvaro Bautista, with the return to Ducati being a special one. He denied being unbeatable however, despite feeling the best he's ever felt in his career: "Nobody is unbeatable but like I said yesterday, I just did the race, got the result and started to build up the confidence and a good base for the Championship. In the Superpole Race, I say 'OK, let's try!' and I felt a bit freer, so I pushed from the beginning to get my rhythm. I pushed to the limit that the track allowed, me never trying to risk more. But nobody is unbeatable.
"After the Superpole Race, I realised that I could show my best and show the people that I am here, and I want to go for more. I was looking for the limit in every corner but not going over it. Three years ago, I was very, very close to the limit and it was easy to go over it. Now, I have more space before the limit. I feel better now than in all my career… physically but also mentally."
Toprak Razgatlioglu (Pata Yamaha with Brixx WorldSBK): "We went back to the old electronics… I think we will come back to the 2021 bike completely"

One of the hottest topics was reigning Champion Toprak Razgatlioglu switching back to the old electronics package, and speculating that he and his side of the team may switch to the old bike all together for Assen: "We went back to the old electronics this weekend as I feel much better with the old one, the new one is good but, in some areas, I am feeling better with the old one. Maybe we'll go back to old set-ups for Assen, but we will see. We'll see at the next race. Last year, Assen was not good for me. I think we can come back very strong and also, I think we will come back to the 2021 bike completely as it will feel much better at Assen. Get the full story on this here.
Michael Ruben Rinaldi (Aruba.it Racing – Ducati): "I'm not complaining… it was pure adrenaline"
In the Tissot Superpole Race, Michael Ruben Rinaldi and Jonathan Rea had a fantastic battle, with the Italian waving his hand in the air at one point. Rinaldi commented on his flick of dismissal: "I said 'hey'! When I fight with this guy, for sure Jonny doesn't allow me to get away! When he tries the move and he's on the limit, it's OK. But there was one time when he was never going to make the corner, and then I can say, 'OK, I don't want to crash' or something like this. The same with Toprak in the final corner, he touched me and then I lost grip on the handlebar, but this is racing, I'm not complaining! I am fighting with World Champions, so it's OK. I like the racing if it's on the limit and clever, it's OK! It was pure adrenaline in this moment!"
Jonathan Rea (Kawasaki Racing Team WorldSBK): "If I upset him, then I'm sorry… it's a rocket!"
After the on-track battle with Michael Ruben Rinaldi, Jonathan Rea stated that he won't take any prisoners in 2022: "I have to race hard; I can't wait to T14 or T15 to have a clean pass. I need to fight for every corner, so if I upset him, then I'm sorry. We've had a headwind all week into Turn 1 but then it changed, and we had a tailwind, so the braking reference changed. I don't know what he was thinking because he braked so late and took me wide. He had good pace to be honest and he was catching Bautista at one stage. Maybe he's a bit young and excited and he felt like he had the pace."
Rea also commented on the speed of the Ducati after Saturday, saying: "It's a rocket. The bike is ridiculously fast but that doesn't mean it to say it's the best bike. We could quite clearly see what I could do with my bike in the braking areas, the changes of direction and also the mechanical traction I had, I think, was better than them. I can't complain too much but, of course, it's always easy to make free passes on the straight. It's more difficult for me on the straight, but it's more difficult for him in the corners."
Iker Lecuona (Team HRC): "We improved step-by-step… the strong point during this test and weekend was braking"
Making his debut this weekend, 22-year-old Iker Lecuona finished a strong sixth place: "Every test that we did over the winter, we improved step-by-step and I'm very happy. In Race 1, I had a very good start, passing two guys into Turn 1. I said, 'I need to push with the top guys, to have a gap to those behind' because I knew the first five or six had more potential than me, but if I can follow a little bit in the opening laps, then I can have a gap and stay on my own. I know on my own, I can do my pace. Finally, Alex and Andrea passed me, and I could stay with them, so in general I am very happy. P6 and a very good race in general. I had three seconds to Xavi, so I tried to manage the gap.
"We have improved a lot in general in the winter, all the points. The strong point during this test and the weekend is braking; I can brake late and stop very well. I spoke one day with Alvaro Bautista, and he said, "hey mate, it's difficult to overtake you!". Only at Turn 1, I didn't feel really good. Both Alex and Andrea passed me there. So, this is a strong point for us. I think the point where we need to improve is the turning of the bike; Japan works very hard to give us new pieces to improve this side." Read more from Lecuona and teammate Xavi Vierge's super Saturday here.
Alex Lowes (Kawasaki Racing Team WorldSBK): "It was disappointing to start like that"
Alex Lowes had a tricky start to his 2022 season, crashing out of Race 1: "Yesterday we were fifth when we crashed. It was disappointing to start the week like that; I've struggled all week to find a good setting, even though I've worked. Maybe I worked too much in the winter on new tyres or old tyres and when it came to being fast, I wasn't able to be as fast as I would've liked to have been. Today, in the hotter conditions, I felt good and wasn't too far off.
Scott Redding (BMW Motorrad WorldSBK Team): Hard to accept… not much more to say"
It was a disastrous debut in the white of BMW for Scott Redding, who lamented a lack of grip, braking and an overheating engine: "This weekend was not what I expected it to go like, even considering we had two days of testing on Monday and Tuesday. Then we come to the race weekend, and we lost lap time. So, for me it was hard to accept this. We worked very hard to try and solve our problem, but we never really got anything to help us through the weekend. It was hard. Then, in the last race of the weekend, I just had no grip, the brakes were not working so well and the engine overheated. That is just how it goes. There is not much more to say." Read more about his debut here.
Watch the 2022 World Superbike season and all the drama with the WorldSBK VideoPass!