HOT HEADLINES FROM PHILLIP ISLAND: the final flames from a phenomenal 2022
Tuesday, 22 November 2022 06:22 GMT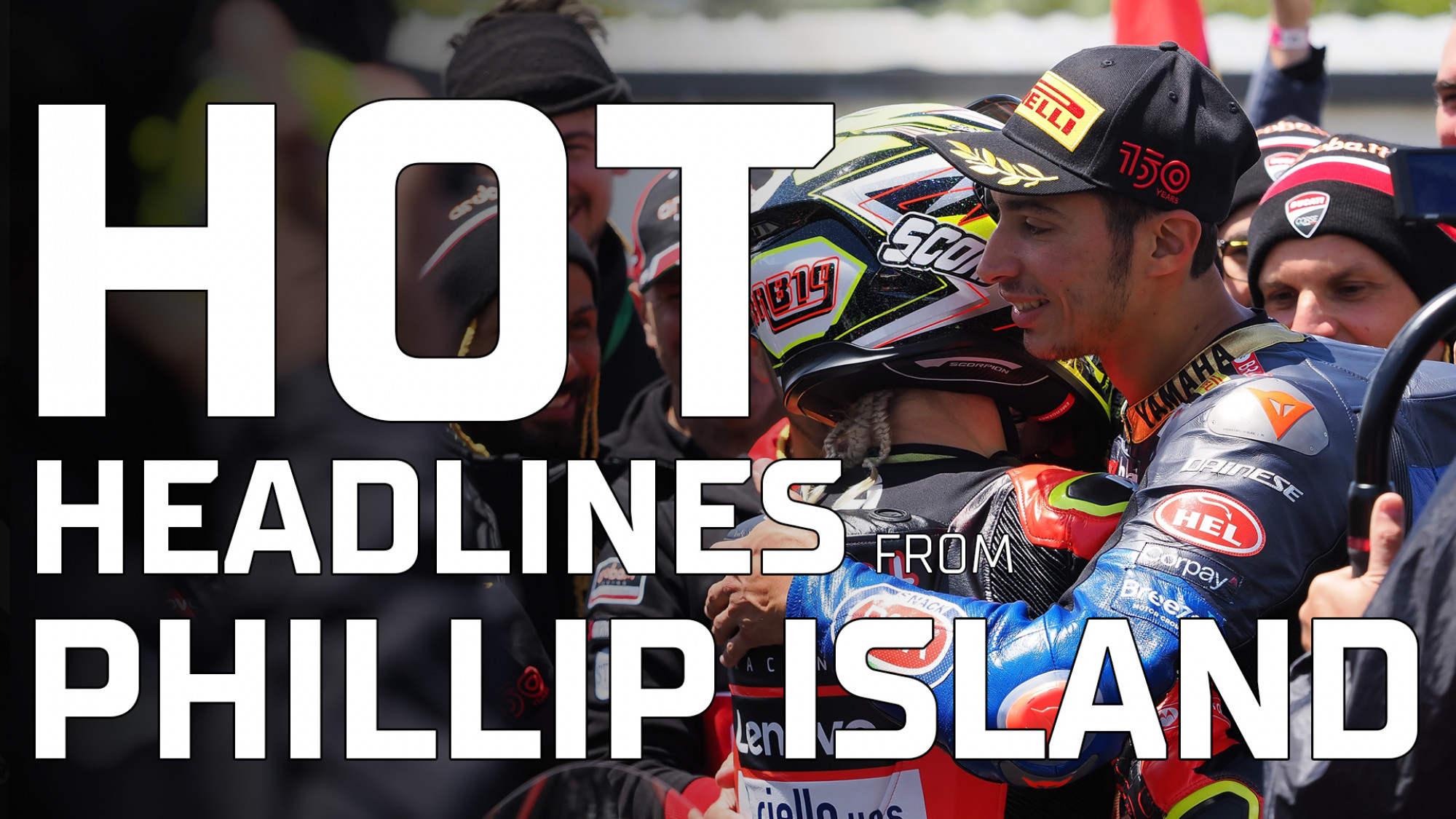 The lights are dimming, the winter is closing in – but the press room is still a hive of activity
The 2022 MOTUL FIM Superbike World Championship has come to a close as the Phillip Island Grand Prix Circuit returned to give us a phenomenal final round of the season. Before the garage shutters came down and the party started with the Awards ceremony, there was one final debrief for riders to enjoy with the media, and as usual, there was plenty to chat about.
Toprak Razgatlioglu (Pata Yamaha with Brixx WorldSBK): "He needs the bonus with two babies!"
Talking about his final race fight, Toprak Razgatlioglu was jovial as ever: "After ten or twelve laps, I had a big drop in the rear tyre and Alex Lowes passed me. After two laps, I saw him spinning a bit and I thought 'OK, I'll wait a little bit' and in the last four laps, I'd try to pass him. I saw the red flag so he's lucky, but he needs the bonus as he has two babies! Anyway, I'm really happy for Alex as he was really strong this weekend, and OK, I'm didn't take a podium in the final race, but I took second overall and every race, we've fought for the best result."

The 2021 World Champion also looked ahead to testing, with new parts ready and waiting: "I'm happy now for second overall, but we always try to win it. In general, I am happy, as we have learnt, improved and I feel better. Next year, we will have many new parts that we'll try directly in testing. This is a good point for me next year. Yamaha aren't building a new R1 but my team are working hard and I believe in them."
There was also a funny exchange between Razgatlioglu and 2022 Champion Alvaro Bautista, as the two thanked each other for the battles and memories. Razgatlioglu joked that to weigh Bautista down, a Turkish snack would be arriving to Ducati in abundance: "Next year, you need more baklava, I'll bring you more. I'll bring you a very heavy baklava!"
Alvaro Bautista (Aruba.it Racing – Ducati): "We missed the last battle of the season, agh!"
Finishing his season on a high with two Sunday wins, Bautista relished what could have been another battle with Rea: "Today, I was struggling with the wind in some areas; I'm not saying he didn't, but I don't know if he was. I saw the lap time was quite fast and that he was behind, so I thought, 'OK, final two laps, will be us just trying to beat each other. Unfortunately, we had the red flag and I hope everyone is OK. We missed the last battle of the season, agh! I'm sorry for that because I really wanted it too, I was feeling amazing with the bike, and I felt strong to battle Jonathan. Next time, in 2023, we will start here, and I hope to have the same feeling and I expect to have the battle with him here!"
Asked whether or not he'll be going on holiday, Bautista was clear that he'll be staying at home, albeit with a party or two: "No, no, no! With two daughters, it's difficult! When I arrive home, I'll party with my friends and the people in my town; then I have to attend a party with Aruba.it, then the people from Ducati! I don't get used to these celebrations, as when they're all done, I'd like to spend time with my family. I'll spend Christmas with my family and then in January, I'll start working. I'll work in areas where I can improve as a rider as next year will be tougher as my rivals will want to beat me. It will be time to start next year as best as possible to for #TheDefence."
Jonathan Rea (Kawasaki Racing Team WorldSBK): "This is a real team win!"
The win drought ended for Jonathan Rea, as he described his Race 1 strategy on Saturday: "Alex came through with a really good pace and, at that time, I thought 'roll the dice'. Let's go into the pits. I don't think it was a risky manoeuvre. I probably could've gone one lap earlier, but my guys told me that wanted a signal to be ready. I gave a signal the lap before on the start line, I left my leg off and then I committed. I exited and after a couple of laps I was able to get the signal about four and five seconds and then I was riding to my pit board to not make too many mistakes because it was so blustery, especially coming up through Turn 8, I was getting blown onto the wet part of the track. Going down into Turn 10 was the only part of the track that remained wet. I came down on my outlap, outbraked myself and thought I was going to go down! I missed the line, on the wet and turtled around like an amateur. This is a real team win. Kev came on the podium with me. He's spent my WorldSBK career with me and it's going to be his last race weekend so it's really nice to be able to savour that moment; another race win for him."
Scott Redding (BMW Motorrad WorldSBK Team): "With the rain setting in the dry, I was getting grip… there was a lot of confusion!"
Scott Redding commented on a breakthrough with feeling on the BMW M 1000 RR on Saturday: "Something that was quite weird for us on Saturday, when I came in and put the slick tyres on in the flag-to-flag, I had the rain setting on the bike and when I went out in the flag-to-flag, I said that's the best the bike's felt all year. There was a lot of confusion. Lap times I'm not so sure about but feeling, especially here, it turned the bike around. I had fun. For four laps, it was the first time during the weekend I enjoyed it. We need to understand what's going on. In the rain, I had zero grip and in the dry I had zero grip. But with the rain setting in the dry, I was getting grip. I started to realise I was using a lot of tyre, to stay there and the bike's moving a bit, but I had fun; the bike was working. By mistake, we came across something that was quite interesting that we can explore for the future."
Alex Lowes (Kawasaki Racing Team WorldSBK): "It's good to be up there battling with those guys!"
Happy to be back in the battle at the top, Alex Lowes was pleased with Phillip Island: "When I knew I couldn't catch Jonny and Alvaro; I dropped my lap time by about half a second to try and look after the left side because I knew I was going to fight with Toprak until the end of the race. Was trying to look after the rear tyre because when I passed him, it looked like he was struggling more than me. His bike was sliding and look a bit more unstable. I was sure it was going to be a last-lap battle. I was looking forward to it because I've not had a good battle with him this year. I think I would've had a good chance, but it's just good to be up there battling with those guys in all the races and all conditions and a strong end to the season."
Andrea Locatelli (Pata Yamaha with Brixx WorldSBK): "We have some hard work to do"
Finishing fifth in the Championship, Andrea Locatelli was happy with his end of year but knows there's work to do for 2023: "It was another great weekend. We finished in the top five in the Championship so it's a good result. We need to look forward, forget the bad races, and look at the good weekends. For example, the last two rounds. It's important to finish in a good way to prepare for next season. After difficult races, to catch up and stay with the front group is not easy. This winter, we'll have a lot of things to try on the bike. I don't know what it is. It's important in January during the tests to say if it's a good part and we put it on the bike or not. We have some hard work to do but it's our job."
Get ready for 2023 and enjoy all the full races back in style from 2022 with the WorldSBK VideoPass!