HOT HEADLINES FROM MAGNY-COURS: the biggest fallout of 2022 (so far)…
Monday, 12 September 2022 12:04 GMT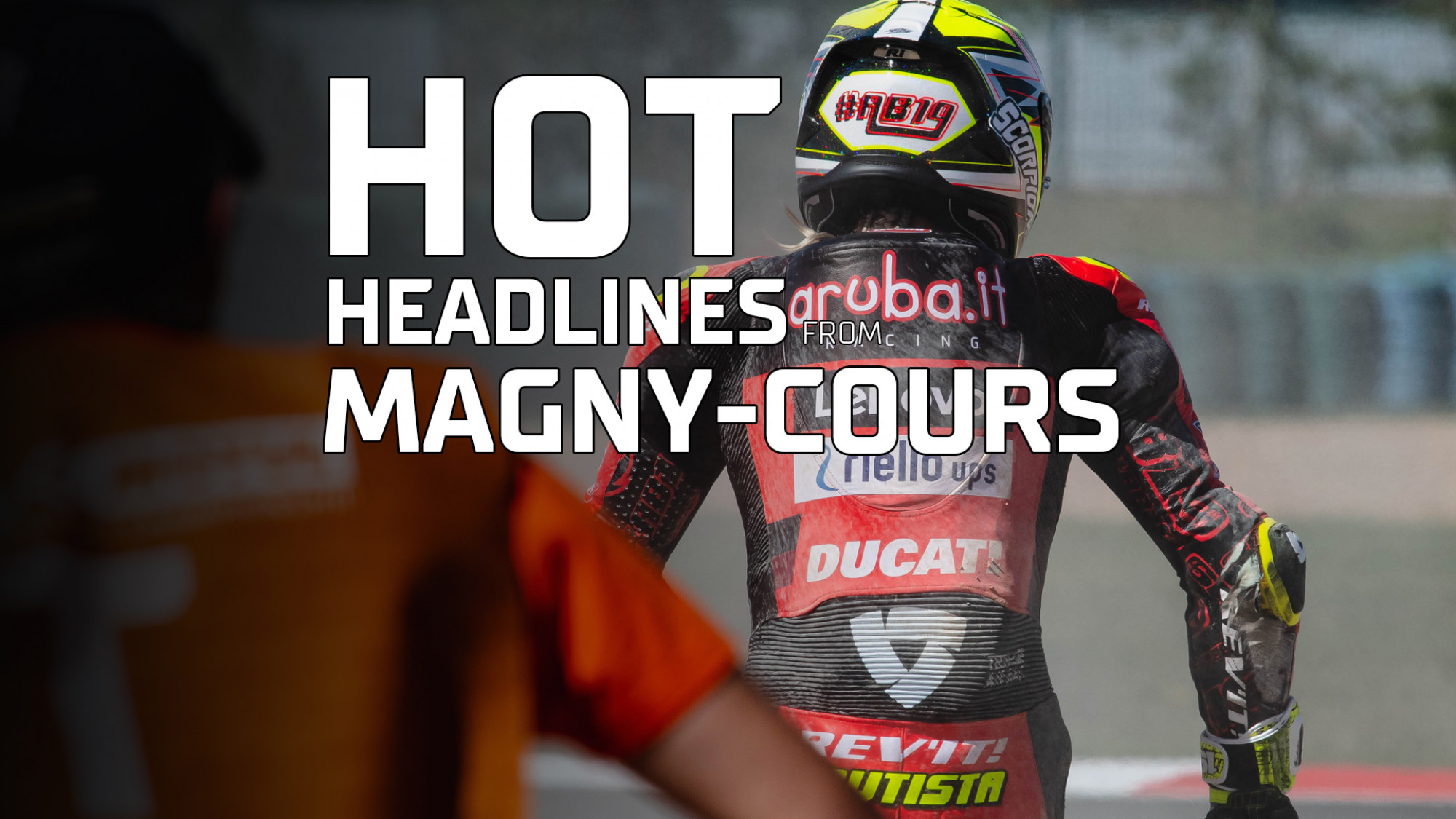 On-track battling, off-track trash-talking, title race plot-twisting: the hot headlines are scorching…
Just when you thought you'd seen it all, the 2022 MOTUL FIM Superbike World Championship went into overdrive at the Circuit de Nevers Magny-Cours. The title rivals all came to grief at some points, whilst THAT controversial clash in Race 2 has led to plenty of fallout and bold claims. This weekend's hot headlines have landed early, and there's plenty to get stuck into. Buckle up, enjoy the ride…
Alvaro Bautista (Aruba.it Racing – Ducati): "It was clear it was intentional… he's not a real Champion"
Fuming after his Race 2 clash, Alvaro Bautista didn't mince words and slammed Jonathan Rea's move: "I was lucky that I didn't get hurt. I think today it was clear that it was intentional; that's the problem. He knows very well what he did, that he got what he wanted to do. I don't have anything to say to him. I think he showed today that he's very fast. He wins, the last few years not as much as before, but I think this kind of action is not proper for a Champion. He won many Championships, but it's an unacceptable manoeuvre coming from a rider like him. For me, he showed he's very fast, very brave, but he's not a real Champion because this kind of thing, a Champion never does. I have no interest in his apologies. He knows very well what happened…"
Jonathan Rea (Kawasaki Racing Team WorldSBK): "Zero bad intention", Rinaldi "taking his leg off to kick me"
On his Race 2 clash with Bautista, Rea gave his side of the incident: "I saw Toprak going and wanted to go down the inside. He came back to his line, and we touched. I was really on my limit on the inside to make the manoeuvre, but I didn't blow the corner by any means; I made my apex. Unfortunately, he went down. I'm really sorry for that because that was really not my intention. I want to make that clear. There was zero bad intention. I went down the inside, parked my bike and unfortunately, we came together. I've been to see him, offered my apologies and tried to give my point of view. I listened to his point of view. I can tell you it's not deliberate. It's my point of view, I'm inside my helmet and I'm not reckless. You can have your opinion, they can have theirs."
He then said Bautista's teammate Michael Ruben Rinaldi had "bad intentions" in their battle after: "I haven't spoken about how Rinaldi reacted after, in the race. Passing me, taking his leg off to kick me. He 'lost the foot peg'? Three times? He lost the foot peg three times? He divebombed me three times with bad intention! This is how these guys ride. He's got red mist, riding with a lot of emotion."
Marco Zambenedetti (Ducati Corse WorldSBK Technical Director): "Something that I really didn't expect from a six-time World Champion"
Technical director in the factory Ducati team, Marco Zambenedetti also criticised Rea, and stated Kawasaki should 'concentrate on giving their rider a better package': "We want to say our opinion; we think the manoeuvre of Jonathan Rea was intentional and not a good example, and not in line with the spirit of this Championship. In the end, the rider gets some points in the Championship by putting out, with a very dangerous manoeuvre, one of our riders. It's something that I really didn't expect from a six-time World Champion. I think it's better if they [Kawasaki] concentrate to work inside and to give their rider a better package, so there's no need to arrive to this manoeuvre."
Toprak Razgatlioglu (Pata Yamaha with Brixx WorldSBK): "Strange weekend… maybe he made a mistake, maybe not"
30 points behind Bautista, Toprak Razgatlioglu spoke of a wacky French Round: "This weekend was a strange weekend! The three riders at the top of the Championship all crashed. I don't understand this weekend! I'm very happy because in the two races, I won. Normally, we don't see Alvaro crash. My team didn't show me with the board, but I think this is better. Maybe if I saw my board, I'd not push for the win. I'm not looking at the Championship, I'm focussed race by race."
On the incident with his rivals, the reigning World Champion watched it back after the race: "Now I've watched the video. It's difficult because this is racing, everybody is trying their best. Jonny tried passing at Turn 13. In the Superpole Race, I passed Alvaro at the same corner. The other corners, Ducati is very strong, and the acceleration is unbelievable. It's not possible to pass Alvaro again, just Turn 13. Jonny tried at this corner. Maybe he made a mistake, maybe not; I don't know. He's not trying to touch Bautista, just to pass him, but he crashed. I think he's not happy about this."
Michael Ruben Rinaldi (Aruba.it Racing – Ducati): "It's a very important podium for my future"
After a best result of the season in second in Race 2, Michael Ruben Rinaldi stated the importance of the podium: "It's a very important podium for my future. The team, Ducati and Aruba.it always support me; they gave me the opportunity. They are always with me but sometimes, it's easy to criticise. My opinion on the incident is, and not because I'm a teammate to Alvaro, but this manoeuvre at the beginning of the race is not something you can do. Maybe if you're fighting for the victory on the final lap and a touch happens, you can understand, even if – like this – it's too much."
Axel Bassani (Motocorsa Racing): "Two podiums in one weekend is incredible!"
Charismatic and humorous as ever, Axel Bassani was emotional with his double podium: "Today, I tried to stay at the front, but Michael and Toprak had something more than me. Two podiums in one weekend is incredible for me and my team. I think we have a good setup to continue like this for the rest of 2022. I think I'm stronger than last year; I did good races in 2021 but I didn't know why! Now, I know why I do good races: braking later and opening the throttle earlier! It's difficult because the others are the highest level but it's not impossible. I have two legs, two hands…"
Scott Redding (BMW Motorrad WorldSBK Team): "We tried to hang on for as long as possible"
After a best of P2 in Race 1, Scott Redding struggled to replicate it on Sunday: "I was losing out to everyone on acceleration; it was enough to keep me away from them. There's nothing we can really do, maybe change something on the bike to get this grip out the corner. However, I'm happy; I fought hard all race. I expected to have a bit more, but I had to override, then I used the front tyre too much and started having a few big moments. When Jonathan was catching, I tried to be consistent, but it was difficult as the front tyre dropped. We tried to hang on for as long as possible."
Loris Baz (Bonovo Action BMW): "At any other track, I'd have taken more care – but I'm at home!"
Home-hero Loris Baz summed up his weekend and had no regrets about pushing on during Race 1: "On Saturday, it was just fighting for a podium for the first time in a while and honestly, at any other track, I'd have taken more care, but I'm at home! "P3" on the board and no Jonny or Toprak; I went for it, and everyone in the team was OK with that. I hope we have more of this in the next rounds!
Photo credit: GPAgency
Watch EXTENSIVE Magny-Cours highlights here and enjoy 2022 live with the WorldSBK VideoPass!