FULL TIMINGS: check out the NEW schedule for the 2022 Indonesian Round!
Monday, 7 November 2022 07:19 GMT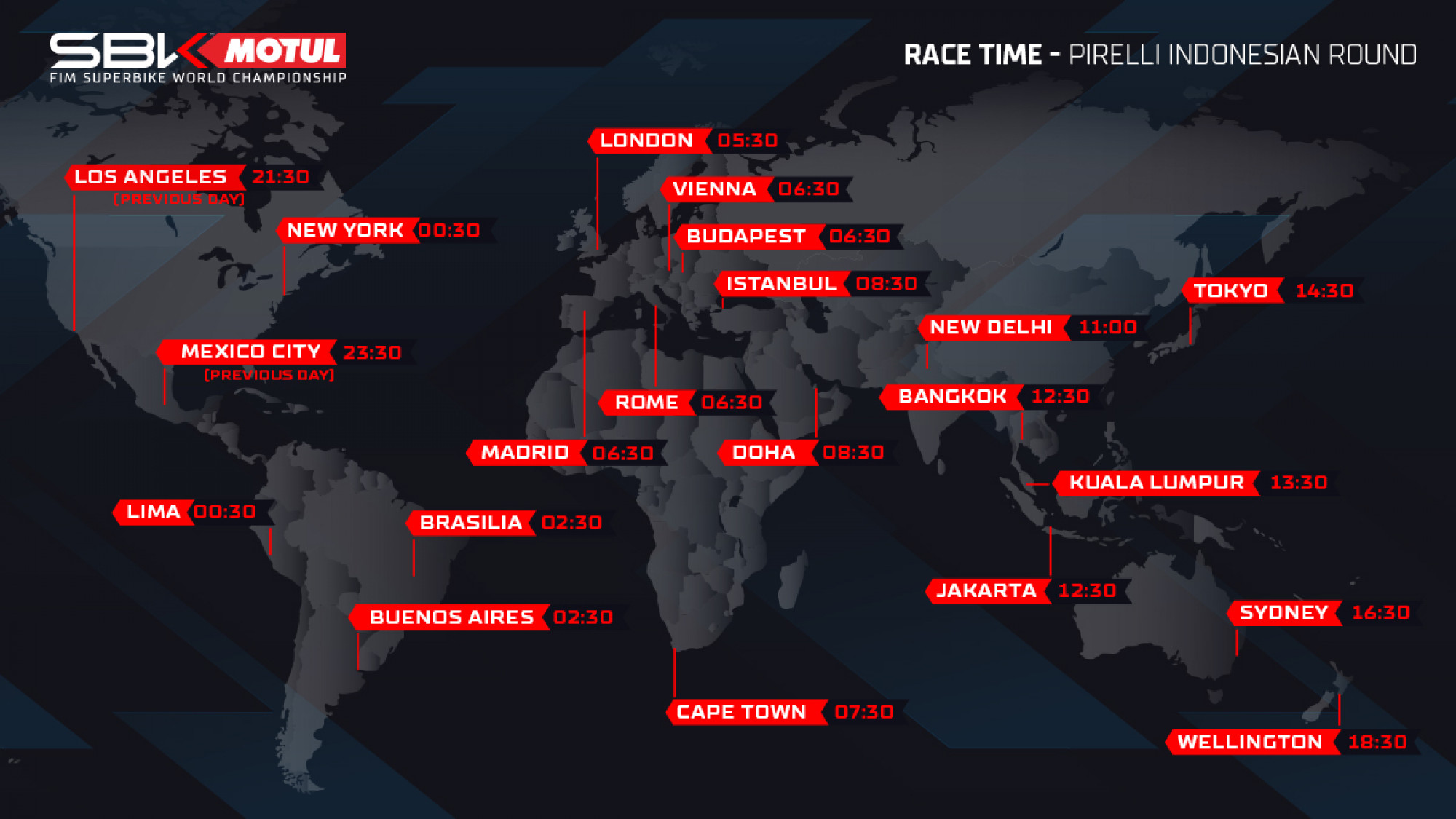 WorldSBK is ready to hit Mandalika again and here are all the times you need to ensure you don't miss a single moment of action
Almost a year on from the MOTUL FIM Superbike World Championship's visit to Indonesia and the Pertamina Mandalika International Street Circuit, the 2022 Pirelli Indonesian Round is here. With WorldSBK and WorldSSP both potentially having title deciders you won't want to miss any of the action, which begins on Friday at 09:00 Local Time (GMT+8) with WorldSSP FP1 followed by WorldSBK at 10:00. WorldSSP machines return to the track for FP2 at 12:00, followed by WorldSBK at 13:00. On Saturday, action starts at 08:30 with WorldSBK FP3 before jumping into the Tissot Superpole sessions: WorldSSP at 09:55 and WorldSBK at 10:40. Racing begins at 12:00 with WorldSSP Race 1 followed by WorldSBK Race 1 at 13:30. On Sunday, Warm Up sessions start the day from 08:30 before jumping straight into races. The WorldSBK Tissot Superpole Race is at 10:30, followed by the same times as Saturday for WorldSSP Race 2 and WorldSBK Race 2.
Watch the action from Indonesia for only €9.99 using the WorldSBK VideoPass!
Friday, 11th November (all times Local Time, GMT+8)
09:00-09:45 – WorldSSP Free Practice 1
10:00-10:45 – WorldSBK Free Practice 1
11:00-11:30 – IATC Free Practice 1
12:00-12:45 – WorldSSP Free Practice 2
13:00-13:45 – WorldSBK Free Practice 2
14:00-14:30 – IATC Free Practice 2
Saturday, 12th November
08:30-09:00 – WorldSBK Free Practice 3
09:10-09:40 – IATC Qualifying
09:55-10:15 – WorldSSP Tissot Superpole
10:40-10:55 – WorldSBK Tissot Superpole
12:00 – WorldSSP Race 1 (19 laps)
13:30 – WorldSBK Race 1 (21 laps)
15:00 – IATC Race 1 (16 laps)
Sunday, 13th November
08:30-08:45 – WorldSBK Warm Up
08:55-09:10 – WorldSSP Warm Up
10:30 – WorldSBK Tissot Superpole Race (10 laps)
12:00 – WorldSSP Race 2 (19 laps)
13:30 – WorldSBK Race 2 (21 laps)
15:00 – IATC Race 2 (16 laps)