FULL SCHEDULE: the all-important times for the new Dutch Round schedule!
Monday, 18 April 2022 08:00 GMT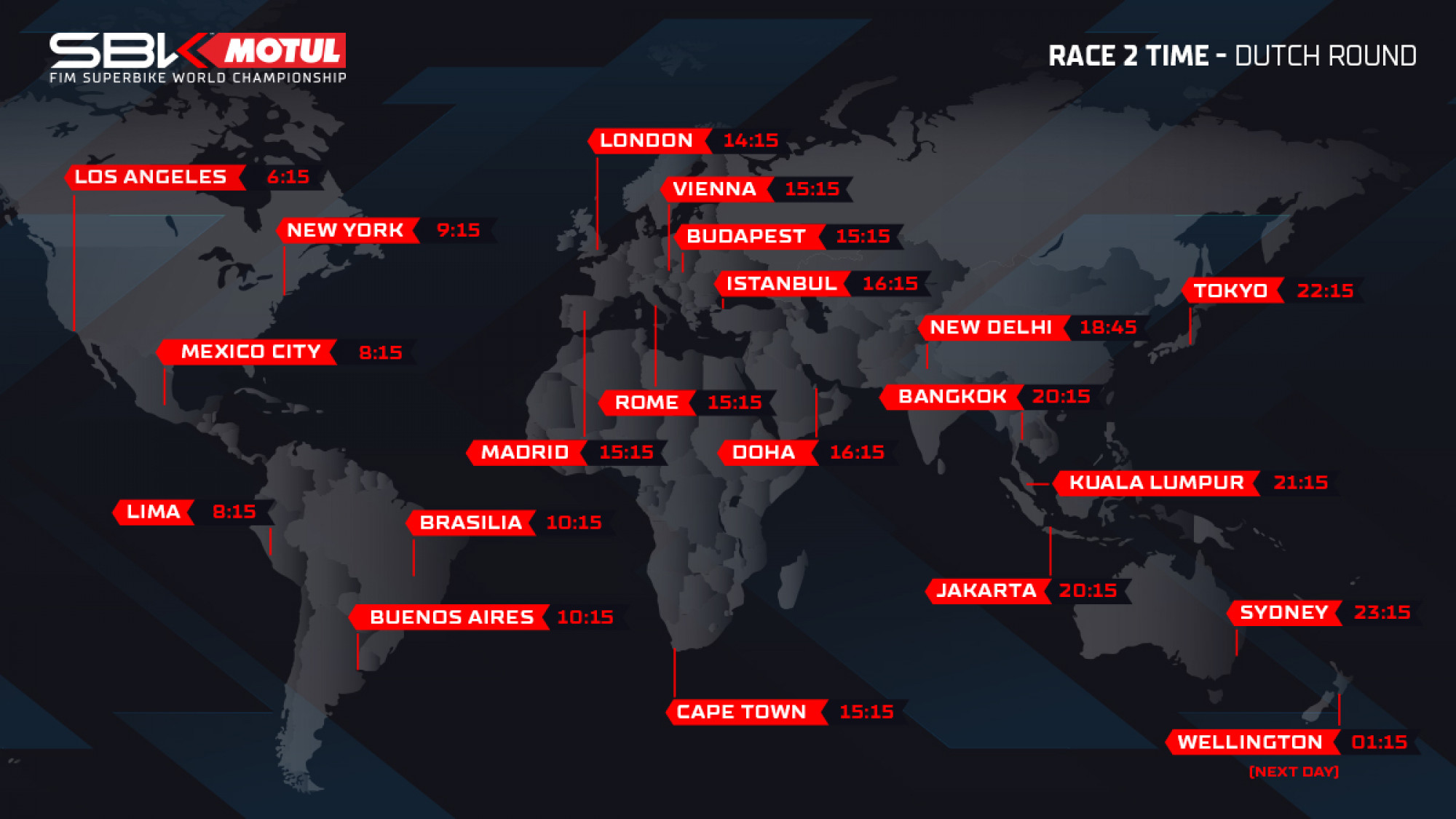 WorldSBK tackles the iconic TT Circuit Assen for Round 2 of the 2022 campaign and all the times you need to know are right here
Just two weeks after an incredible season-opening round, the MOTUL FIM Superbike World Championship returns to the TT Circuit Assen for the Motul Dutch Round. WorldSBK, WorldSSP and WorldSSP300 will all hit the track while the Yamaha R3 bLU cRU European Cup joins the action once again. It's the Yamaha R3 Cup that starts the weekend's action on Friday at 09:00 Local Time (GMT+2) with Free Practice followed by WorldSSP300 at 09:45. WorldSBK machines are on track at 10:30 for a 45-minute Free Practice 1 session. Morning action is rounded out by WorldSSP machines at 11:25. The Yamaha R3 Cup will have its Superpole session at 13:30 before WorldSSP300, WorldSBK and WorldSSP take to the track for Free Practice 2. On Saturday, WorldSBK starts the day with Free Practice 3 before the all-important Tissot Superpole sessions: WorldSSP300 at 09:45, WorldSSP at 10:25 and WorldSBK at 11:10. Racing action begins with the Yamaha R3 Cup at 11:45, followed by WorldSSP300 at 12:40, WorldSBK at 14:00, WorldSSP at 15:15 and the final Yamaha R3 Cup race at 16:15. There's a new Sunday schedule for the Dutch Round with WorldSBK Race 2 moving to 15:15 and rounding out the action for the weekend. The day's running starts at 09:00 with three Warm Up sessions before the Tissot Superpole Race at 11:00. The final WorldSSP race of the weekend, Race 2, starts at 12:30 before WorldSSP300 at 13:45 and WorldSBK Race 2 at 15:15.
Watch all the action from the Dutch Round using the WorldSBK VideoPass!
Friday, 22nd April (all times Local Time (GMT+2))
09:00-09:30 – Yamaha R3 Cup Free Practice
09:45-10:15 – WorldSSP300 Free Practice 1
10:30-11:15 – WorldSBK Free Practice 1
11:25-12:10 – WorldSSP Free Practice 1
13:30-14:00 – Yamaha R3 Cup Superpole
14:15-14:45 – WorldSSP300 Free Practice 2
15:00-15:45 – WorldSBK Free Practice 2
16:00-16:45 – WorldSSP Free Practice 2
Saturday, 23rd April
09:00-09:30 – Free Practice 3
09:45-10:05 – WorldSSP300 Tissot Superpole
10:25-10:45 – WorldSSP Tissot Superpole
11:10-11:25 – WorldSBK Tissot Superpole
11:45 – Yamaha R3 Cup Race 1 (10 laps)
12:40 – WorldSSP300 Race 1 (dry race of 14 laps, wet race of 12 laps)
14:00 – WorldSBK Race 1 (21 laps)
15:15 – WorldSSP Race 1 (18 laps)
16:15 – Yamaha R3 Cup Race 2 (10 laps)
Sunday, 24th April
09:00-09:15 – WorldSBK Warm Up
09:25-09:40 – WorldSSP Warm Up
09:50-10:05 – WorldSSP300 Warm Up
11:00 – WorldSBK Tissot Superpole Race (10 laps)
12:30 – WorldSSP Race 2 (18 laps)
13:45 – WorldSSP300 Race 2 (dry race of 14 laps, wet race of 12 laps)
15:15 – WorldSBK Race 2 (21 laps)