FULL SCHEDULE: the brand-new times for the Emilia-Romagna Round at Misano!
Monday, 6 June 2022 04:48 GMT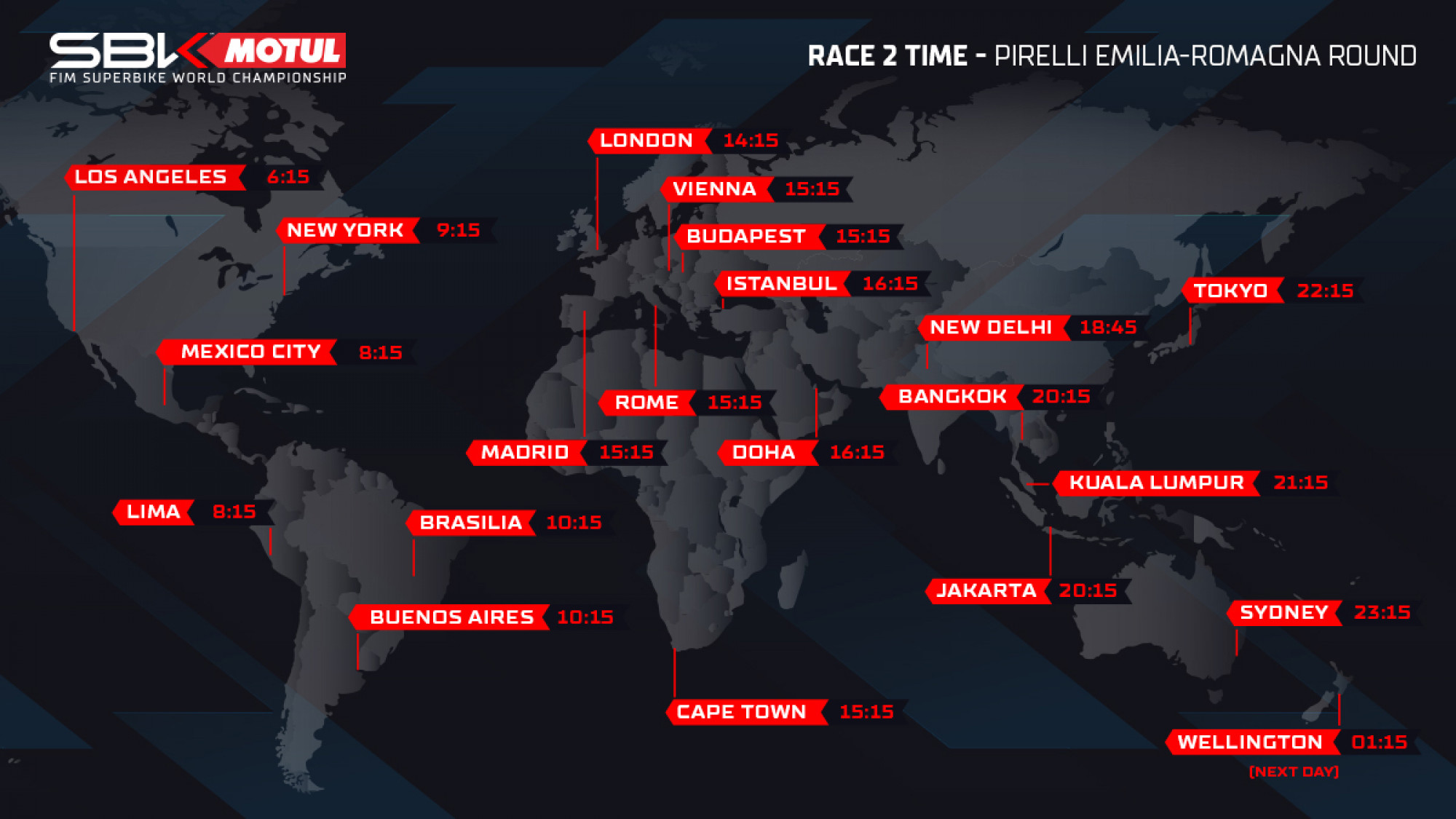 WorldSBK heads to Italy and the Adriatic Coast for the 2022 Emilia-Romagna Round, check out the full details of the weekend's schedule
After a short gap, the MOTUL FIM Superbike World Championship returns to action at the Misano World Circuit "Marco Simoncelli" for the Pirelli Emilia-Romagna Round. After the three thrilling WorldSBK races at Estoril, the action resumes in Italy for what is sure to be another incredible weekend. Track action begins on Friday morning with the first Free Practice 1 sessions, with the Yamaha R3 bLU cRU European Cup kickstarting the day at 09:00 Local Time (GMT+2), followed by WorldSSP300 at 09:45. WorldSBK's first taste of Misano comes at 10:30 before WorldSSP at 11:25. The same format follows in the afternoon, with the Yamaha R3 Cup on track at 13:30 for their Superpole session, followed by FP2 from 14:15 for WorldSSP300, 15:00 for WorldSBK and 16:00 for WorldSSP. As is usual, WorldSBK FP3 starts Saturday's action at 09:00 before the Tissot Superpole sessions begin at 09:45 for WorldSSP300, 10:25 for WorldSSP and 11:10 for WorldSBK. Racing gets underway on Saturday with the Yamaha R3 Cup at 11:45 before WorldSSP300, WorldSBK and WorldSSP follow in their traditional Saturday timeslots. The R3 Cup rounds out the day with Race 2 at 16:15. Sunday's action also begins at 09:00 with WorldSBK Warm Up, followed by WorldSSP and WorldSSP300. There is a new schedule for Sunday's action at Misano with WorldSBK action rounding out the day. The Tissot Superpole Race starts Sunday's racing action at 11:00, coming after three Warm Up sessions from 09:00 before WorldSSP at 12:45. In a change to the normal schedule, WorldSSP300 Race 2 will kick off at 14:00 before the final race of the day, WorldSBK Race 2, at 15.15 to end an incredible weekend at Misano.
Watch all the action from the Emilia-Romagna Round LIVE and UNINTERRUPTED using the WorldSBK VideoPass!
Friday, 10th June (all times Local Time (GMT+2))
09:00-09:30 – Yamaha R3 Cup Free Practice
09:45-10:15 – WorldSSP300 Free Practice 1
10:30-11:15 – WorldSBK Free Practice 1
11:25-12:10 – WorldSSP Free Practice 1
13:30-14:00 – Yamaha R3 Cup Superpole
14:15-14:45 – WorldSSP300 Free Practice 2
15:00-15:45 – WorldSBK Free Practice 2
16:00-16:45 – WorldSSP Free Practice 2
Saturday, 11th June
09:00-09:30 – WorldSBK Free Practice 3
09:45-10:05 – WorldSSP300 Tissot Superpole
10:25-10:45 – WorldSSP Tissot Superpole
11:10-11:25 – WorldSBK Tissot Superpole
11:45 – Yamaha R3 Cup Race 1 (10 laps)
12:40 – WorldSSP300 Race 1 (dry race of 15 laps, wet race of 13 laps)
14:00 – WorldSBK Race 1 (21 laps)
15:15 – WorldSSP Race 1 (18 laps)
16:15 – Yamaha R3 Cup Race 2 (10 laps)
Sunday, 12th June
09:00-09:15 – WorldSBK Warm Up
09:25-09:40 – WorldSSP Warm Up
09:50-10:05 – WorldSSP300 Warm Up
11:00 – WorldSBK Tissot Superpole Race (10 laps)
12:45 – WorldSSP Race 2 (18 laps)
14:00 – WorldSSP300 Race 2 (dry race of 15 laps, wet race of 13 laps)
15:15 – WorldSBK Race 2 (21 laps)