FULL SCHEDULE: the all-important times for the Estoril Round!
Monday, 16 May 2022 08:17 GMT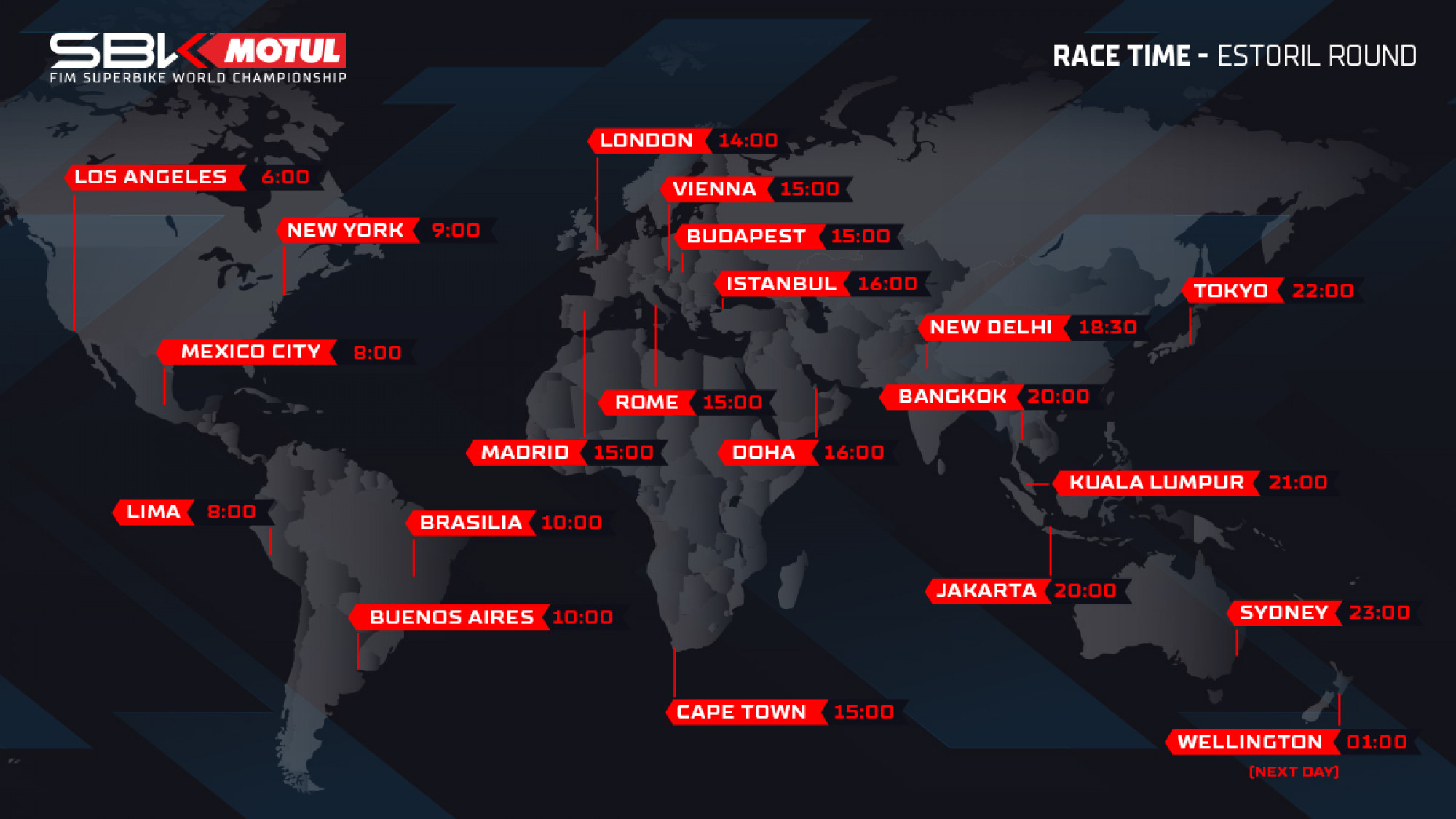 WorldSBK, WorldSSP and WorldSSP300 all head to Portugal for the 2022 Estoril Round and all the times you need to know are here
The MOTUL FIM Superbike World Championship bursts back into action with the Estoril Round at the Circuito Estoril in Portugal. All three classes will take to the track throughout the weekend, with action starting on Friday at 09:45 (Local Time, GMT+1) with WorldSSP300 Free Practice 1, followed by WorldSBK at 10:30 and WorldSSP at 11:25. In the afternoon, WorldSSP300 once again starts the action at 14:15 followed by WorldSBK at 15:00 and WorldSSP at 16:00. On Saturday, WorldSBK Free Practice 3 starts the action at 09:00 before the all-important Tissot Superpole sessions: WorldSSP300 at 09:45, WorldSSP at 10:25 and WorldSBK at 11:10. Racing also starts on Saturday with WorldSSP300 Race 1 at 12:40 followed by WorldSBK at 14:00 and WorldSSP at 15:15. On Sunday, there are three Warm Up sessions from 09:00 before more racing action at Estoril. The WorldSBK Tissot Superpole Race is at 11:00 before WorldSSP Race 2 at 12:30. Race 2 for WorldSBK Race 2 starts at 14:00 before WorldSSP300 Race 2 rounds out the weekend's action at 15:15.
Watch every single moment of the Estoril Round in style using the WorldSBK VideoPass!
Friday, 20th May (all times Local Time (GMT+1))
09:45-10:15 – WorldSSP300 Free Practice 1
10:30-11:15 – WorldSBK Free Practice 1
11:25-12:10 – WorldSSP Free Practice 1
14:15-14:45 – WorldSSP300 Free Practice 2
15:00-15:45 – WorldSBK Free Practice 2
16:00-16:45 – WorldSSP Free Practice 2
Saturday, 21st May
09:00-09:30 – WorldSBK Free Practice 3
09:45-10:05 – WorldSSP300 Superpole
10:25-10:45 – WorldSSP Superpole
11:10-11:25 – WorldSBK Superpole
12:40 – WorldSSP300 Race 1 (dry race of 12 laps, wet race of 10 laps)
14:00 – WorldSBK Race 1 (21 laps)
15:15 – WorldSSP Race 1 (18 laps)
Sunday, 22nd May
09:00-09:15 – WorldSBK Warm Up
09:25-09:40 – WorldSSP Warm Up
09:50-10:05 – WorldSSP300 Warm Up
11:00 – WorldSBK Superpole Race (10 laps)
12:30 – WorldSSP Race 2 (18 laps)
14:00 – WorldSBK Race 2 (21 laps)
15:15 – WorldSSP300 Race 2 (dry race of 12 laps, wet race of 10 laps)