Camier hails positive test: "Hopefully, we'll have new items soon before the fly-aways!"
Tuesday, 23 August 2022 09:23 GMT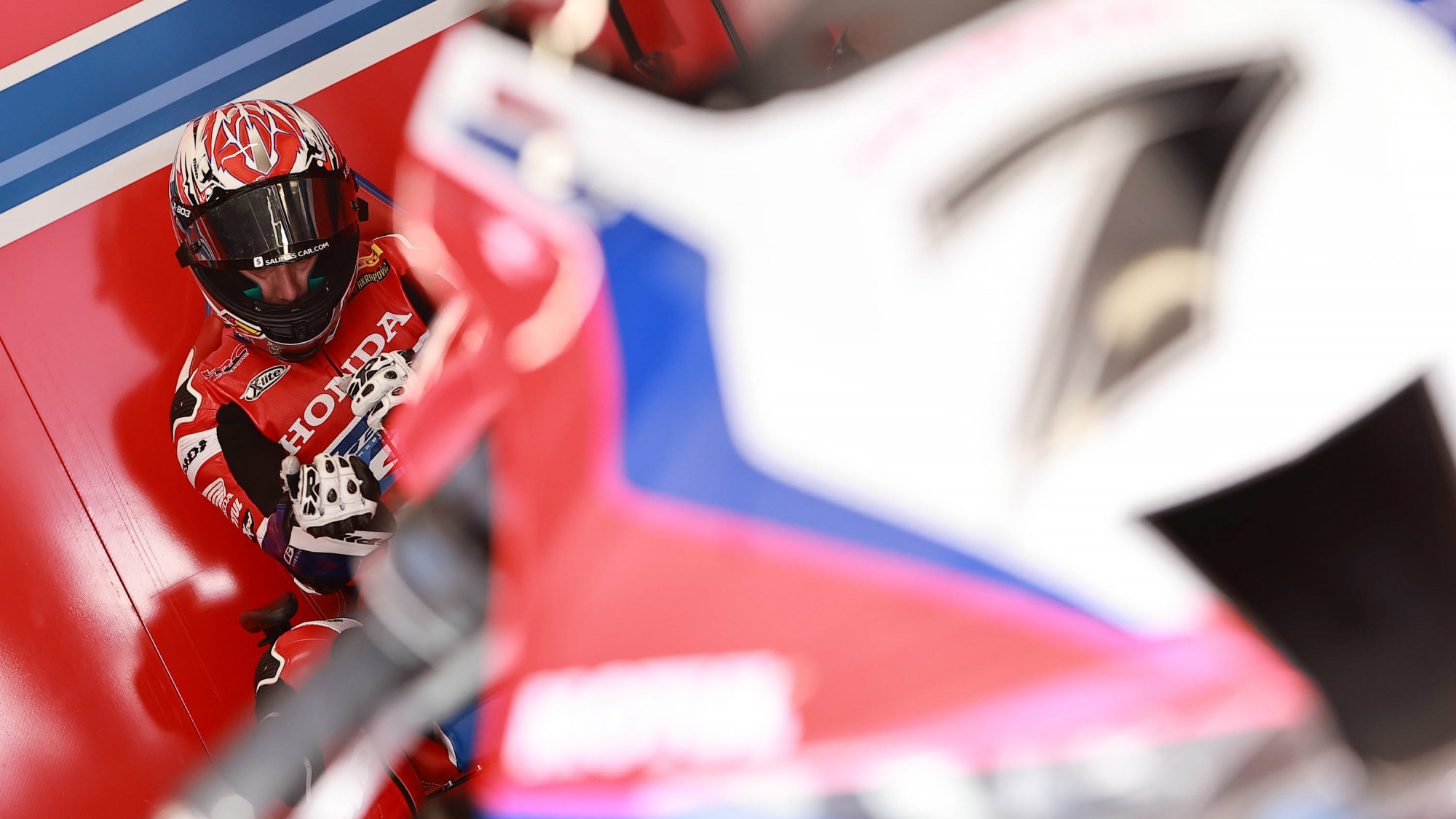 Continuing to be lead the project forward and keen to return Honda to winning ways, Leon Camier hailed a "mature" Iker Lecuona, whilst also stating that new items could be seen very soon
Whilst some of the 2022 MOTUL FIM Superbike World Championship riders enjoy the summer break, more than half of the grid took to the Circuit de Barcelona-Catalunya in Spain for testing across two days. One of the teams with plenty of tech updates to talk about was Team HRC, with back-to-back testing of swingarms, a new chassis bracing and "many items" to get through for both Iker Lecuona and Xavi Vierge. We caught up with team manager Leon Camier at the end of Sunday to talk about the test, the new parts and also about Lecuona's performance which helped Team HRC to the Suzuka 8 Hours victory at the start of August.
"The test has gone very well, and we clarified many items," began Camier. "Xavi never got to use the soft tyre but his pace on the race tyre is very good, so it's not a true reflection of lap time. In general, we understood many, many items and many new items that we wanted to test here, and we had a good understanding as well. I need to check with the technicians about the swingarm specifically because one is better for one rider, and another is better for the other. There are not masses of data on it but it is something we have used earlier on in the year, so it wasn't new to this test, we just brought it to understand it. One side seemed to like it, the other not so much."
One of the other hot topics coming out of the Honda box was a new chassis bracing, to help with the mid-to-exit cornering, something Camier hailed as a positive for both riders: "With the chassis bracing, that's been positive for both riders; for sure, they notice a clear difference on track. It's not making them go a second faster because it's bracing but it's a good step in the right direction. It is good for the stability of the bike on drive and exit but even on braking and entry, it's a bit more stable. Again, this is something we've been using for a couple of rounds now."
There was also a new Pirelli front tyre to test, with most people in the paddock at the test saying it's an SCQ-style front tyre, something Camier backed up: "The new front tyre was very positive; I'll need to double check all the details and everything but for a few laps, the grip was very high and much better than the A0674, but I think life and longevity, I'm not sure if it can do the short race. I think it was more of a Superpole tyre at the minute. We did have some tests for geometry options: we need a bit more time on one side to play with it but on the other side, it was very positive."
Attention then turned to the Suzuka 8 Hours win, where Camier was a link between Lecuona and the Japanese technicians, as well as helping out in general, and he was more than impressed with the Spanish debutant's performance: "Iker was so impressive and he performed very maturely too, which was arguably the biggest thing for me. It's very hard when you go there as a rider because you want to be the absolute fastest, but he understood that within the team, it wasn't about him being the fastest, it was about doing teamwork. His lap times were really good anyway, but he understood that his job was to stay ahead of Alex Lowes, as he was usually partnered with Lowes in the sessions. His job was to match him and if he felt he had the pace and confidence, to pull away, but with an eight-hour endurance race, it's about getting to the end without any mistakes; he really performed."
Finally, it was all about the project as a whole in WorldSBK, and Camier confirmed that new items are in the pipeline before the fly-away races: "Potentially; I can't say too much at the minute but let's see. We are waiting on some things at the minute but hopefully we'll have some new items soon before the fly-aways."
Watch the 2022 season in style with the comprehensive WorldSBK VideoPass!