Assen awaits: the WorldSSP300 field ready to battle it out for Dutch honours
Wednesday, 20 April 2022 05:15 GMT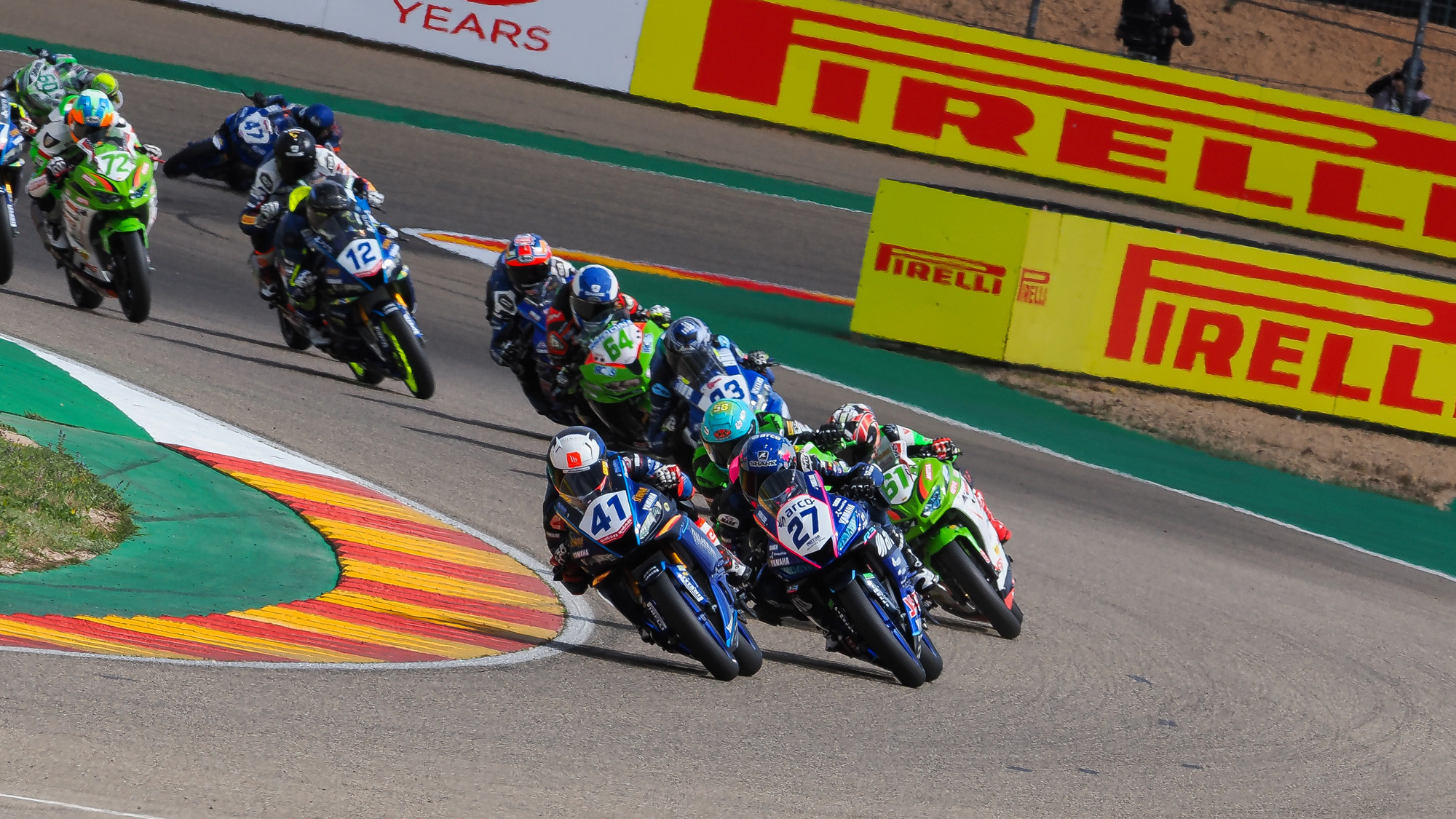 Two weeks after an incredible opening round, WorldSSP300 hits the TT Circuit Assen for Round 2
Assen awaits: the WorldSSP300 field ready to battle it out for Dutch honours
Two weeks after an incredible opening round, WorldSSP300 hits the TT Circuit Assen for Round 2
Not long after the 2022 FIM Supersport 300 World Championship kicked off at MotorLand Aragon, the Championship heads to the TT Circuit Assen for the Motul Dutch Round, the second round of the season. The season kicked off in stunning fashion in Spain and the riders will be looking to replicate this at the 'Cathedral of Speed', with all three manufacturers on the grid going for victory across the Motul Dutch Round's two races. It will be the fifth time the TT Circuit Assen has hosted WorldSSP300 action, embracing the Championship every year since its inception, except for 2020.
A FIRST FOR YAMAHA? Garcia and Diaz hoping to claim Yamaha's first Assen victory
After sharing the wins at MotorLand Aragon, Alvaro Diaz (Arco Motor University Team) and Marc Garcia (Yamaha MS Racing) will be hoping to continue their strong start to the season at the Dutch Round. Traditionally, it is not a circuit that Yamaha have scored strong results at in WorldSSP300 with their sole podium coming courtesy of Alfonso Coppola in 2017. Diaz has not raced at Assen in WorldSSP300, whilst Garcia has raced at the Dutch venue on two occasions, claiming a best result of sixth place in 2017. Two more Yamaha riders, Mirko Gennai (Team BrCorse) and Marco Gaggi (Vinales Racing Team), sit in the top ten of the Championship. Gennai is in sixth place with the Italian rider claiming a best result of seventh at Assen, whilst Gaggi is eighth and looking to score his first points finish at Assen. Could they be the Yamaha contenders to watch out for in the Netherlands?
KTM LOOKING TO CONTINUE THEIR STRONG START: a potential first win for Lehmann?
Lennox Lehmann (Freudenberg KTM – Paligo Racing) pulled off two miraculous comebacks at the Aragon Round. After issues in the Tissot Superpole session left him 25th on the grid for Race 1 and 24th in Race 2, he battled back to claim two third place finishes for his first podiums in the Championship. The German became the first rider to claim two podiums from outside the top 20 and he did it in consecutive races. Assen is a circuit Lehmann hasn't raced at in WorldSSP300, but he has experience of the track, competing in the German series, claiming a fourth-place finish in 2021.
A KAWASAKI REACTION: looking to return to the rostrum
Race 1 at Aragon was the first time in 48 races that no Kawasaki rider stood on the podium in WorldSSP300, and this was repeated in Race 2 with two Yamaha riders and a KTM on the podium. Kawasaki riders claimed fourth place in both races with Victor Steeman (MTM Kawasaki) and Bruno Ieraci (Prodina Team WorldSSP300) just missing out on a podium. Ieraci has a best result of seventh at Assen and he will be hoping to build on this in 2022. Dutch rider Steeman has raced at Assen three times in WorldSSP300 with a best result of eighth on KTM machinery, but he hopes he can claim a home win with reigning Champions and Dutch team MTM Kawasaki. The home favourites have two wins at Assen, whilst Kawasaki as a manufacturer have never gone three straight WorldSSP300 races without a podium.
Inigo Iglesias (SMW Racing) also showed strong pace on the Kawasaki Ninja 400 and currently lies fourth in the Championship. The Spanish rider has experience of Assen, with a best result of 20th, and he will be hoping to take a podium finish after a strong start to his 2022 campaign. Yuta Okaya (MTM Kawasaki) and Samuel Di Sora (Leader Team Flembbo) are other Kawasaki riders in the top ten of the Championship and both winners in the class. Okaya aims for a podium finish with home team MTM Kawasaki and has a best result of sixth at Assen, whilst Di Sora will be hoping to repeat his podium finish from last season when he claimed third in Race 2.
HOPING TO BOUNCE BACK AT ASSEN: riders aiming to respond after Aragon
Two-time polesitter Ton Kawakami (AD78 Team Brasil by MS Racing) endured a difficult Aragon Round as he claimed 13th in Race 2 and eighth in Race 1; the Brazilian needs to respond at a circuit where his best finish is ninth. Another rider hoping to score improved results at Assen is Hugo De Cancellis (Prodina Team WorldSSP300) after a pair of 12th place finishes at Aragon. In 2021, he claimed second place in Race 2 at Assen, with the intention to go one better in 2022 and kickstart his campaign.
HOUSEKEEPING: wildcards aim to make amends and a WorldSSP300 debutant
Two wildcards from one team will compete at the Dutch Round with Thom Molenaar (Molenaar Racing Team) and teammate Sven Doornenbal looking to impress on the world stage. Molenaar took part in the 2021 Dutch Round, also as a wildcard, and claimed a best result of 20th on KTM machinery with the team having switched to the Kawasaki Ninja 400 for this season. Doornenbal likewise took part in the Dutch Round last year for the same team; his best result was 18th place. At SMW Racing, Davide Conte will make his WorldSSP300 debut in place of the injured Alex Millan, who crashed in Warm Up for the Aragon Round and was declared unfit with a left ulnar styloid fracture and a right ankle sprain and contusion.
Don't miss any action from WorldSSP300 at Assen using the WorldSBK VideoPass!