Aegerter reveals strategy in "difficult" Race 2 at Estoril after fighting back for victory
Wednesday, 25 May 2022 06:04 GMT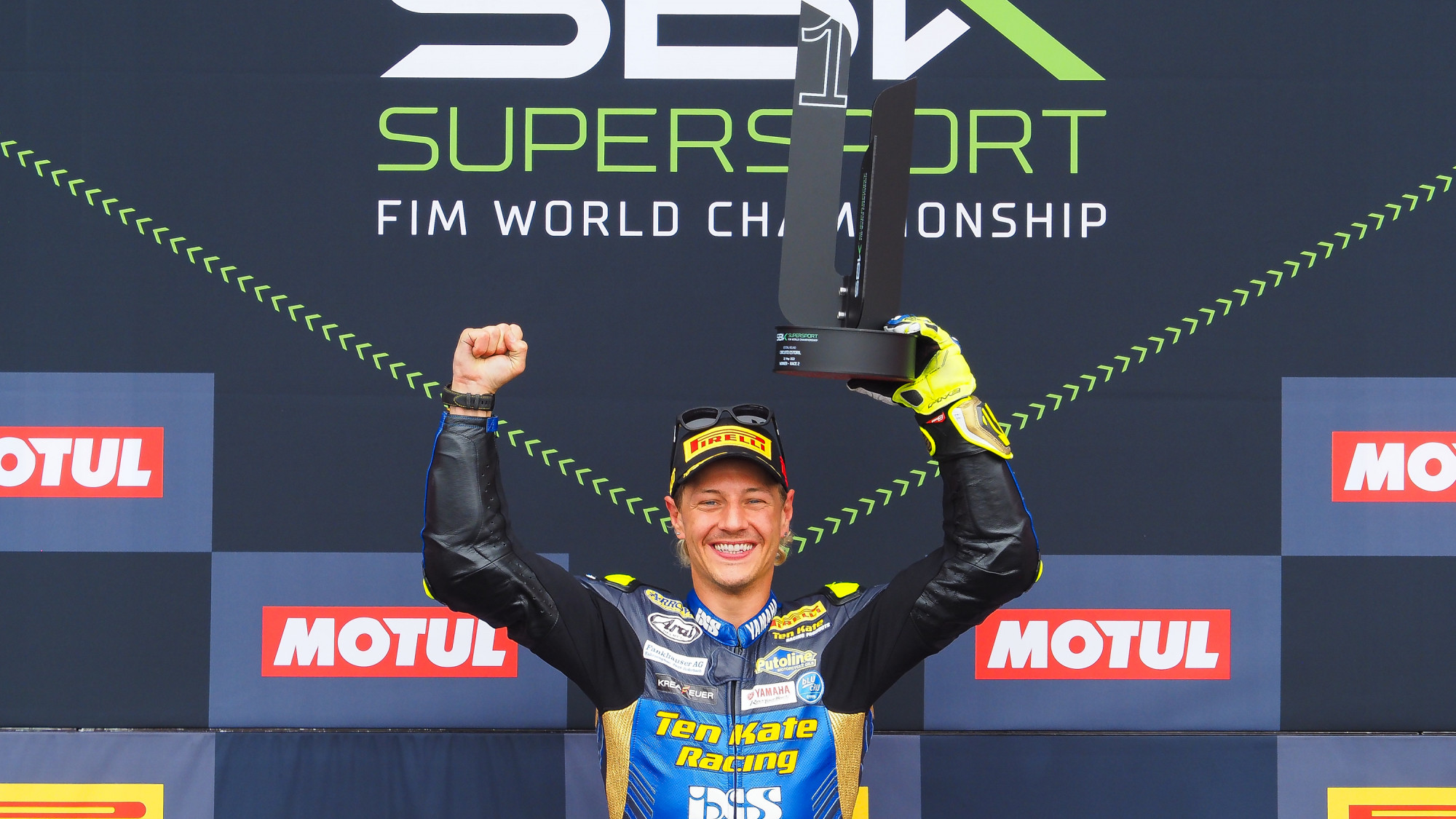 The reigning Champion made it five in a row at Estoril with an incredible fight back through the field in Race 2
Despite making it five consecutive FIM Supersport World Championship victories in a row at the Circuito Estoril, Dominique Aegerter (Ten Kate Racing Yamaha) had to work hard for his two victories during the Estoril Round. The reigning Champion battled back through the field in both Race 1 and Race 2, despite difficult conditions in the latter race, to extend his Championship lead to 44 points.
In Race 1, Aegerter dropped from pole position to second at the end of the first lap and remained there until Lap 7 before he was demoted to third when overtaken by Can Oncu (Kawasaki Puccetti Racing). A lap later and the Swiss rider had moved up two positions to first where he remained for the rest of the race.
Race 2 was a slightly different affair with drops of rain falling on the Warm Up Lap making conditions difficult, although most riders stuck with slick tyres throughout the whole 18-lap race. Most riders opted to use Pirelli's SCX tyre but Aegerter went with the SC0 standard tyre for the race. Initially he dropped down to fourth and ran as low as sixth at the end of Lap 4 before making his charge through the field; by Lap 13, Aegerter was back in the lead and he went on to claim his fifth consecutive victory.
Discussing Sunday's Race 2 in difficult conditions, Aegerter said: "The race was quite difficult because when we got to the start, there were small drops of rain. When we started, in all 18 laps there was always some rain. I didn't know how much to push so I was following some riders but then we were a big group, with big fights, overtaking each other. With three or four laps to go, I decided to risk a little bit more. I wanted to be in front in case there was a red flag. I tried to push a little bit more, I did some fast laps, I could make a small gap and take the victory."
The Race 2 win completed a full circle of stats for Aegerter as he equalled his longest winning streak in WorldSSP with five wins, a run he achieved in 2021 starting from Race 2 in Estoril on his way to the title. With six races completed this season, Aegerter has taken 145 points out of a possible 150 with only Lorenzo Baldassarri (Evan Bros. WorldSSP Yamaha Team) able to beat him so far this season.
Talking about his Championship advantage of 44 points, Aegerter said: "It's maybe only one or two races more, then I would be much more relaxed. 18 races to go so the season is still very, very long. With two races per weekend, you can win or lose a lot of points. I don't look for the Championship. I just look for the practice, for the race, race-by-race, and if I can win, I try to win. When I see I need to risk too much, or if I'm feeling not good, a second or third place or a fifth place can be also good and important points."
Watch more stunning WorldSSP action throughout 2022 using the WorldSBK VideoPass!