WorldSBK faces up to the challenge of having nine races in 16 days
Wednesday, 15 September 2021 09:27 GMT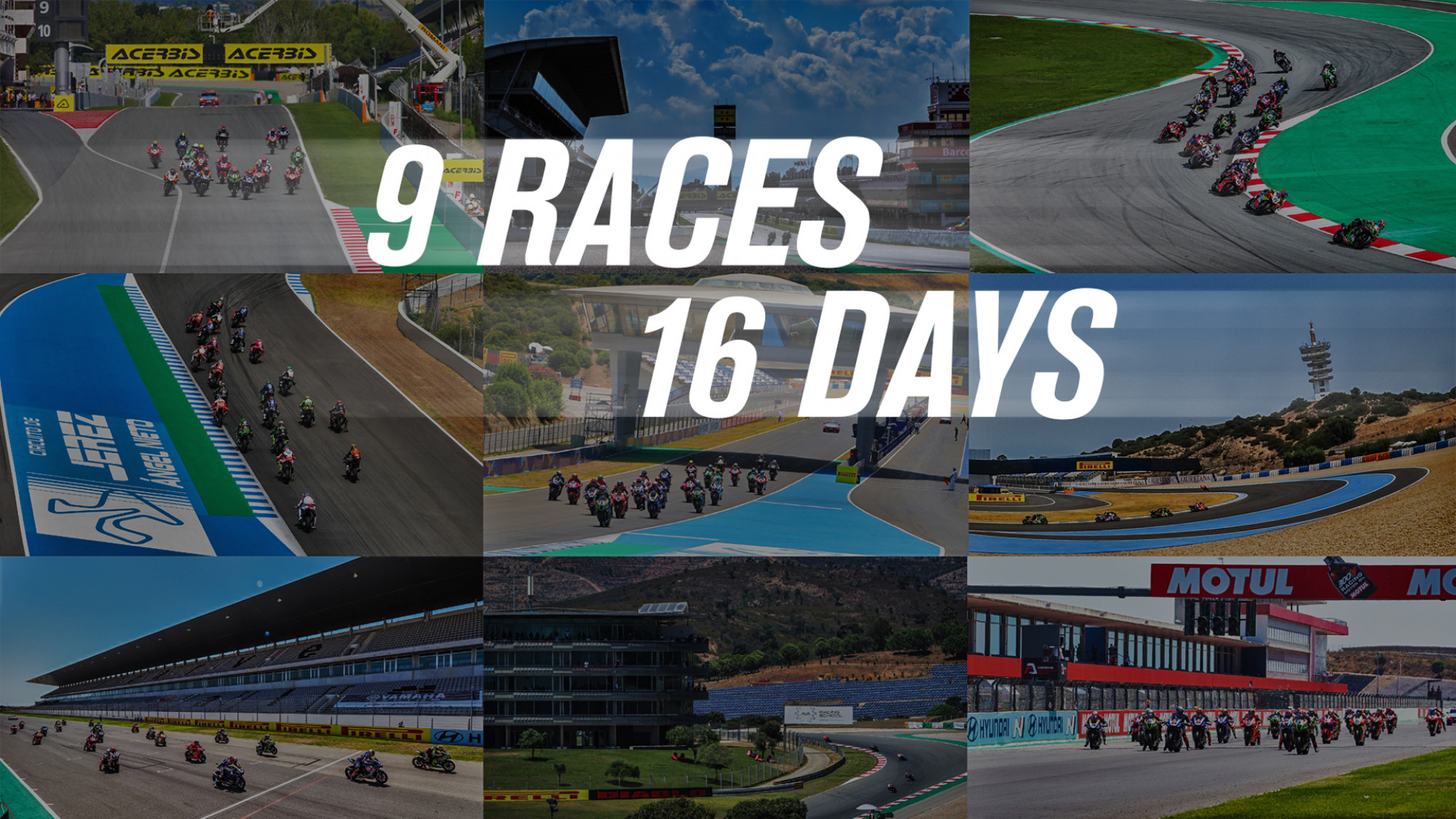 The three categories of the World Championship face the most difficult stage of the year, with three consecutive and decisive Rounds for the resolution of the titles. Several WorldSBK stars explain how they will rise to the challenge
The Hyundai N Catalunya Round that takes place this week marks the starting signal of a crucial phase of the 2021 MOTUL FIM Superbike World Championship campaign, but also a challenge for all competitors: a triplet of Rounds in three consecutive weekends. With little rest, the riders of the three categories will travel from Barcelona to Jerez to compete in the Motul Spanish Round, from September 24 to 26, and will meet up again five days later for the Portuguese Round, in Portimao, from October 1 to 3.
The three back-to-back rounds is not an unprecedented challenge in the history of the Championship, but it is certainly something very unusual. In fact, only three consecutive World Superbike Rounds have only been held on three previous occasions. In the first year of the Championship, in 1988, the rounds were held consecutively at Sugo, Le Mans and Estoril. In 1990 there was a transoceanic triplet, with races in Sha Alam (Malaysia), Phillip Island (Australia) and Manfeild (New Zealand), and at the end of that decade, in the 1999 edition, three Rounds were also scheduled on European soil, at the Spielberg, Assen and Hockenheim circuits. In the 21st century, there have been no triple headers... until now.
The global COVID-19 pandemic forced the 2021 season to start at a later date, at the end of May, and also to draw up a compressed calendar in this phase of the campaign, thus adding an unusual challenge for all participants. Although in other Championships, such as MotoGP™, triple headers are more common, here the weekend format marks the difference between them, with two races per weekend in World Supersport and WorldSSP300, and three races per Round in WorldSBK. In other words, nine races in 16 days.
Two WorldSBK riders, Alvaro Bautista (Team HRC) and Scott Redding (Aruba.it Racing - Ducati), who in the past have already faced three consecutive events during their extensive career in MotoGP™, have shared their previous experience against the sports gymkhana that is now ahead of them.
"It's three rounds in a row, but with three races per weekend," emphasises Bautista. "It is an important moment because you have to be very focused. In those three weeks, you can hardly relax. Maybe you have a couple of days to de-stress a bit, but then you have to connect again. They are races in which you cannot make any mistakes because a fall or a bad blow can condition the following ones. It is the most important peak of the entire Championship."
If the calendar is dizzying for everyone, it is even more so for the riders who are playing for the title, such as Jonathan Rea (Kawasaki Racing Team) and Toprak Razgatlioglu (Pata Yamaha with Brixx WorldSBK). In this circumstance, Bautista points out: "It is difficult to maintain a margin because when you need to go to the limit, especially if you are fighting for something important in the Championship, it is difficult not to push, but at the same time it would be the worst moment to suffer an injury, so you have to try to be sure to be at your best within the limits. It is complicated to manage, but you have to find that commitment because perhaps it is more important to score points in all of them than to add a lot in one, but miss out on several…"
Even more pragmatic is Redding, himself still with mathematical options to fight for the crown: "Well, we will have three rounds in a row… it will not be easy, but it is not the beginning of an era or the end of the world; we are going to compete, to do our job. There are three races per weekend, for three weeks in a row… I think it will be important to find a bit of relaxation between Rounds!"
Without having gone through the experience, Rea himself has already visualised what awaits him in his busiest month of September and has even drawn up his own plan: "Mentally, it's the same. We will go race by race," says the six-time World Champion. "Maybe I just get more rest between rounds and have a really easy few days, maybe no training, just relaxing. Racing weekends are very tough physically, but also mentally and emotionally. The weekend is difficult, not only because of what is happening on the track but also because of the conversations about the changes in the set-up, the decision-making… all of that takes its toll. I'll probably go to the beach in Barcelona after the Round. Maybe I play a bit of golf in Jerez and Portimao, but in general, it's about slowing down and relaxing."
Against the voice of experience, nothing like the drive of youth: Manuel Gonzalez (Yamaha ParkinGo Team) faces five events in five weeks at this stage of the year, with the triple-header following the French Round and the Moto2™ Aragon Grand Prix. Does the number of events worry him? "For me, the more races the better! I do not have any mental or physical problems. Maybe if you crash in the first few races, you may have a problem in the following races, but I think I'm ready. I won in France, so I am very confident. We have already achieved the first victory; I hope to win more in the next three races, I think I am really ready."
So, who said fear? The historic roller coaster in the 2021 World Championship starts this week in Barcelona-Catalunya and will be completed on October 3 in Portimao, with a visit to Andalusia and Jerez sandwiched between the two.
Follow in the best way the conclusion of all three title battles in the final stretch of the unpredictable WorldSBK battle with the WorldSBK VideoPass!