"We've made very good steps with all the items!" – HRC duo praise latest WorldSBK test
Saturday, 8 May 2021 09:25 GMT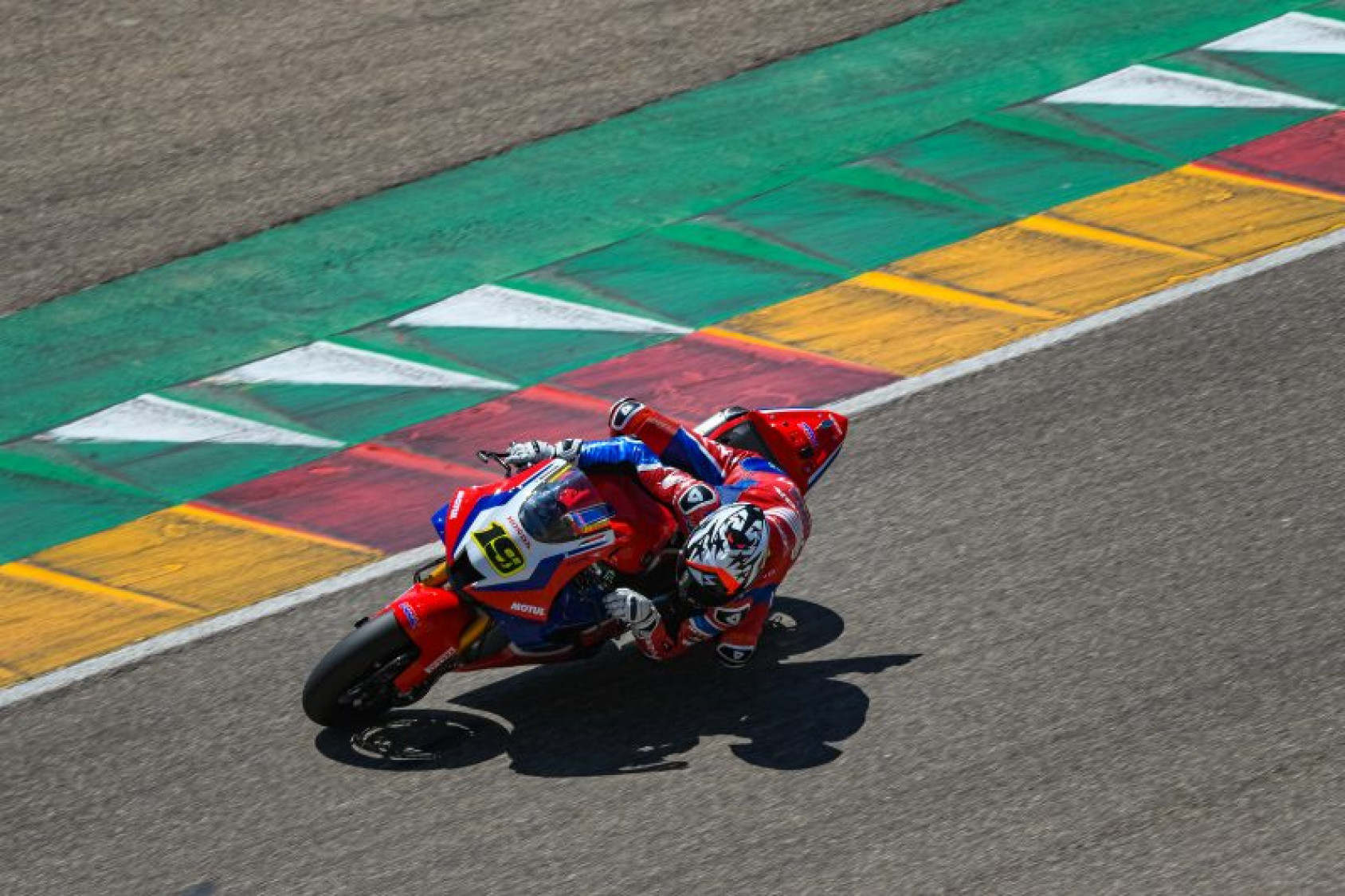 Although Alvaro Bautista was not at 100% fitness, the Spaniard found form in the heat of Aragon, whilst Haslam celebrated a breakthrough in consistency and found plenty of other positives…
The 2021 MOTUL FIM Superbike World Championship season is edging ever closer and is now less than two weeks away from the first race-day of the season, meaning the final crucial tests are taking place. Team HRC were on-track at the season-opening venue – MotorLand Aragon – across the 6th and 7th of May for two days of testing, with stable weather giving riders Alvaro Bautista and Leon Haslam a good opportunity to get dialled in prior to the first round. Both of the riders were testing various solutions from the engineers back in Japan, whilst also finalising their set-up as the start of the racing season comes into view.
With temperatures at around 27 degrees Celsius, conditions were perfect for testing and gathering data ahead of the new season, of which will be the second for the Honda Fireblade CBR1000RR-R. The debut year saw the bike take a podium at Aragon, not too far from victory with Bautista just 3.599s behind winner Jonathan Rea (Kawasaki Racing Team WorldSBK). However, Bautista wasn't at full fitness at this latest test, following a minor chest injury in a training incident earlier on in April.
"We have tried to make the most of these two days of testing, two half-days to be precise, as we want to leave time to test at the new tracks that are on the calendar this year," declared Bautista, with three new tracks joining the calendar for 2021 (Autodromo Most, Circuito de Navarra and the Mandalika International Street Circuit, the latter being subject to homologation).
"All in all, I'm happy with the feedback I've had from the bike over these two days because even though it's been very hot, we've managed to do a good job, a lot of testing and we've gathered a lot of information to be more competitive for the start of the Championship here at Aragon. Luckily, compared to the Barcelona test, I've felt much better physically (Alvaro sustained a minor but painful chest injury while training in early April), but on the other hand I'm still not 100%.
"After an intense first afternoon of work, on the second afternoon we completed the most important tasks and then we decided to finish up a bit early, to not compromise my recovery process considering the back-to-back races that await us in a fortnight. As I said, I am happy with what we have done and with the feeling I have with the bike and the team, and I am looking forward to the start of the season with confidence and good feelings."
Teammate Leon Haslam had a contrasting test to Bautista, with the British rider spending much of the first afternoon in the box, whilst completing numerous laps on the second day. Whilst Bautista used a full day of his testing allocations (two half-days), Haslam used a day-and-a-half and stated that the two days had been "very positive" and that all of the items tested resulted in "very good steps" being made.
Reviewing his testing schedule in Alcañiz, Haslam stated: "Day one was a bit tough as we worked a lot in the garage and didn't manage to make many laps over the course of the day, whilst on the second afternoon, we got a lot of laps under our belt, which was great. So, although we lost some time yesterday, we were definitely able to make up for this. We had a lot to get through, but I think we've made very good steps with all the items we had to test here."
The ex-WorldSBK Championship runner-up then explained what areas of performance had improved the most, saying: "Our consistency has improved, and that was a priority for us. The lap times were good, also considering the high temperatures, so I'm pretty happy with that and, like I say, the consistency has been better. We have some more areas to explore, but what we've done here has all been very positive. Although we haven't had as much test time at this track as other teams, I think we're close. Now all we have to do is switch our mindset and get into race mode rather than test mode; I'm looking forward to the first races."
Make sure to follow Honda's journey through the year in style with the WorldSBK VideoPass, where every session will be live!