The Most unpredictable of weekends: WorldSSP300 title battle ramps up in the Czech Republic
Wednesday, 4 August 2021 06:50 GMT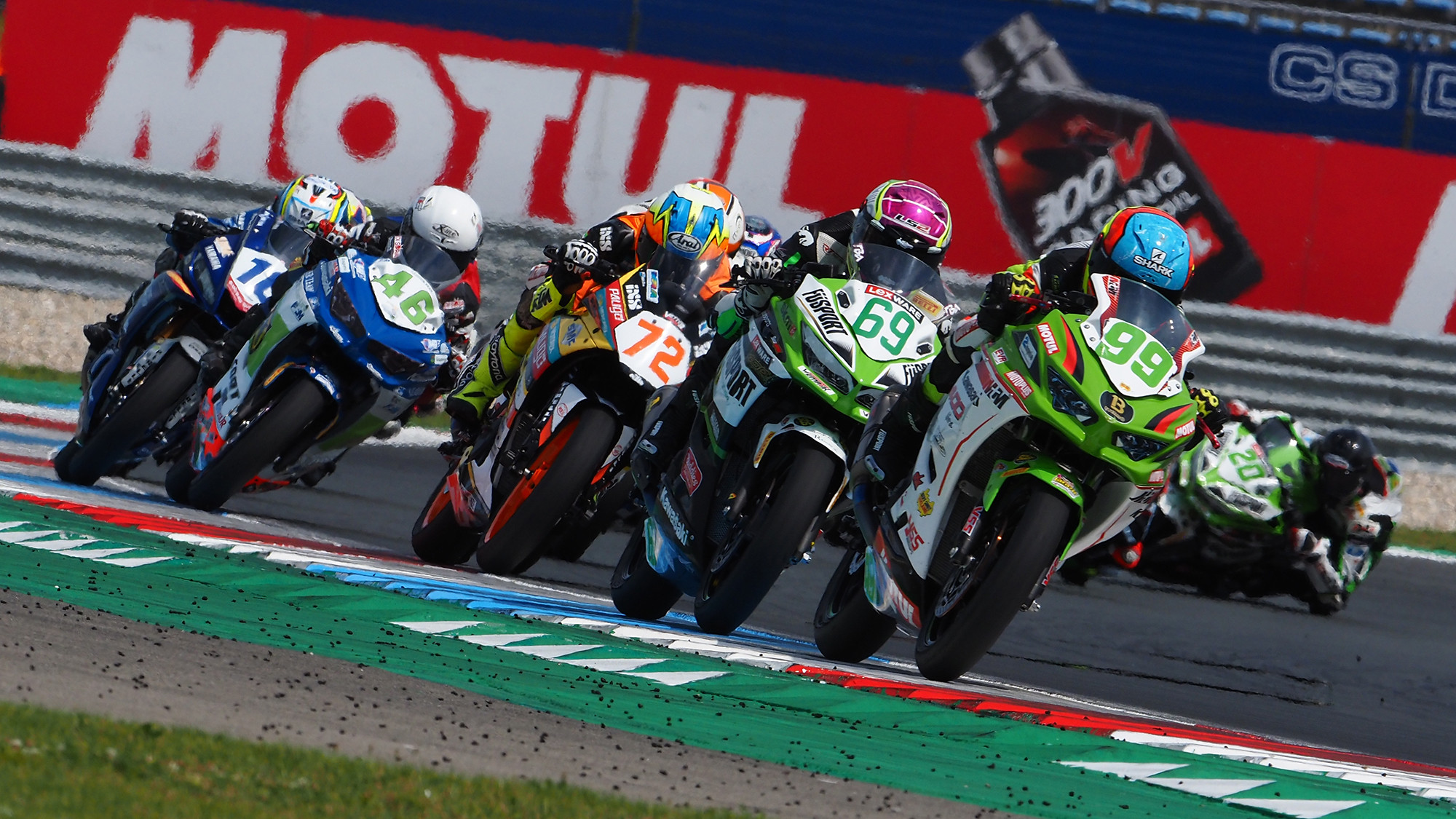 The Autodrom Most will host the fourth round of the 2021 season as the paddock heads east to a new venue for the Championship.
The FIM Supersport 300 World Championship will get its first taste of the Autodrom Most at the Tissot Czech Round with 44 riders scheduled to compete as the title battle in WorldSSP300 begins to take shop after three rounds of the 2021 campaign, with Spanish rider Adrian Huertas (MTM Kawasaki) leading the way after six races.
TITLE BATTLE TAKES SHAPE
Unpredictability has, as always, been a huge part of the 2021 season but two riders have managed to be consistently fighting at the front during races. Huertas holds an 18-point advantage over Tom Booth-Amos (Fusport – RT Motorsports by SKM – Kawasaki) with the duo pulling away from the rest of the field. Out of the six races so far, Huertas has three wins with Booth-Amos claiming two. Crucially, Booth-Amos crashed out at the final corner of the final lap at both Misano Race 2 and Assen Race 1, allowing Huertas to build a gap. Booth-Amos rectified this with victory in Race 2 at Assen with Huertas in fifth.
DI SORA LEAPS INTO THIRD PLACE…
French rider Samuel Di Sora (Leader Team Flembbo) claimed his second podium of the season at Assen in Race 2, allowing him to leap into third place in the Championship standings on 64 points. Di Sora heads into the Most weekend on the back of two third places and a fourth in the last three races and will be hoping this form continues for more podiums as he looks to close the 26-point gap to Booth-Amos.
DID ASSEN KICKSTART BUIS' TITLE DEFENCE?
Reigning Champion Jeffrey Buis (MTM Kawasaki) has found defending his title extremely difficult with a best result of sixth place at MotorLand Aragon, in Race 1. This changed in front of his home fans though with a third place in Race 1, having crossed the line in second but being demoted one place for exceeding track limits on the final lap, and fourth in Race 2. With those results, Buis moved into fifth place in the standings on 52 points, the same as teammate Yuta Okaya who sits fourth courtesy of more fourth-place finishes, with both riders 56 points back from teammate Huertas. Most marks the halfway stage of the season and Buis will know he needs to start collecting wins if he wants to become the first rider to win back-to-back WorldSSP300 Championships.
SIXTH TO TENTH SEPARATED BY TEN POINTS…
The unpredictable nature of WorldSSP300 means the Championship standings remain close throughout the campaign, with ten points separating five riders in the top ten separated by just ten points. Hugo de Cancellis (Prodina Team WorldSSP300) sits sixth in the standings on 49 points after his second place last time out at Assen, with the 20 points gained for that coming off the back of two non-scores. Five points behind him is the fourth MTM Kawasaki rider, Koen Meuffels, who also claimed a podium in front of his home fans in Race 1 at Assen; his best result of the 2021 campaign so far. Victory in Race 2 at Misano had moved Ana Carrasco (Kawasaki Provec WorldSSP300) into third in the standings as she looks for a second WorldSSP300 title, but a disastrous Assen round where she crashed out from seventh in Race 1 and finished 15th in Race 2 meant she tumbled down the order in the Championship standings to eighth, level on points with Meikon Kawakami (AD78 Team Brasil by MS Racing) although Carrasco's win keeps her above the Brazilian in the standings. Unai Orradre (Yamaha MS Racing), who holds the record as the youngest ever winner in the class, currently sits in tenth place in the standings; having only scored points on three occasions this season despite strong pace.
HOUSEKEEPING NOTICES
Marc Garcia will once again be replaced by Christian Stange at the 2R Racing outfit with Stange returning to WorldSSP300 at the TT Circuit Assen. Bruno Ieraci (Machado CAME SBK) will need to be declared fit for the Czech Round following a crash last time out at Assen, while Dean Berta Viñales (Viñales Racing Team) returns after missing out on the Dutch Round and was replaced by Twan Smits.
Two Czech riders will wildcard in WorldSSP300 at the Autodrom Most with Matyas Cervenka competing with the AC Racing outfit and Filip Feigl with the Genius Racing Team. Cervenka has been around the WorldSSP300 paddock before, in 2020, although failed to progress into Race 1 and 2 while Feigl will be making his WorldSSP300 debut at Most.
Catch all the action from Most using the WorldSBK VideoPass and join the conversation on social media using #CZEWorldSBK