Row seven to top seven: the story of Gerloff and Sykes' valiant resurgence
Saturday, 24 July 2021 16:42 GMT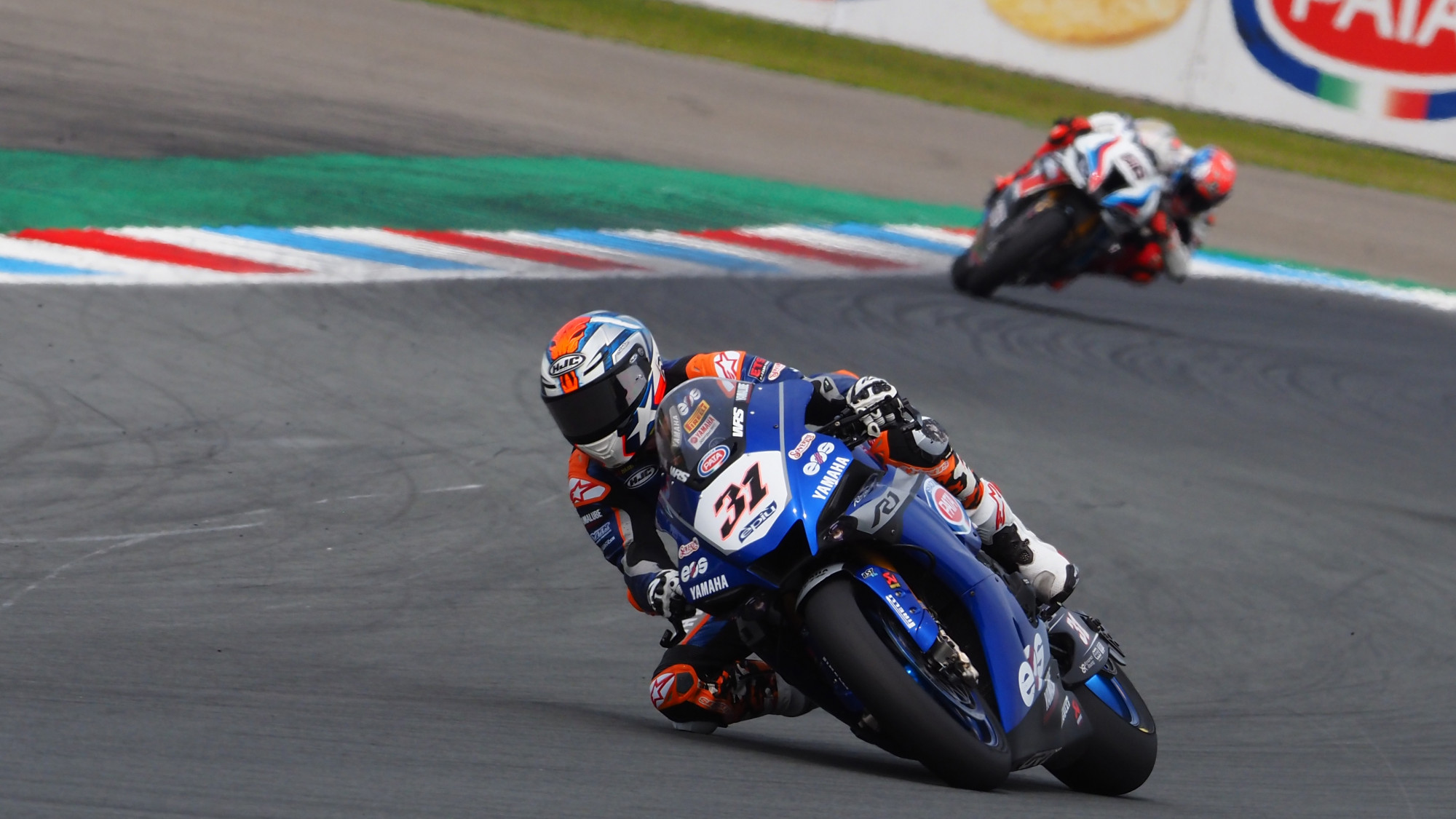 Sykes and Gerloff were forced to start at the back through issues in Superpole but responded in fine style in Race 1 to claim top seven finishes.
Two riders battled their way through the field after a Tissot Superpole session left them starting Race 1 from the back of the grid for MOTUL FIM Superbike World Championship's visit to the TT Circuit Assen after not being able to set representative lap times in the Superpole session for the Prosecco DOC Dutch Round, with Tom Sykes (BMW Motorrad WorldSBK Team) and Garrett Gerloff (GRT Yamaha WorldSBK Team) starting 20th and 21st respectively.
Sykes officially set a lap time of around 12 minutes after suffering a technical issue on his BMW M 1000 RR in the early stages of the 15-minute session and was unable to set a representative time to move further up the grid. The team were able to work on his bike between Superpole and Race 1 to fix the issue, with Sykes moving from 20th on the grid to seventh in Race 1.
Explaining what caused him to start from 20th place, and how Race 1 was from his point of view, Sykes said: "Unfortunately we had an unbelievably small technical issue at the beginning of Superpole. Credit to the marshal, I saw him afterwards. He said he had severe leg pump. He was solid but he got me back. The guys did an unbelievable job in the garage. Absolutely incredible. We had to start from the back. I don't know whether that's a first for me, but it's different! We went racing. I'm not sure whether we had an issue with the clutch, I want to see this with the guys, it was difficult in some areas. Overall, the setup was there. I knew the tyres were very, very, very tight which meant the idea was to get away at the start with the guys. An enjoyable race with quite a lot of passing. Found myself with some different riders! It was a learning day, an enjoyable one, but definitely didn't get the results I feel we deserved. On the other hand, my teammate was riding very well. I have to say fourth and seventh is not bad. It's very competitive this weekend and I think it's finally nice for the whole of the BMW Motorrad WorldSBK Team to have this kind of improvement in form and hopefully we can continue and carry this forward."
For Gerloff, the reason he had to start at the back of the grid was due to a crash at Turn 2 as he started his first flying lap in the Tissot Superpole session, with the American unable to recover to take to the track later on in the session. As Gerloff had not set any time at all, he had to start behind Sykes on the grid but was able to finish ahead of the British rider.
Gerloff reacted to his day, saying: "Saturday was more difficult than I was hoping it would be. I'm just really frustrated because it seems like I keep having things happen in moments that actually matter instead of moments where it doesn't matter. So, it just makes it a lot more difficult on myself because I know that the GRT team gave me an awesome bike and the Yamaha R1 felt so consistent and super-fast here. I feel like my teams are really good and then having to start from the back makes it so much more difficult. Just frustrating. I feel like I keep getting kicked a little bit. I'll keep standing up the best I can and try to put in good results.
I was just doing my best to find my way around guys. There were a couple of times where, for sure, I lost some time trying to make a pass and getting passed back but that's how it goes. It was a long race, but it would've been to get those last two laps because I felt like I could've maybe made a pass on Locatelli. In the end, just happy with the way it went but I know we have, and I know we can do better."
Can Gerloff and Sykes repeat their feats in the Superpole Race? Find out using the WorldSBK VideoPass!