RINALDI REVEALS ALL: 'Not so good' 2021, new 2022 teammate, and silencing critics…
Friday, 3 September 2021 10:20 GMT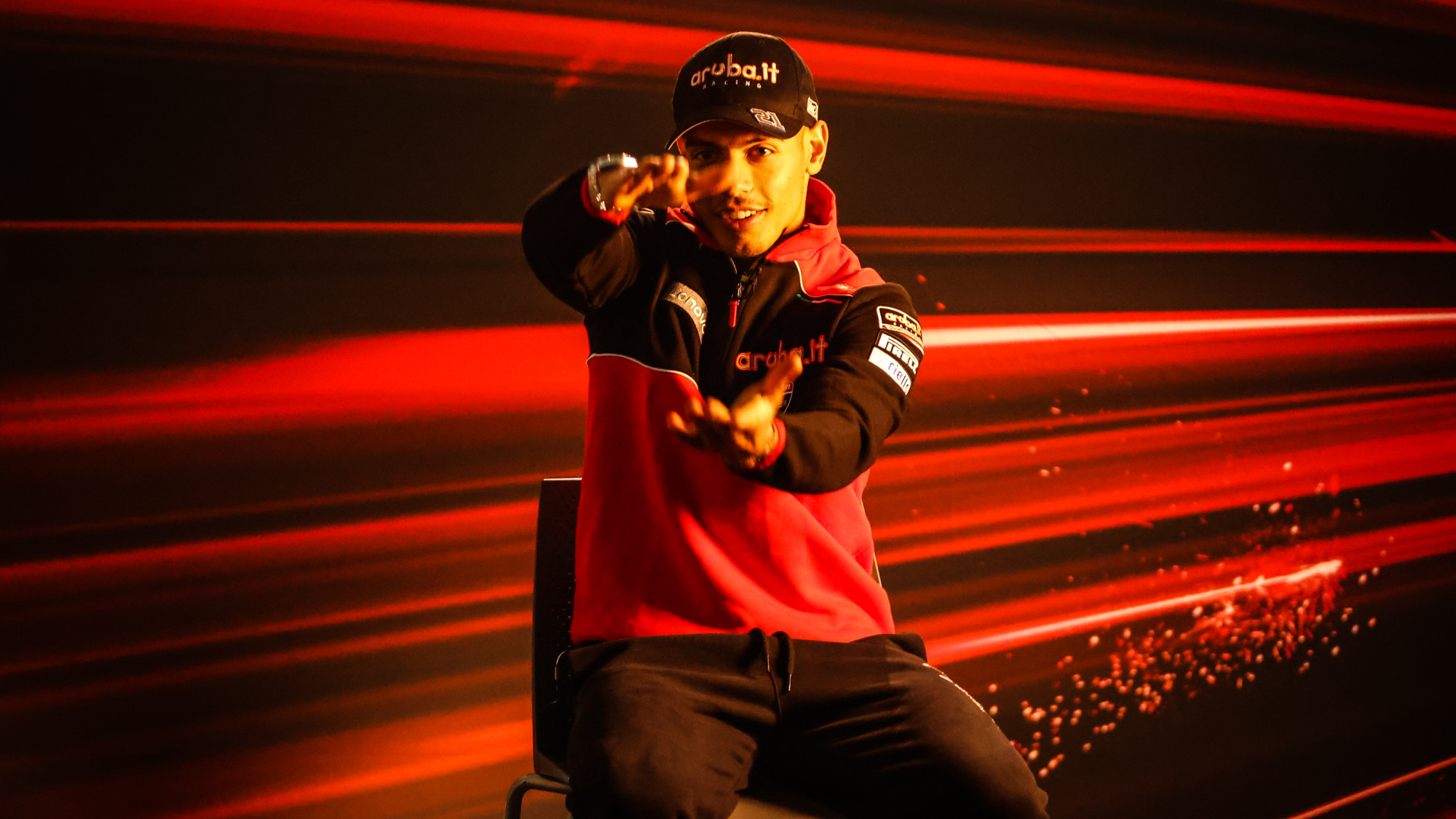 Michael Ruben Rinaldi moved to the factory Ducati team for 2021 after a stellar 2020 season but has found this campaign a challenge
A stunning 2020 campaign in the MOTUL FIM Superbike World Championship for Michael Ruben Rinaldi (Aruba.it Racing – Ducati), where he took three podiums including one victory, meant the Italian rider found his way to the factory Ducati team but the 2021 campaign has proven to be a challenge for Rinaldi although has claimed two victories in 2021, both coming at his home round at Misano. Ahead of the Motul French Round, the 25-year-old sat down to have an in-depth discussion on the present and the future including a new teammate next season and the pressure he faces in a factory outfit.
REFLECTING ON 2021…
Rinaldi's two victories in 2021 came at his home round at the Misano World Circuit "Marco Simoncelli" as he claimed Race 1 and Tissot Superpole Race honours. Despite success at Misano, Rinaldi has only claimed one further podium in 2021. Discussing the season, Rinaldi said: "My season so far was not so good. I can feel that I'm a better rider than last year. But unfortunately, for some reason, I cannot achieve what I want. So, it's difficult because you don't understand sometimes why, so for the mind is a big impact. But we are at the top level. We just cannot give up and we have to face the problems and bounce back."
With the challenging season now entering the second half, Rinaldi outlined his goals for the remainder of the 2021 campaign, with the Italian taking a race-by-race approach: "Well, for the last rounds we have to change the way that I'm going. We want to go back up. I think my goal is to focus on every race, not for the final position in the Championship. But I think if I look at that we can arrive maybe fourth because the first three riders are so far in front. But I try to do my best and try to win as many races I can."
RINALDI'S PLAN TO SILENCE THE CRITICS
The Italian rider also opened up on the pressure that riding for the factory outfit brings and outlined his plans to silence critics after his 'not so good' 2021. He said: "It's a big pressure riding for Ducati in the factory team. Because when you are in this position in every factory team, you have pressure from the media and the people but when you wear these colours it's even more because Ducatisti are expecting a lot from the team. And now I'm not doing so good. So, some Ducatisti, trust me and helped me. I see the comments. But some people, maybe not Ducatisti, speak so bad. I don't look too much on social media at the moment, but the only way I can bounce back is to win so I cannot say anything to them. I just can win and shut the critics up by winning."
COULD BAUTISTA'S ARRIVAL BENEFIT RINALDI?
After riding on his own with the Independent Team GoEleven outfit in 2020, Rinaldi teamed up with Redding for this campaign but will have a new teammate for 2022 as Alvaro Bautista returns to Ducati after a two-year stint at Team HRC. Could Bautista's similar build to Rinaldi help the Italian in 2022? Rinaldi said: "I'm happy that the new teammate is Alvaro because we have a good relationship as well. And technically speaking, he is more like me, he's small and lighter. If I have a problem again, I can check his data and now it's not possible with Scott because he's got a totally different riding style and his body is completely different to mine. But on a human level, speaking for me, Scott or Alvaro is the same because I've got a good relationship with both."
DUCATI'S STRONG AND WEAK POINTS…
Rinaldi explained some of the strong and weak points of his Ducati Panigale V4 R machine as well as how he believes he has made a step forward this year: "So strong points, I think are the braking zone, because I was able to improve a lot compared to the last few years. The weak point maybe is that we have a powerful engine like everybody knows, but it's difficult for us to put all the horsepower on the ground. Maybe sometimes we have movements, sometimes we have a lot of sliding. The result is that maybe our opponents have less horsepower, but are better in the exit of the corner, have more speed. The engine is so important, but these are important changes to put the horsepower on the ground. If we do that, we are so fast."
Catch all the action from the Motul French Round and the rest of the 2021 campaign using the WorldSBK VideoPass!