Pere Riba: "Who was thinking this could happen?... anything can happen!"
Thursday, 14 October 2021 14:29 GMT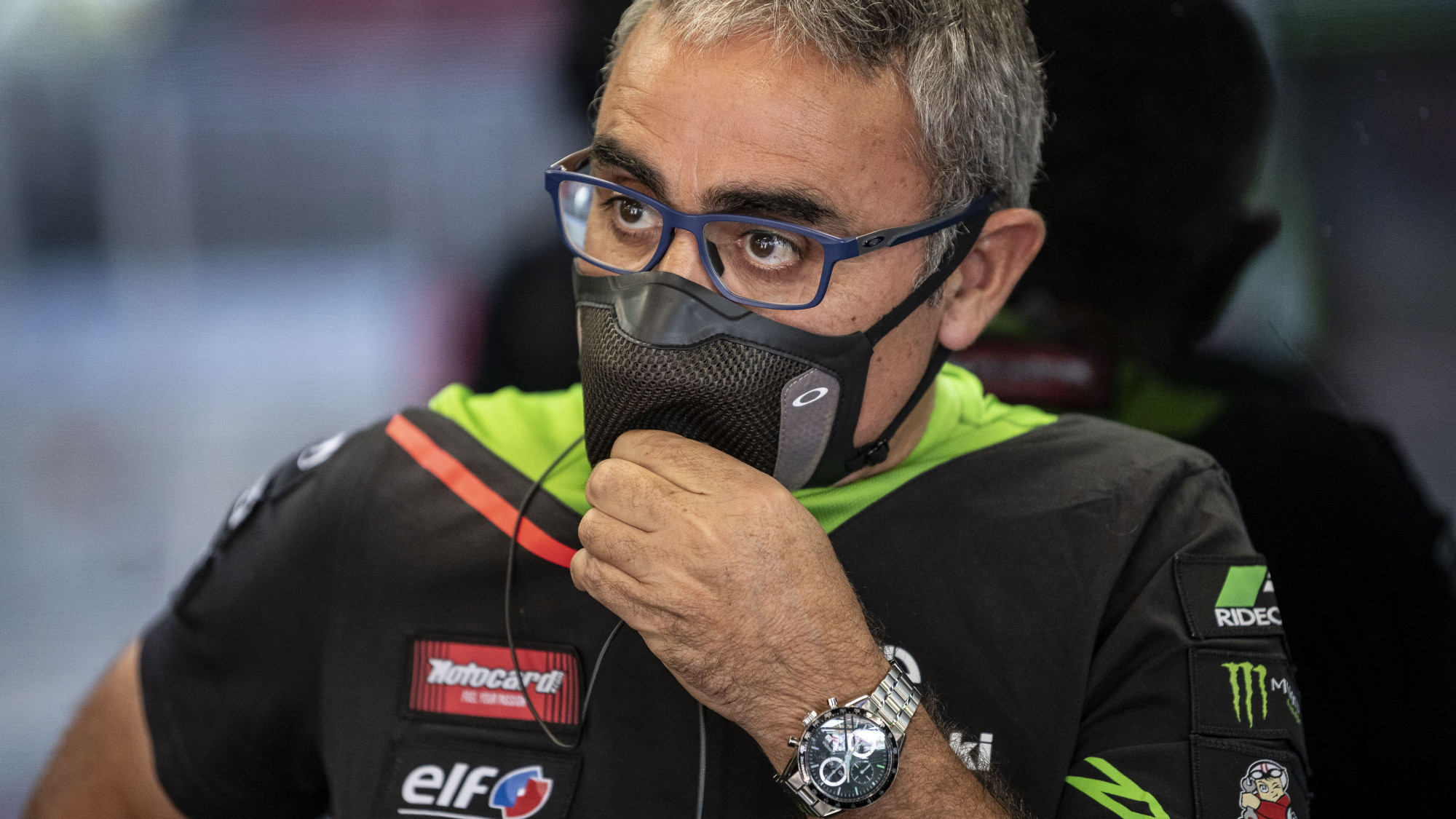 Jonathan Rea's crew chief Pere Riba didn't pull any punches after what was one of the most emotional weekends of his life, as the title race heads to South America and Argentina
The 2021 MOTUL FIM Superbike World Championship has seen a rollercoaster of emotions throughout the entirety of the season, and it hasn't just been the riders who have experienced it. Team managers crew chiefs and of course family have lived every peak and trough, and there's plenty more still to come. Pere Riba is the crew chief to Jonathan Rea (Kawasaki Racing Team WorldSBK) and both are going for an unprecedented seventh consecutive title together. However, even at Portimao, where both have enjoyed success together before, Riba experienced "probably the most difficult weekend" of his life. We caught up with him, to get his insight into what he and the rest of the team can do to support Jonny in 2021.
"Probably the most difficult weekend in my life… it was very tough"
"Honestly, personally for myself, it has been probably the most difficult weekend in my life," began an emotional Riba. "Especially, not for technical reasons but emotional. As you know, this year the Championship is very tough, Toprak is doing a great job and Jonny also, and we are fighting. One time it is one rider, the other time it is the other.
"We arrived at Portimao still with chances in the three races with a lot of points. We've been preparing well this weekend and Jonny has been strong; then, what happened in Race 1, was very tough. Especially for Jonny because he knew he could do a good job and we knew that we had the rhythm to do the triple. It was very hard to lose 25 points and then, at the same time, Toprak won, so you lose 100% of those 25 points. We spoke with Jonny, and we tried to keep the motivation as high as possible and it was very tough."
Things didn't all go to plan though on Sunday morning as rain came, and Rea crashed: "During the rain, we did a normal job, but it was a completely new bike; in the Race 1 crash, the bike was totally destroyed as it crashed at over 200km/h. We made a setup to get the feeling and to prepare the race; all was going well and then during the race, in the first lap, he was leading and before he finished the first lap, he was a bit excited, and he was braking very strongly into Turn 13, and he lost the front."
"This was a big shock for us…"
It wasn't an easy pill to swallow, but the team gathered around Rea to make sure that he knew there was another chance in Race 2 later on: "This was a big shock for us, especially for him; emotionally, it made big damage. Of course, I really believe – as I say to everyone – that we are a team and, in these moments, you can see everyone is around Jonny, helping him understand that it's already happened and that for Race 2, we have the pace, the bike, the rider and we just tried to take the pressure off and tell him to enjoy it as much as he can.

"At the end of the day, it was very impressive because even for me, it was very emotional and, let me say, before Race 2, I was worried for Jonny," continued Riba. "How his reaction will be, after crashing in two consecutive races – something that he doesn't do – and how he's going to be. Anyway, he just tried to enjoy, he was strong, felt good with the bike and then he just put the rhythm.
"You always have to keep fighting and believing!"
"I do believe that Jonny could've won the race anyway, because the rhythm was strong and with our tyres and our performance, we can keep the tyre until the end. The track was a little bit more critical with the tyres and there was a little bit more wind, but Jonny was riding very well. Then, this thing happened to Toprak, and this is showing that you never have to give up; you can never say 'it's done, it's finished', you always have to keep fighting and believing.
"It will be very interesting…"
"Our philosophy will be race by race now, Race 1 in Argentina will be like the last one. It doesn't mean you have put it all out there and be crazy, but we must do race by race and try to get the best and then try to finish in front of our competitor. I believe that, still with six races, many things can happen and after Sunday morning at Portimao, we were nearly 50 points back, now we are 24 again. Who was thinking that this could happen? I don't think anyone was. With six races to go, there's 124 points up for grabs, which means there's a lot. Anything can happen; of course, we will try to keep fighting like always and we will try to help Jonny as much as we can to try and give the best tools, let's see. It will be very interesting…"
Watch the extraordinary title race in WorldSBK unfold chapter by chapter with two rounds to go with the WorldSBK VideoPass!