PITLANE PASS: First impressions, large gaps, plenty of challenges…
Friday, 19 November 2021 08:32 GMT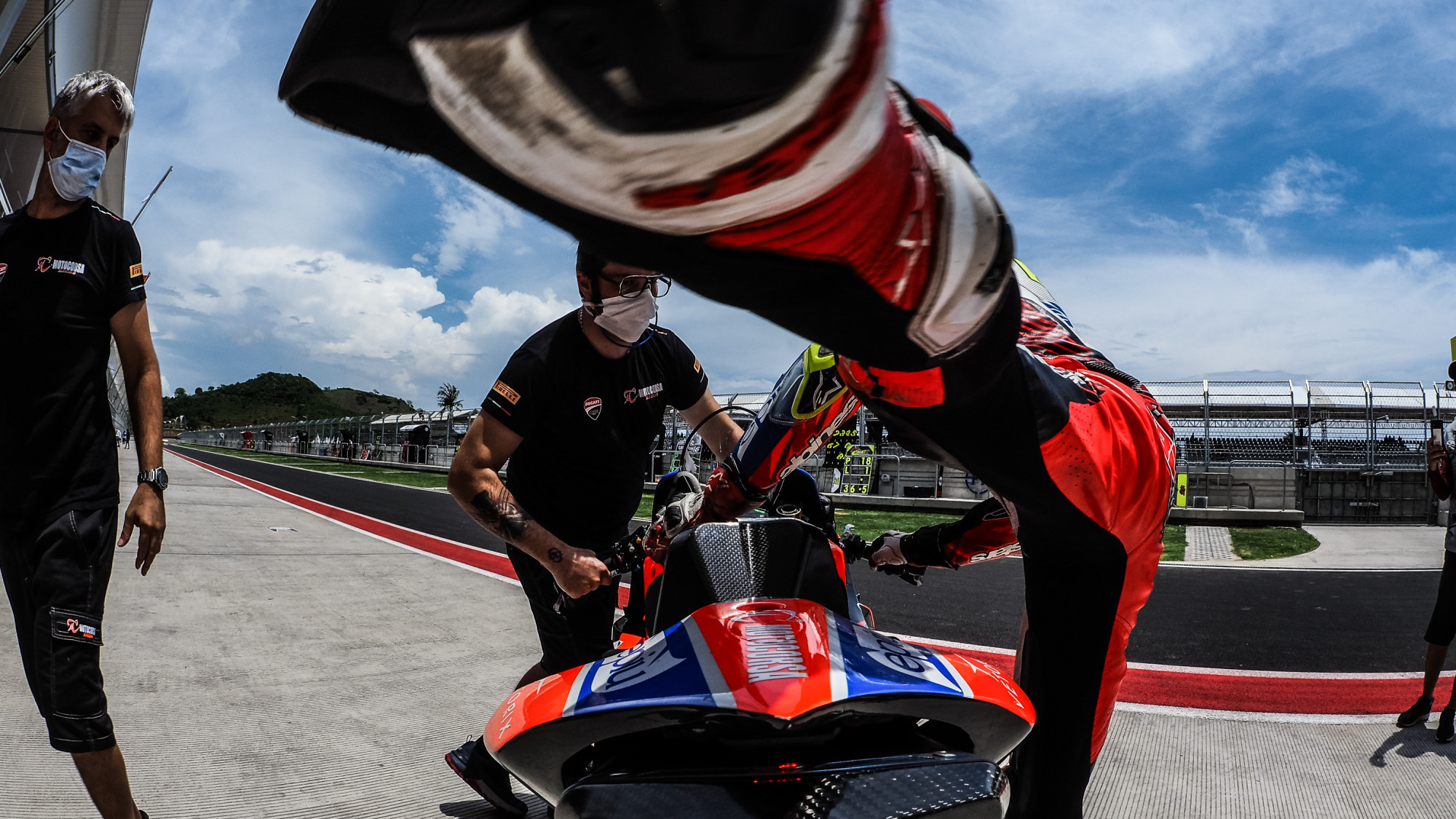 Key figures from teams and manufacturers discuss the new circuit, provide updates and explain the challenges from the Pertamina Mandalika Circuit
The MOTUL FIM Superbike World Championship arrived at the brand new Pertamina Mandalika International Street Circuit with plenty of new challenges to deal with ahead of the Pirelli Indonesian Round. During Free Practice 2, key figures from up and down the paddock were able to give their first impression about the new venue, as well as the challenges of setting up for hot and humid conditions. There were also explanations about the large gap between riders in the opening session of the day.
ONLY ONE CHANCE TO MAKE A FIRST IMPRESSION…
The Pertamina Mandalika Circuit is making its first appearance on the WorldSBK calendar having been constructed in 2021, with the layout leaving a positive first impression up and down the paddock. Team HRC Team Manager, Leon Camier, discussed the circuit and said: "I think everybody's really, really impressed with the layout and design of the circuit. It's absolutely amazing. I think the track needs a little bit of bedding from what we understand. The surface is very new, very green, it's not really had any track action, until now, with the big bikes at least. I think everyone's expecting the track to just keep getting better and better. Now, on line, the grip is getting acceptable. Off line, the track really, really green and not much grip at all. This will take some time to bed in, as we already know. So far, everyone's really happy."
Pata Yamaha with Brixx WorldSBK Team Manager, Paul Denning, added: "The layout's different but I think passing is going to be very difficult, the way the track kind of comes back and an apex immediately always after a corner, especially in the last sector passing is going to be challenging. In general, it's an enjoyable track to ride. There's a few issues with the surface, some damage to the surface after FP1 but that's kind of new track blues, I guess, and it'll improve going forward."
FREE PRACTICE 1 DOMINATION AND DISRUPTIONS…
Toprak Razgatlioglu (Pata Yamaha with Brixx WorldSBK) was fastest out of the blocks in Free Practice 1, going 1.5s clear of his nearest rivals before topping the second session as well, finding more time. Explaining the gap in the morning session, Denning said: "Jonathan had an issue and only made one exit, the Ducatis traditionally take more time to get up to their own pace, refining their package. The Yamaha's very good out of the box and, to be honest, the advantage we had in FP1 was Toprak. He's so good at learning tracks and riding in slippery conditions."
Six-time Champion Jonathan Rea (Kawasaki Racing Team WorldSBK) did the second-fewest number of laps in FP1, completing only ten laps. Explaining why Rea completed so few laps, Guim Roda, Team Manager at Kawasaki Racing Team WorldSBK, said: "We made a mistake. Sometimes this happens and it's like this. It's a shame because we lost maybe 25 minutes for Jonny to get used to the track and considering the goals we need to achieve this weekend, it's a shame. We need to accept it. Try not to be defeated and continue trying"
HOW DO YOU ADJUST FOR DIFFERENT CONDITIONS AT A NEW CIRCUIT?
A new venue presents plenty of challenges even before weather conditions is factored into the equation, as riders look to get the best out of their package. Camier has experience of setting up bikes in difficult conditions, with high air and track temperatures as well as humidity. Discussing this, Camier said: "The trick is just to accept it for what it is. You usually have a reference of how tyres are working on a circuit. You have to reset completely and understand the conditions are what they are and just try to ride what your feeling is, what you feel you can do on the bike at the time. It's quite difficult. You have to really reset your brain and understand the track is different; the track is what it is that day and everyone will be in the same position, because everyone will be trying to do as many laps as they can to get a feel for it and understand where they are."
Ducati Corse's Technical Coordinator, Marco Zambenedetti, added: "In FP1, the track improved a lot during the session. We've put some rubber on the tarmac and the rider has been able to learn about the data. We tried different gearing, final gear ratios, and we compared it to the end of the session and different riders. It seems the high temperature doesn't seem to be the biggest problem. The bike is working well, we just need to fix a couple of areas."
Watch all the action from Indonesia in style using the comprehensive WorldSBK VideoPass!