Krummenacher remains with CM Racing for 2022 as the team switches to Ducati
Monday, 8 November 2021 10:02 GMT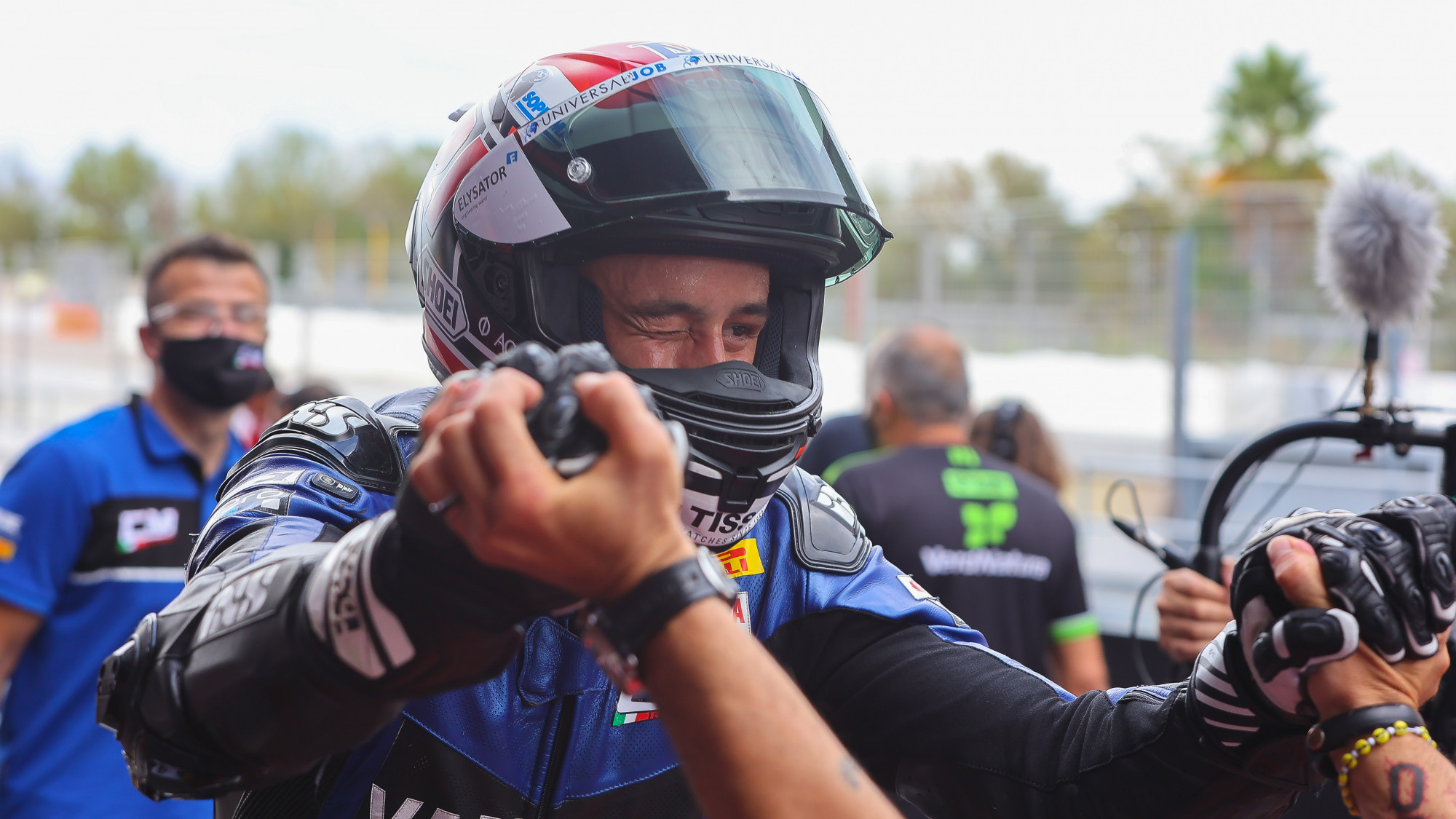 The 2019 Champion made a mid-season switch to CM Racing in 2021 and will stay with the team for 2022
After making a mid-season switch to CM Racing in 2021 in place of the injured Luca Bernardi, 2019 WorldSSP Champion Randy Krummenacher will remain with the team for the 2022 season, while the team will also switch from Yamaha to Ducati machinery. After the switch resulted in positive race results, both Krummenacher and CM Racing have decided to continue their collaboration for another season as Krummenacher looks to claim his second WorldSSP title.
The Swiss rider made his WorldSSP debut in 2016 and finished third in the Championship in his debut season, claiming one victory. His impressive rookie form earned him a shot at WorldSBK in 2017 before he returned to WorldSSP in 2018. Like in 2016, Krummenacher claimed one victory before his title success in 2019 where he scored eight podiums out of a possible 12, including four victories. He beat then-teammate Federico Caricasulo to the title by just six points at the end of a hard-fought campaign.
In 2021, Krummenacher started the season with EAB Racing but moved seats to replace the injured Luca Bernardi after an accident at Magny-Cours and with it came instant success as he claimed victory in Race 1 of the Catalunya Round. The combination were able to consistently fight for podium places and they will be hoping the extension of working together will bring more success.
Discussing the 2022 season, Krummenacher said: "I'm happy to stay in Supersport and to be part of the historic change in the rules of the category, which will bring on track bikes of different cylinder capacity including the Ducati Panigale V2. I want to thank the CM Racing Team and the Team Principal Alessio Cavaliere, who put great trust in me already this year. We immediately got on well, as evidenced by the victory in Barcelona, so I'm very confident for 2022. Having already tested it in the past I believe that the Ducati Panigale V2 will be a very competitive bike, from which my team will be able to get the most out of it. Now we have to focus on the last round of the 2021 season in Indonesia, then we'll get straight to work for the next season".
Alessio Cavaliere, CM Racing Team Principal, added: "Our collaboration with Randy has been fruitful since the beginning, so we are very happy to continue together. 2022 represents a great challenge, which together with a fast and experienced rider like Krummenacher does not scare us. Now we want to finish the 2021 season in the best possible way, and then start working immediately on next year's perspective."
CM Racing entered WorldSSP in 2021 using the Yamaha YZF R6 machine that has had so much success over the last few years. However, for 2022, Bologna-based manufacturer Ducati are returning to WorldSSP with the Ducati Panigale V2 and CM Racing will use this machine in 2022.
Discussing the switch to Ducati, Cavaliere said: "I'm really proud to be able to announce our move to Ducati, who I thank for the great opportunity. Ducati's arrival in Supersport is something truly epoch-making and we are happy as CM Racing Team to experience it first-hand. It is certainly a challenge to be discovered, and one that we are looking forward to. At the same time, I would like to thank Yamaha, who have helped and supported us in our debut season in the category, enabling us to achieve excellent results right from the start."
There's one round of 2021 to go! Follow all the action from Indonesia using the WorldSBK VideoPass!