Gossip, intrigue and opinions: the hottest headlines from Donington Park
Tuesday, 6 July 2021 08:30 GMT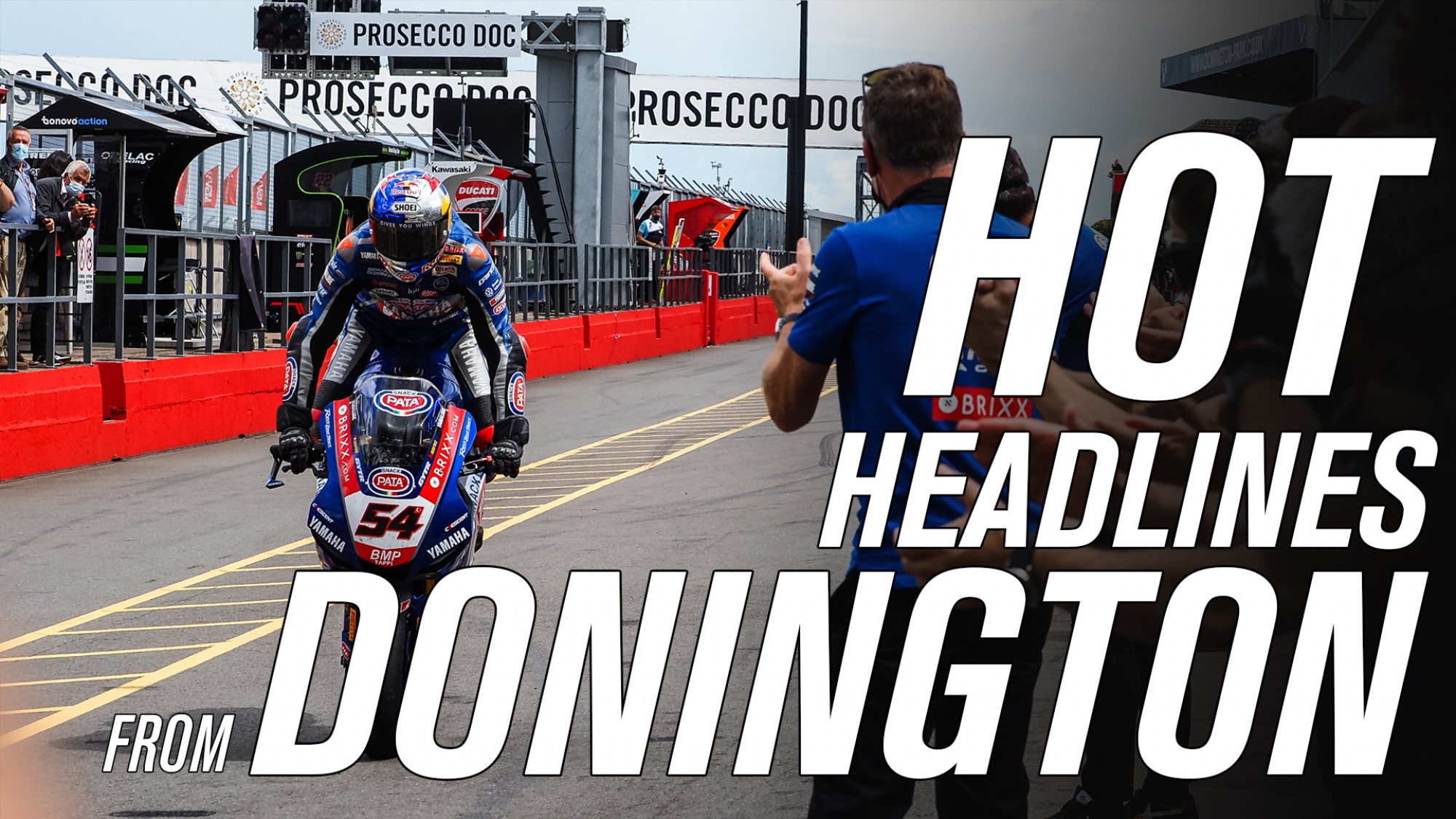 Knocks in form, a new Championship leader, rapid tech developments, tyre gambles and 2022 rider mutterings, we've kept our ears to the ground for this week's hot headlines!
The 2021 MOTUL FIM Superbike World Championship title race took a dramatic twist during the Prosecco DOC UK Round. Jonathan Rea (Kawasaki Racing Team WorldSBK) made a rare error and crashed from the lead, under attack from eventual race winner and new Championship leader Toprak Razgatlioglu (Pata Yamaha with BRIXX WorldSBK). Amidst all of the drama, we've filtered the biggest headlines into one place from the rider media debriefs, with everything from Saturday worries for Rea to Scott Redding (Aruba.it Racing – Ducati) Donington disaster, as well as a muttering about Garrett Gerloff's (GRT Yamaha WorldSBK Team) future and BMW's need to now reduce their power output. The dust has settled, and there's some hidden gems uncovered.
Jonathan Rea: "Things started to feel like they were getting away"
Two points behind in the Championship, it's mixed emotions for Rea: "The feeling is bittersweet really. The Superpole Race was really stressful on the grid because we saw some guys use the wet tyre. The clear choice was the intermediate or even slick, to be honest. If I had to do the race again because from the warm-up lap, most of the track was dry. I was doing what I could, building a nice lead and able to maintain that 2.5 seconds until the end. In Race 2, we changed the bike quite a lot from Saturday because I was struggling really badly with grip and the bike wasn't turning as good. We fixed that in morning Warm Up, I was really fast.
"Toprak came through quite aggressively where I went down at Turn 8. I lost a little bit of time when he came through and then I made another little mistake at the chicane, I just was a little bit faster on the entry than him and I was thinking I couldn't stop so had to pull wide and lost a little bit of time. I gained that time back really quickly and quite easily as well. I thought 'today is for me!'. I kept my powder dry, stayed there for a couple of laps and then he made a mistake at Coppice. I put my head down because I had the rhythm, the bike and the feeling. Going into Coppice the next lap, I just got caught out wide on the bumps a little bit. The front unloaded and when I tipped in, lost the front.
"I'm Frustrated with myself but feeling a lot more positive than I did on Saturday because things started to feel like they were getting away. I felt like I didn't have the tools to fight but on Sunday I felt I could take it. I made a silly mistake and now we've lost the Championship. Four rounds in, it's starting to be clear who the main challengers are. Toprak and his team are doing a great job, we just have to maximise every opportunity now."
Toprak Razgatlioglu: "I need to win for the Championship!"
New Championship leader Toprak Razgatlioglu was in fine form this weekend with two race wins, but he's calling for calm: "All the races, I try to win, but this time I was very surprised to see Jonny crash. He was riding very calm but after his crash, I ride a little bit calmer as I need to win for the Championship. Now, I am Championship leader, but I am not focused on this, only on race-by-race." Talking about his radical riding style, the Turkish rider added a brief comment: "It feels normal but also very slow. I don't know how to explain it, but it feels like normal to me."
Scott Redding: "That p****d me off… always my choice!"
After a crash in Race 1, Scott Redding's (Aruba.it Racing – Ducati) home round didn't get much better, as he gambled on wets on a drying circuit, and he was far from happy: "The p****d me off that did. I went out for the sighting lap, and it was a bit wet. I went down Craner, I went left, and it was quite wet, and I went through the Old Hairpin and it was a bit damp. I thought 'Donington, not very grippy anyway, if it rains a little bit it's going to have quite a big effect'. The last bit of the lap was quite dry, another was a bit wet.
"I was just like 'oh f**k'. It was kind of spitting and I said 'let's go with the wets. Basically, they all pulled the warmers off and had gone with inters. I went down Craner and I thought they'd have a few moments and then they'll be a bit 'woah'. But they had more grip with the inters than I had with the wets. They just pulled away from me. It was just the wrong choice. My choice. Always my choice now since it went wrong at Aragon it's my choice. I normally bite the bullet and do it, but I don't have the grip in the rain.
Michael van der Mark: "We have so much power, we've had to reduce it!"
Michael van der Mark's (BMW Motorrad WorldSBK Team) stunning form at Donington Park showed the great potential for BMW: "Me and Tom had a slightly different bike set-up, I think everyone saw in FP1 that the bike is still a bit of a pain in the ass to stop! However, we changed the set-up a bit and I found a way to ride around this problem, as there's only three really hard braking issues, although it's still the main issue.
"The straight-line speed of the bike is not a problem, in fact we have so much power, we've had to reduce it, as we can't use it all because the rear spins too easy. We've found a good balance now. I think in Aragon, we found a new strategy with the traction control which reduced the spinning. It's nice to go to Assen as the track layout only has two really hard braking areas, which should suit us. One of the best things is that the fans are back without a limit on the capacity, so I'm looking forward to that."
Garrett Gerloff: "I'd be happy to stay with GRT!"
Garrett Gerloff took his best result of the 2021 season and his first full-race second place, and with all of the gossip surrounding his future, he stated he'd be happy to stay put for 2022: "I want to win more than anything, I want to be on top of the box! For sure, we're working on it. I'm happy with what's going on with GRT and everything like that. The great thing is I'm already on the factory bike. We have all the same resources to go from, so I'm really happy with my crew chief, Les, and also our team coordinator, Damiano Evangelisti, they've been working really well together and given me an awesome bike. Like I say, it's just been me who hasn't been able to put it together and I really appreciate the team's passion for racing and everything and I know they want it really bad which gets me fired up! I'd be happy to stay with GRT."
Don't miss a second of the action in 2021 with the comprehensive WorldSBK VideoPass!