FRESH FACES: World Supersport's new guard of 2021
Wednesday, 25 August 2021 10:15 GMT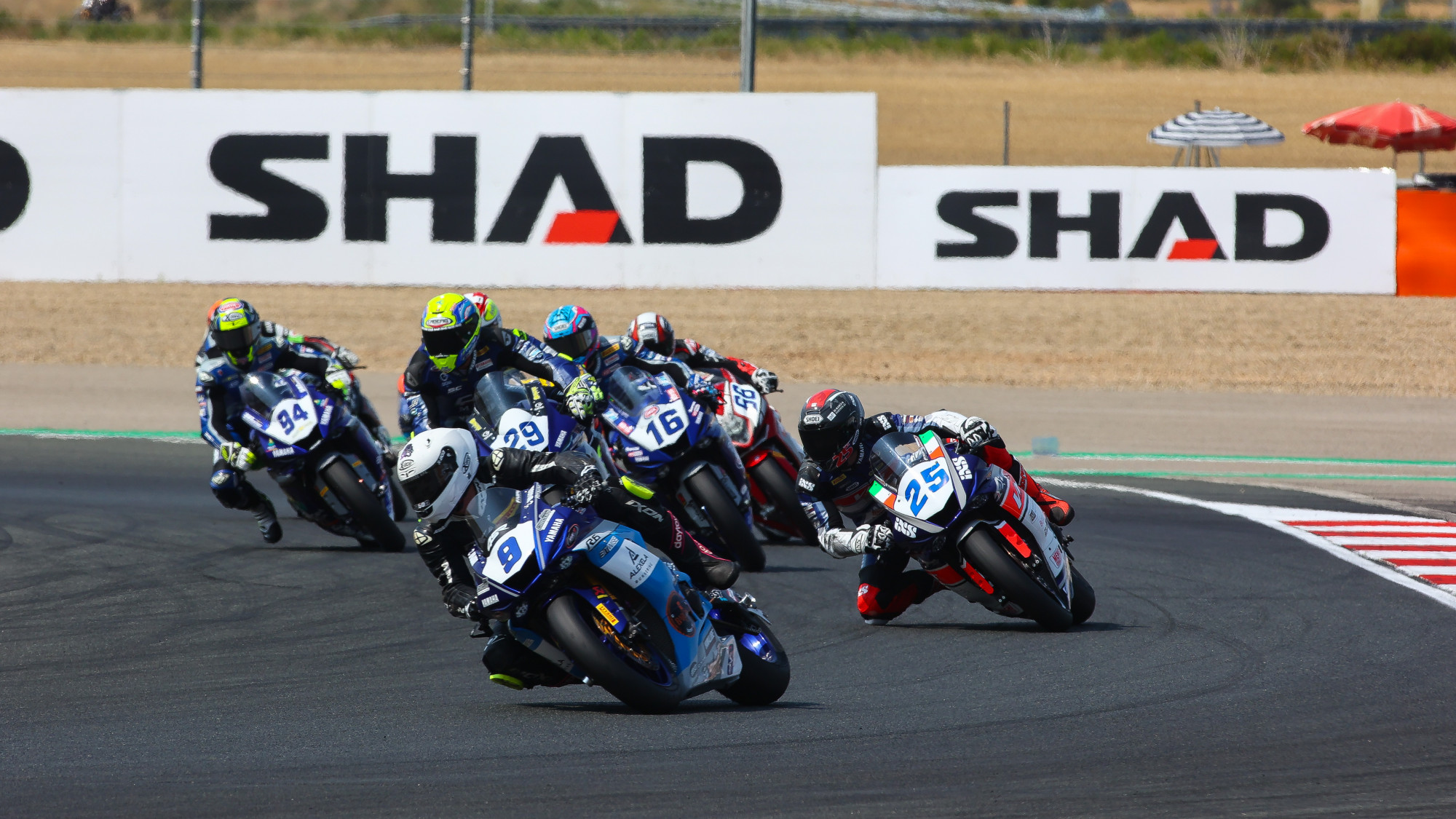 Never have we seen so many new names at the front of WorldSSP, with this season acting as a big shift as experienced rookies and rapid debutants take it to the established force…
After six rounds of the 2021 FIM Supersport World Championship, it is Dominique Aegerter (Ten Kate Racing Yamaha) and Steven Odendaal (Evan Bros. WorldSSP Yamaha Team) who are heading the field at the top of the standings. Aegerter is ahead of Odendaal by some 47 points after the Pirelli Navarra Round, however, there's an exciting development happening behind them. A whole host of fast World Supersport newcomers are really starting to make waves and slowly but surely, the established guard are starting to fight even harder.
CONQUERING AT THE TOP: a rookie at the helm
It would be unfair to say that Dominique Aegerter has completely emerged from nowhere; he has been a Moto2™ World Championship Grand Prix winner, a MotoE™ Cup race winner and now, a dominant force in World Supersport. But coming over to WorldSSP hasn't always been easy; Andrea Locatelli took the challenge head-on and since his WorldSSP Championship win, he's become a fully-fledged, full-factory front-runner in WorldSBK.
Second in the Championship in WorldSSP is Steven Odendaal, and he's only been in the Championship for a year, showing how he's come on leaps and bounds and he's ahead of Philipp Oettl (Kawasaki Puccetti Racing), also in his second season, whilst Manuel Gonzalez (Yamaha ParkinGO Team) has also started to come good, after taking a first pole at Most and getting his podiums at the Czech track. A front-runner at Navarra before a crash that left him with a dislocated shoulder, Gonzalez is now established at the front – at the tender age of 19.

TREMORS BEHIND: completely new names
Bursting onto the World Supersport scene and emerging into a podium contender almost instantly was Sammarinese rider Luca Bernardi (CM Racing). The 19-year-old rookie is one of the most exciting prospects to come into WorldSSP as a relatively unknown quantity. The reigning CIV Supersport champion and the 2017 CIV Supersport 300 champion, Bernardi's CV is impressive, but nobody could've expected such a staggeringly competitive campaign. A first podium at Estoril in Race 2 was the platform for a further four, including in the last race at Navarra.
However, the Pirelli Navarra Round was also a breakthrough round for some new names in the class. Bursting through from row three on the grid and as a replacement rider for the injured Hannes Soomer at Kallio Racing, Danish star Simon Jespersen was a race leader in Race 2 by Turn 1. He held a podium place for seven laps, before finishing eighth. There was also a breakthrough for Marcel Brenner (VFT Racing), with the Yamaha rider making a debut at Most before really making his mark at Navarra. A crash out of contention in Race 1 before a tenth in Race 2 after initially being in the podium places. Most also welcomed Valentin Debise (GMT94 Yamaha), with the Frenchman in the fight at the front before finishing seventh in Race 2.
However, this isn't the first time this year where we have had a front-running surprise. At MotorLand Aragon in Race 2, it was Christoffer Bergman (Wojcik Racing Team) who led the majority of Race 2 after gambling on wet tyres on a drying track, making hay before the sun shone too much. Also right with him was Marc Alcoba (Yamaha MS Racing), with the Spaniard shining at home.
WHAT ABOUT THE ESTABLISHED STARS: working harder than ever for a result
As the new names surge to the front, the likes of Jules Cluzel (GMT94 Yamaha), Federico Caricasulo (Biblion Iberica Yamaha Motoxracing), Randy Krummenacher (EAB Racing Team) and Raffaele De Rosa (Orelac Racing VerdNatura) are working harder than ever before to pull a result out of the bag. Combined, they've enjoyed five podiums – the same as Luca Bernardi has taken in his rookie season. In short, that's not because they're going any slower, but it is because there's a huge influx of talent that has come in and instantly hit the ground running, packing out the places between the edge of the top six and the fight for victory.
WHAT ELSE CAN WE EXPECT? More of the same is in the offing…
After what has been a frantic season in World Supersport, the 2021 battle for the podium will only grow stronger, with more names eager to get their name in the mix for a top three result. Whilst the title looks to be a two-horse race with Aegerter vs Odendaal, there's plenty more to come. Luca Bernardi will be looking at taking a race win before the season is over, whilst other names such as Manuel Gonzalez and Turkish youngster Can Öncü (Kawasaki Puccetti Racing) aim high and hope for a first win and podium respectively.
Watch the remaining rounds of a titanic World Supersport season with the WorldSBK VideoPass!