FORM GUIDE: can Estoril bring more surprises in 2021?
Wednesday, 26 May 2021 11:40 GMT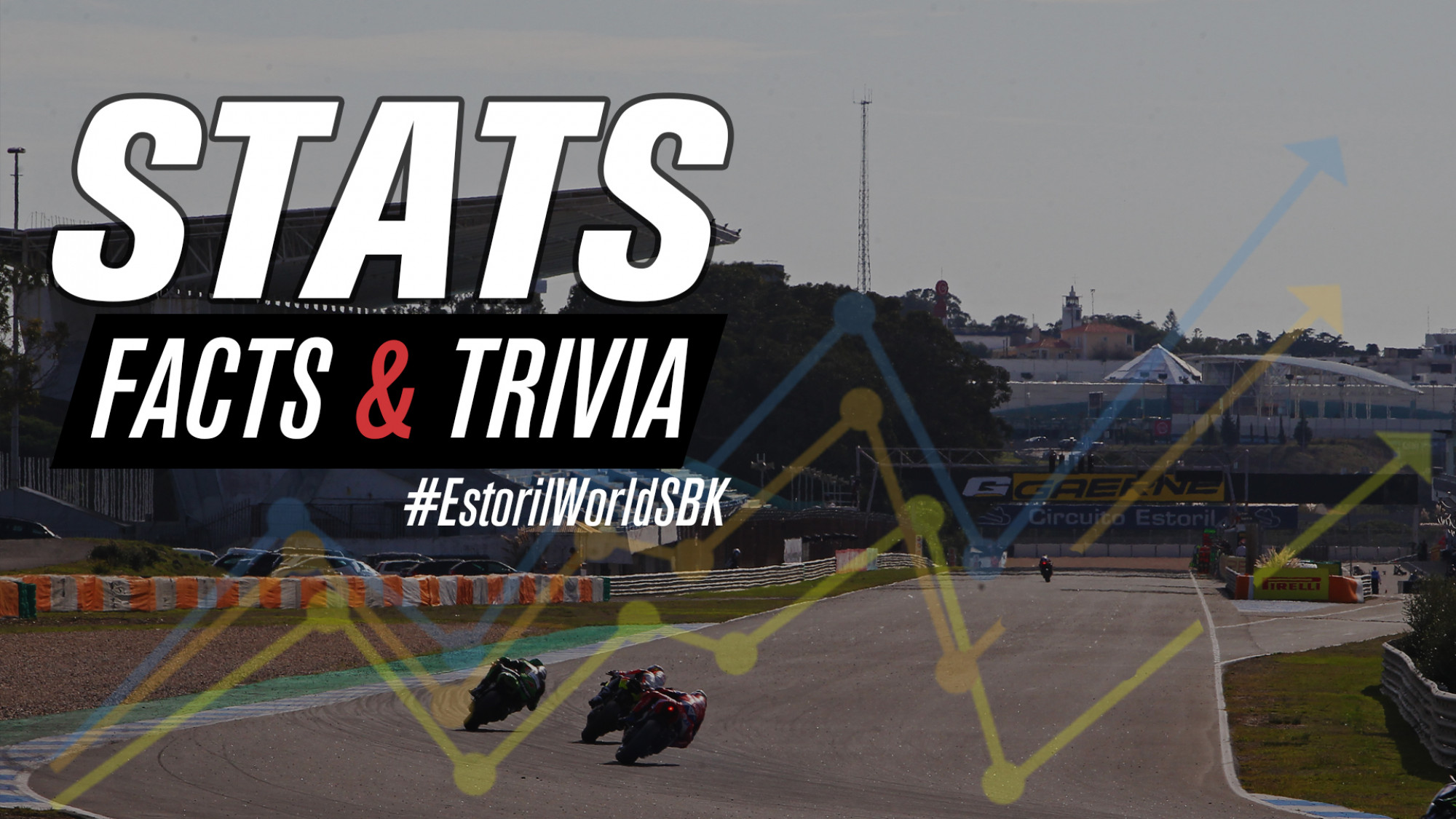 Relative new territory, greater manufacturer parity and heightened unpredictability: we try to pick the numbers that may mean something ahead of Round 2 of the season
The 2021 MOTUL FIM Superbike World Championship is underway and after the drama of the Pirelli Aragon Round, it is time to head to the Gaerne Estoril Round and the Circuito Estoril. However, Estoril has only featured once in modern WorldSBK times and that was last year as the final round, which was difficult to interpret. So, with big numbers, unsuspecting form and unknown quantities, it is a chequered form guide ahead of Estoril… AND WE LOVE IT!
379 – A podium place for Italy at Estoril in WorldSBK will put them on 380 in total. They currently have 379, their last achieved by Michael Ruben Rinaldi in Teruel Race 2, 2020.
367 – Ducati currently have 367 wins in WorldSBK, meaning a hat-trick of wins at Estoril will put them on 370, the first manufacturer to reach this.
188 – The podium count for Jonathan Rea at the moment is 188. With two more he will be 60 clear of his nearest competitor, Troy Corser (130).
173 – Race 1 and the Tissot Superpole Race in the points for Ducati will make it 175 consecutive points-scoring races; their all-time record is 344.
119/10 – After his most successful WorldSBK round of 2020 at Estoril, a victory for Garrett Gerloff at Estoril will put the USA on 120 wins in WorldSBK. Of the 119 already achieved, 10 riders have won.
41 - Ducati has yet to record a Superpole at Estoril. So far, they've recorded pole position in Superpole at 41 tracks out of 49 they've visited in their history. Among the track on the 2021 calendar where the WorldSBK Championship has already raced, they missed out on pole position only at Estoril and Catalunya, the latter visited only in 2020.
39 – Having taken the pole position at Estoril in 2020, Yamaha are aiming for the 40th pole in WorldSBK this weekend.
37/32 – Estoril will be the last race weekend for Leon Haslam as a 37-year-old. On Monday he turns 38. On the other hand, this will be the first race weekend as a 32-year-old for Rabat, whose birthday was on the 25th of May.
30 - Kawasaki has won on 30 different tracks in WorldSBK history and, among the tracks on the current calendar where the Championship has already raced, they've yet to win only at Estoril.
29 – After Tom Sykes took BMW to a 29th front row after Superpole at Aragon, BMW aim for a 30th front row start this weekend at Estoril.
21 – Jonathan Rea set a new record in Aragon: it's the first track in which he climbed on the podium 21 times, beating his previous all-time record of 20 at Portimao.
19 - Jonathan Rea has won on 19 different tracks so far, and he's hoping that Estoril becomes the 20th. That'd be an absolute record: at the moment, he shares the first place with Carl Fogarty and Noriyuki Haga.
18 – For the first time since the Tissot Superpole Race was introduced, 18 riders were able to score points in the first round – a new record. The previous best was in 2019 and 2020 with 17.
11 – After Aragon, Rea's winning career extended to 11 years, 11 months and 2 days. That is the time passed since Misano 2009, his maiden win. That is the second longest in history, almost exactly one year less than the absolute record of Noriyuki Haga: 12 years, 11 months 0 days (Sugo 1997 – Nurburgring 2010).
6 – Estoril so far had 6 different winners out of 7 races run here. The only one to post a second win has been Toprak Razgatlioglu, last year.
5 – Garrett Gerloff is the first American rider entering the top five places of the Championship standings since the late Nicky Hayden finished in fifth the 2016 season.
5 – The last time the same BMW rider achieved three top five finishes was in 2019 with Tom Sykes at Laguna Seca (4th, 3rd and 5th). Michael van der Mark could match that in Race 1 at Estoril.
4 – A top ten for Gerloff in Race 1 will be the third time in his WorldSBK career that he's achieved a four consecutive top ten finishes. He's never made it five before.
3 – For just the second time in his career, Alex Lowes (Kawasaki Racing Team WorldSBK) has achieved three consecutive podiums. He has never achieved four in a row.
1 – Last year, the Tissot Superpole Race at Estoril was the stage for the first Yamaha podium lockout in WorldSBK history.
1 – Last year at Estoril, Toprak Razgatlioglu took his maiden Superpole, the first for a Turkish rider.
SHORT-HAND NOTEBOOK
2020 winners:
Toprak Razgatlioglu (Race 1 and Tissot Superpole Race)
Chaz Davies (Race 2)
Last three Estoril pole-sitters: (all three different layouts)
2020: Toprak Razgatlioglu (Yamaha) 1'36.154
1993: Aaron Slight (Kawasaki) 1'54.019
1988: Stephane Mertens (Bimota) 1'48.960
Manufacturer podium places accumulated from all races at Estoril:
Yamaha: 8
Ducati: 5
Bimota: 4
Kawasaki: 3
Honda: 1
Key gaps to know from Estoril 2020:
Front row covered by: 0.711s.
1 second in Superpole covered… the top nine: 0.975s
Closest race gap between 1st and 2nd: 1.928s (Razgatlioglu 1st, Gerloff 2nd, Superpole Race)
Closest podium: 2.556s (Davies 1st, Redding 2nd, Razgatlioglu 3rd, Race 2)
Manufacturer top speeds across the 2020 weekend:
Yamaha: Toprak Razgatlioglu – 292.2 km/h, Race 2
Ducati: Scott Redding – 286.8 km/h, Free Practice 2
Kawasaki: Loris Cresson – 280.3 km/h, Warm-Up
BMW: Tom Sykes – 277.4 km/h, Free Practice 2
Honda: Alvaro Bautista 276.0 km/h, Warm-Up
Watch all of the action LIVE and uninterrupted in 2021 with the WorldSBK VideoPass!