ESTORIL HOT HEADLINES: "It was fun to be honest! It was dodgems at the start!"
Wednesday, 2 June 2021 09:48 GMT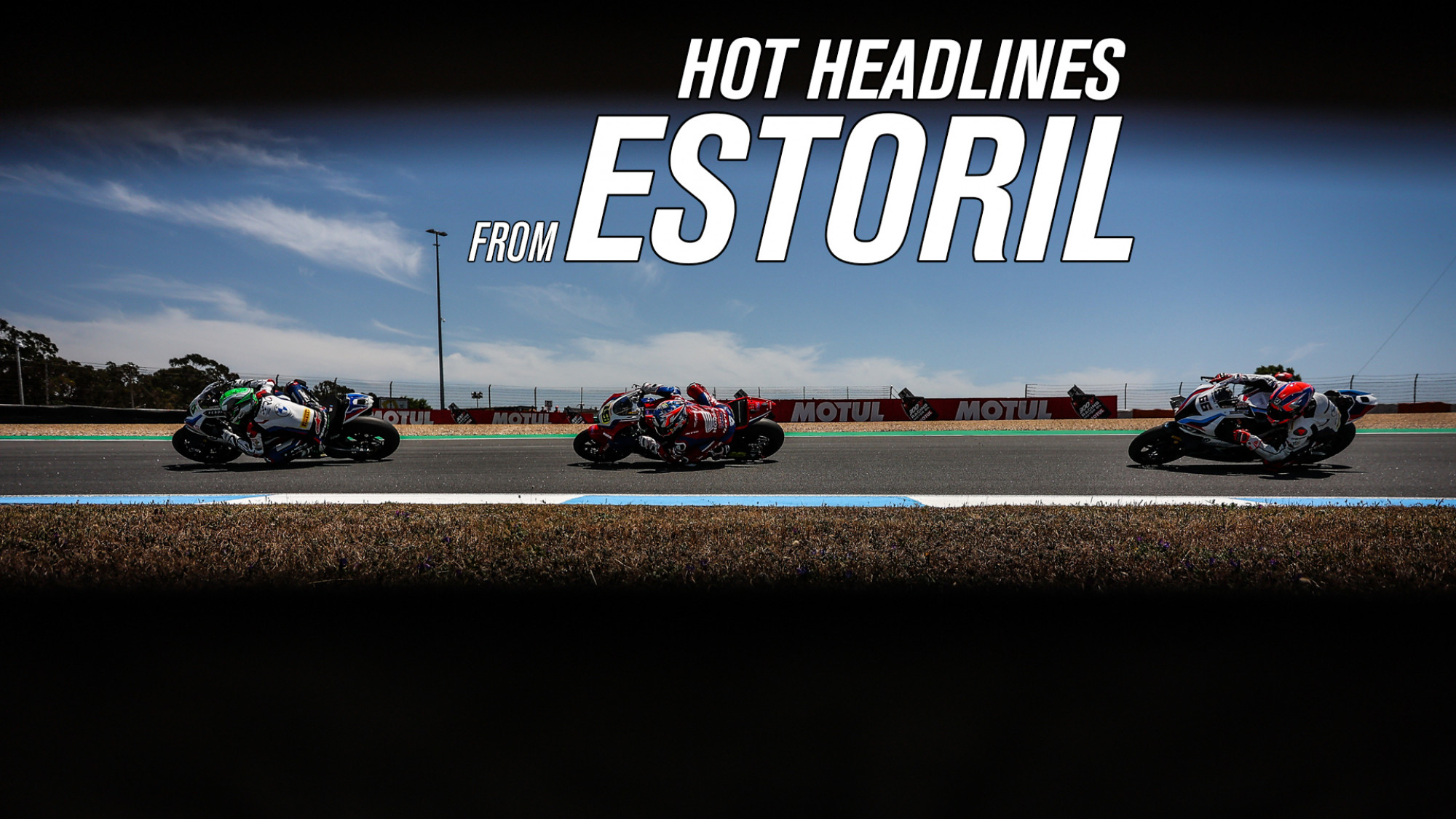 From bitter disappointment to surprise elation and expecting more, who said the big statements as the dust settles on the Gaerne Estoril Round?
The 2021 MOTUL FIM Superbike World Championship is well-and-truly off and running with some startling headlines breaking through from the opening two rounds of the Championship season this year. This time, we caught up with some riders 'back-stage' in their media debriefs, to get the inside line on their weekend at the Circuito Estoril and the Gaerne Estoril Round. From frantic starts to continuous improvements and costly mistakes, we caught up with all of the big stories from Sunday.
Jonathan Rea (Kawasaki Racing Team WorldSBK): "It was dodgems at the start!"
"It was fun to be honest! It was dodgems at the start; I think I got one of the Ducati wings, maybe Rinaldi's, and it properly got my arm and I thought, 'I could have been down then!'. I thought I was in trouble because everyone else was with the SCX tyre and I went with the SC0, because I really believed in it. I saw Toprak got the long lap penalty, so I now had track position because it was like a free pass as he can be hard to pass, and I could see I was closing down on Scott.
"I made a block pass at Turn 1 on him but left the door a little too open, and I could see him fighting back later at Turn 4 but the next thing I saw was "Redding out" on my pit board, which was really unfortunate for him. If you had told me that I'd have one win, even a Superpole Race win, I wouldn't have really believed you when I got here! It's not easy; it's a f*****g World Championship and these guys are fast, but I really believe in the people around me.
Scott Redding (Aruba.it Racing – Ducati) "I went for it… it cost me points; I'm p****d off with myself!"
"I am really sorry to the team; I am really annoyed at myself because I had it under control; it was for me to win that race this afternoon and I made that mistake I said I wouldn't make this year. It is difficult when you're fighting with a six-time World Champion; I don't know his pace and I prefer not to give him that opportunity. I knew the tyre wasn't good and I knew I had to wait but I saw that opportunity at Turn 4 and I went for it and it cost me points; I am p****d off with myself."
Michael van der Mark (BMW Motorrad WorldSBK Team): "The improvement is consistency"
"We are improving and I think the main thing is for us, the improvement is consistency. Even yesterday and in Warm Up, also Race 2, we were really consistent, and this was a bit of a problem with the BMW before. I'm really happy with the step forward we've made but in Race 2, I sat behind my old bike for quite a while, and I see that we have to improve. The first bit of drive out the corner, this is where we lose everything compared to the other bikes. I was really happy with my pace, but it was also good to follow the other guys because we know the bike is not ready yet to fight for the podium but at least now we know where to improve. To finish sixth, okay some guys crashed, we have to finish, and we had two really good results this weekend.
"I think, because the bike and the electronics have changed a lot, it's difficult. Last year, they had really bad results here, so I think the whole bike has improved but there's also quite a different bike compared to last year. I don't really know what to expect but Misano is one of my favourite tracks and the way I feel now on the BMW, the confidence I have in the front, and the new surface in Misano has a lot of grip which is what I need, so I think we can do really well there as well."
Alvaro Bautista (Team HRC): "I expected a better feeling and a better performance!"
"I expected more improvement. In the winter tests, I didn't do a lot of tests but the feeling with the bike wasn't too bad. Seriously, I expected a better feeling and a better performance but we're struggling a lot with the electronics. We're struggling a lot with the traction of the bike and to make the bike more stable under braking in all conditions because it changes a lot if you ride in a way, you have to be very precise because in other ways you are losing so the bike starts to work in different ways. It's very complicated and we need to improve in a few areas.
"If you see on track, we don't miss big things in some areas, we are just losing small things everywhere. There is not one area that is very bad, and we have to improve. In general, it's the whole bike that has to improve. It's difficult because if you say braking is terrible but the rest is okay, you say concentrate on braking. But sometimes if you concentrate on braking, it's the traction so you focus on traction, and then it's the engine braking so it's a package, it's not easy to find something that really can help us to make one step forward.
Chaz Davies (Team GoEleven): "Ifs, buts, maybes…"
"I don't think so, especially after missing FP2, it's like I could see the SCX was working in FP2 for the others and I just sort of set my mind to it and thought 'that'll be our tyre' because I hadn't got data myself, I can only rely on what I'm seeing from not just people in Ducati but the majority of the grid and it seemed to be only the Kawasaki that was making the SC0 work, or doing enough with it to be able to be in a good condition at the end of the race. Ifs, buts, maybes but it's pretty clear that if we were up and had the same performance at the end of the race using the SC0 then we need to work better to generate grip in the early laps. That would be the difficulty for us."
Watch the 2021 MOTUL FIM Superbike World Championship unfold with the WorldSBK VideoPass!