DEBATE: what is the tyre strategy for factory Ducatis and Kawasakis?
Friday, 21 May 2021 17:31 GMT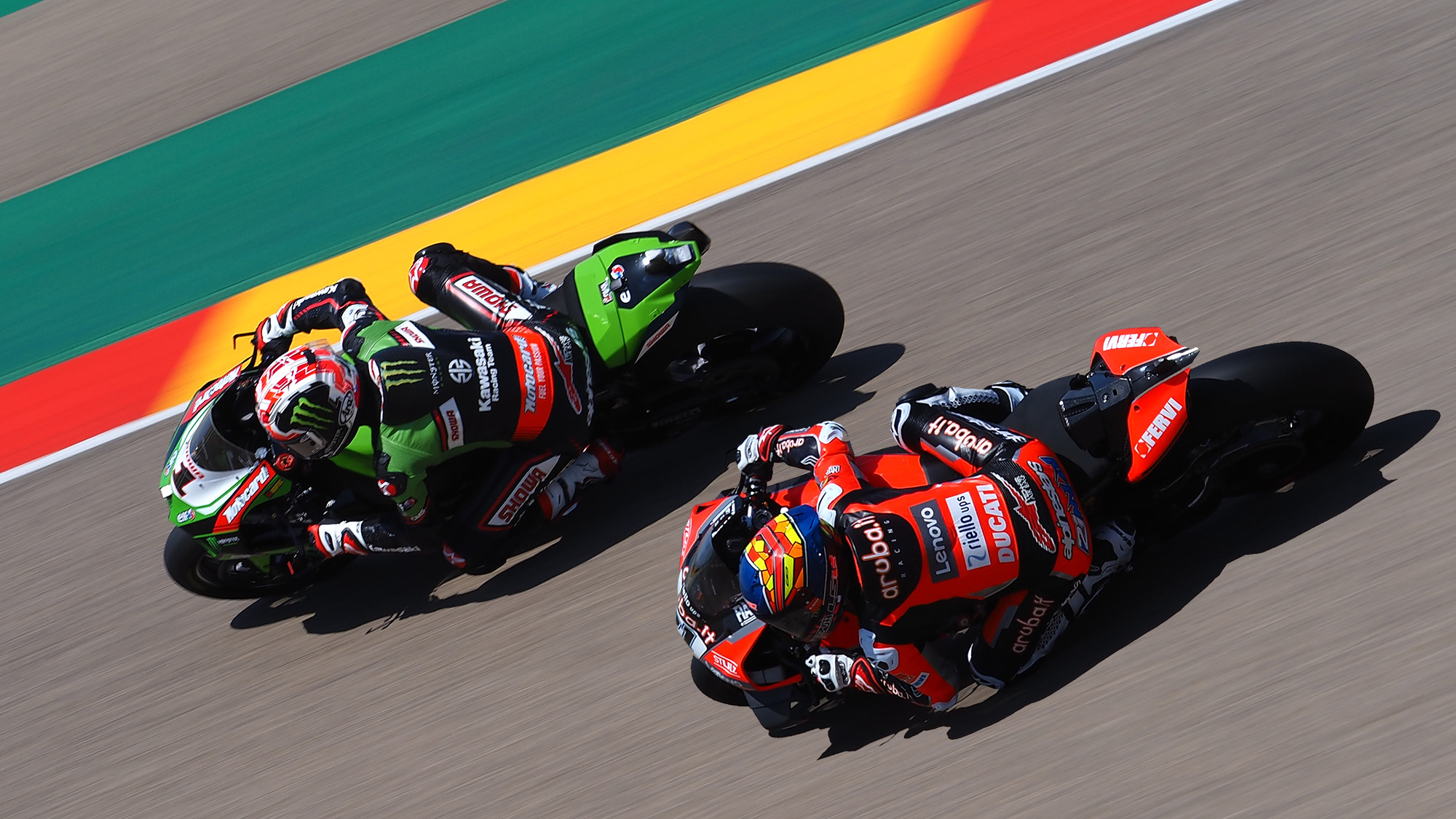 The factory Kawasaki and Ducati outfits were just outside the top three after Friday at Aragon: with the added dilemma of the SCX tyre, is there genuine concern, or are they in real contention?
The 2021 MOTUL FIM Superbike World Championship had a fresh complexion at the head of the field on day one at MotorLand Aragon, Alcañiz, as the factory Kawasaki and Ducati outfits couldn't quite crack the top three in the overall times. However, this may not be too much of a concern, depending on what aspect you look at or which manufacturer you are. So, with the SCX tyre playing a crucial role, what can we expect from two of the big title-contending manufacturers?
POSITIVITY FOR KAWASAKI
Despite not featuring inside the top three on the overalls, Kawasaki were the closest to the top three. Jonathan Rea (Kawasaki Racing Team WorldSBK) finished second in FP2 behind arch-rival Chaz Davies (Team GoEleven). "I'm busy just getting up to speed and the conditions were a little bit different to the test," began Rea. "The track was quite greasy, and I feel like we made some progress to be honest.
"In the afternoon, we started to work with the SCX tyre which really suited these conditions. We just worked to understand everything a little bit more, but the curve ball is going to be the weather, it seems like it will change a little bit, be a bit cooler like we had at the test. In the cooler conditions, I steer more towards the harder SC0 and in the hotter, we can run the SCX. It's going to be tough out there and it was hard to read into who will be competitive as everyone works in a different strategy on a Friday. It'll be important to get a good Superpole and then see what conditions we wake up to."
Teammate Alex Lowes spent the afternoon working on getting laps in the heat, saying: "I spent the afternoon session working on getting some laps done in the heat. Today, I felt a lot better than before, for example last year, I struggled a lot more in the hot conditions. In the cooler conditions, we didn't change anything from the test, we had some small electronic things to work on. I feel quite relaxed and quite comfortable. I've not really thought about the expectation for the weekend… when we are actually on track with our other rivals, we will know. The expectation is to do the best I can, try and get on the podium and start 2021 really strong."
NOT SO OBVIOUS AT DUCATI
Scott Redding (Aruba.it Racing – Ducati) commented on the SCX tyre, saying: "Everyone's trying different option tyres, even though maybe they know they can't race it. They want to because they know the smaller guys are going to race it like they did last year. The bigger guys are trying to do what they can when they have the opportunity which is difficult. I wasn't really worried about one lap time today. You see the lap times and you can do one fast lap and then be eight tenths slower which is not very good for a race, so I was working a little bit to find a rhythm with both tyres to see what we could kind of manage and do.
Teammate Michael Ruben Rinaldi also shed light for the usage of the SCX tyre, saying: "Every rider works in a different way and last year, it was like our hidden card to play, and we played it in a good way. But then in Barcelona we tried again, but it was our weak point because we were third but finished poorly. You need to work in every detail with every tyre. Maybe this year it can work, maybe not. We will see tomorrow."
Make sure you find out who takes the first victory of the 2021 season with the WorldSBK VideoPass!