Best of the best: the greatest WorldSBK showdowns of all time
Tuesday, 16 November 2021 11:57 GMT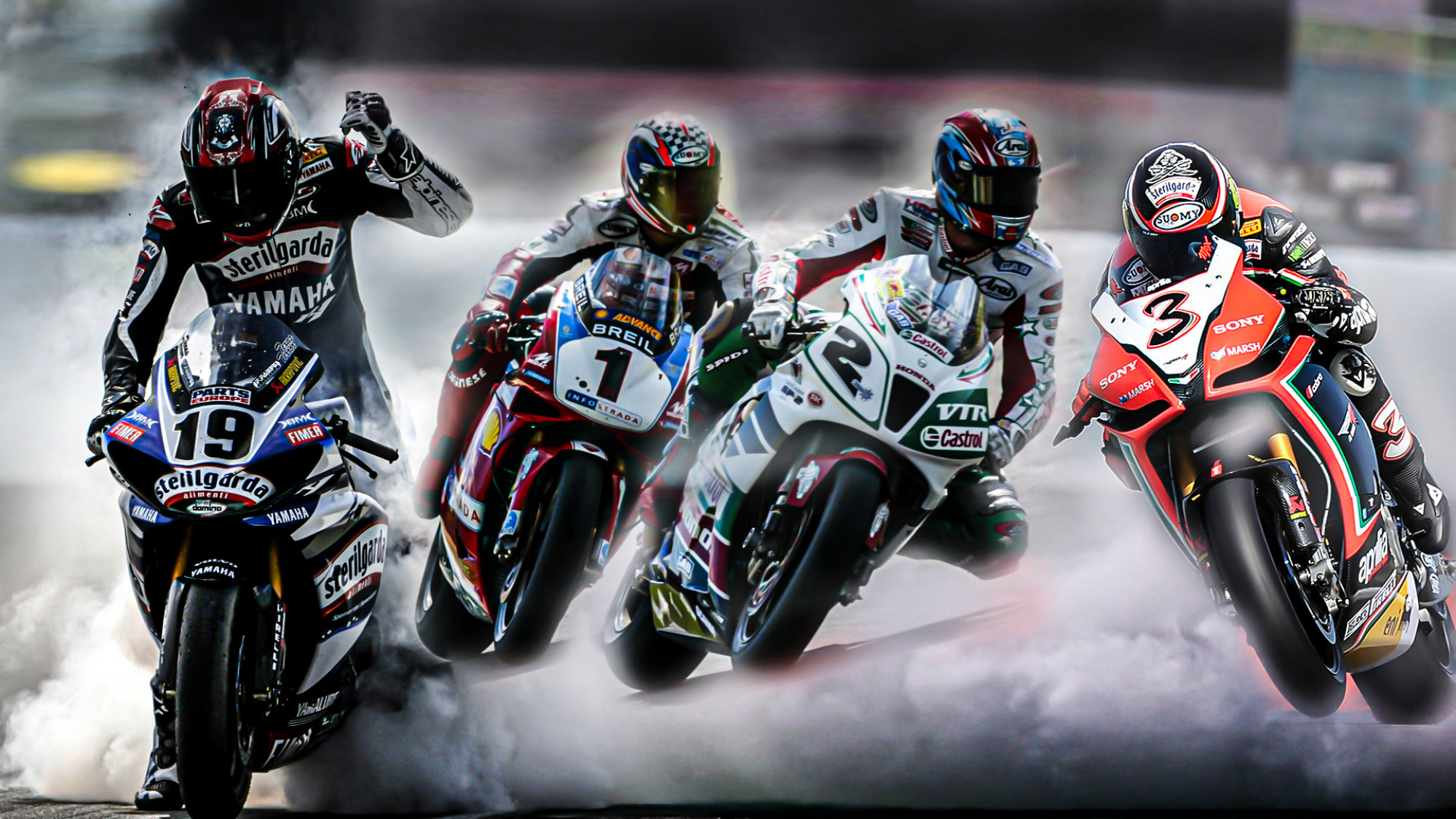 The 2021 #WorldSBKFinale is up next, so it's time for the best final round showdowns in our history
The 2021 MOTUL FIM Superbike World Championship is already in the history books as one of the fiercest and most unpredictable seasons in the history of the Championship, and it all comes down to the final round at the Pertamina Mandalika International Street Circuit in Indonesia. The new venue and the Pirelli Indonesian Round close off the year and will see either Toprak Razgatlioglu (Pata Yamaha with Brixx WorldSBK) or Jonathan Rea (Kawasaki Racing Team WorldSBK) crowned Champion, both in a head-to-head showdown for the title. We've put together WorldSBK's greatest final round showdowns, previewing what is already the most important round of this year.
1994: Fogarty beats Russell for a first of four title
In 1994, it went Down Under as Phillip Island hosted the final twist to a stunning season. Carl Fogarty had a slender five-point lead going into the round but knew Scott Russell would be on his tail. 'Foggy' won Race 1 with Russell second, with Russell then letting Fogarty through in Race 2 and 'throwing in the towel' as it has since been famously called. Talking about it since, Fogarty said: "I had a lot of issues with the bike in 1994, it was the first year of the Ducati 916 and we had a few engine problems. By the time we got to Phillip Island, we did all of the work on Friday and Saturday and won Race 1. That was it, my hand was on the trophy by then and in the second race, I just let Anthony Gobert go and I just followed Scott round really; if he'd have had a towel, he'd have thrown it in."
1998: the Showdown at Sugo gives a plot twist and unreal emotions
Moving on to another historic 'Foggy' showdown, 1998 is widely regarded as one of the greatest, with four riders in with a shout of the title. Troy Corser led on points and started from pole but crashed during Warm Up and was ruled out; it was then down to Aaron Slight and Carl Fogarty, both having a good lead over Pierfrancesco Chili. Slight never featured at the front in the races whilst Fogarty was third and fourth, enough to give him the title after being sixth and more than 30 points back at one stage.
Reflecting on the showdown, Fogarty said: "I went to Sugo in 1998 and didn't see Troy as my main rival. That might sound crazy, but he hadn't really been that fast in 1998. I knew that if Troy was on the same bike and tyres as me, he isn't going to beat me. I was worried about Aaron Slight in 1998 at Sugo. I never even saw him in the race. I finished third and fourth; in Race 2, I felt the rear tyre go. I thought it chunked; we'd already had a lot of tyre issues that year, and I thought 'oh my god, this is it, it's going to be over' but it was just spinning on the rim. The emotions in 1998 were unbelievable. I was balling my eyes out for probably the next three days after I'd won that race!"
2002: Edwards beats Bayliss in the ULTIMATE showdown
The ultimate showdown between Colin Edwards and Troy Bayliss: Imola 2002, a weekend motorsport fans the world-over won't forget. Edwards had overturned a 61-point deficit to lead by a point heading to Italy and having won Race 1, it was all on Race 2 and the last race of the year, six points between them. A heroic final lap battle saw Edwards beat Bayliss to the title and to the win in a historic sporting moment in front of a packed crowd. Talking about the race since, Edwards said: "With three laps to go, that was about it. I looked back and Ruben Xaus was right there and I'm thinking what do I do, and then I just said with a quick decision in my head, 'go out and win it, it's easy enough!'. The last lap pass at Turn 5 from Troy, I would've said it was impossible! But then, I got a good drive out of Turn 6 and I thought 'here we go, here we go', and Troy left just enough room at Turn 7 for me to sweep by and the crowd went wild. It was something special!"
Troy Bayliss was also magnanimous in defeat, saying since: "In 2002 at Imola, I finished second to Colin but people will never forget that race, it went down in the history books and in all, it was a great weekend for the Championship and a great showdown for the fans. I think Ducati were more disappointed than me because I didn't win the Championship but it was just one of those things."
2004 and 2007: James Toseland, the underdog Champion
The next big showdowns came in 2004 and 2007, with James Toseland holding on to become the youngest ever double WorldSBK Champion. In 2004, he won as an underdog rider at Ducati, having been their number two rider and denying Regis Laconi the title: "I won the Championship against the grain, and I wasn't Ducati's preferred choice, especially with the French market. There were no celebrations as we had to respect the other side of the garage… I took it personally, and it was a rollercoaster of emotions about the journey of getting there and I wish that some people could have seen that who are no longer with us."
Talking about his triumph in 2007, Toseland said: "In 2007, we were the underdogs; Ten Kate had never won the WorldSBK title before; we were just grateful to be in that position, so we were a bit more relaxed. At Ducati, you're expected to get the job done whereas in 2007, it was more of a 'bring it home, James' vibe. In 2004, I relied on Ducati's experience of winning titles whereas in 2007, I'd won a title and walked into the garage saying, 'don't worry lads' as I'd been to Magny-Cours for a showdown before, I'd had close encounters before and I had the experience of the emotions."
2009: Spies becomes rookie Champion in dramatic circumstances
With Noriyuki Haga leading the standings at Portimao, the Japanese veteran crashed in Race 1, whilst Ben Spies won; Spies then took fifth in Race 2, giving him the title, as Haga only took second. In what was Yamaha's first and so far, only WorldSBK crown, Spies spoke of the emotions: "It was a very good feeling. It was a first of many things, but I did understand that it was a big deal. I wanted to make that splash; between my personal ambitions, leaving to go to MotoGP™, giving a present to Yamaha who was doing everything for me and winning for the American fans, I felt that pressure. It was a huge deal. It was more relief than because I was happy in those first couple of days."
2014: Guintoli digs deep to clinch the crown
In 2014, Tom Sykes was forced to relinquish his 2013 crown to Sylvain Guintoli, who overturned a 12-point deficit to take the title with an emphatic double in Qatar at Losail, with an 18-point swing in the final round, beating Sykes by six points. It was Guintoli's first title and the first for France since Raymond Roche dominated in 1990; a perfect Race 1 left Guintoli in a strong position for Race 2, knowing that if he won, he'd take the title, whilst Tom Sykes only managed third in both. A dramatic way to close of the year, and the last final round comeback to-date.
THE OTHERS: honourable mentions for final round battles
There's been plenty of other showdowns too, with Max Biaggi clinging on to take the title in 2012, his second, after finishing just half-a-point ahead of Tom Sykes in what was a tense season finale. 2016 and 2020 both featured Jonathan Rea (Kawasaki Racing Team WorldSBK) taking on close rivals; Tom Sykes in 2016 and Scott Redding (Aruba.it Racing – Ducati) last year. Rea got the job done on both accounts, although last year, suffered a Superpole crash, as did Scott Redding, heightening the drama. Back in 1988 and 1989, Fred Merkel won both titles having come from behind in the final round. He denied Italian duo Fabrizio Pirovano and Davide Tardozzi in 1988 and Belgium's Stephane Mertens in 1989.
Does one more surprise lie ahead? Watch the #WorldSBKFinale drama unfold with the WorldSBK VideoPass!