Back to Barcelona: view the NEW schedule for the Catalunya Round!
Monday, 13 September 2021 06:50 GMT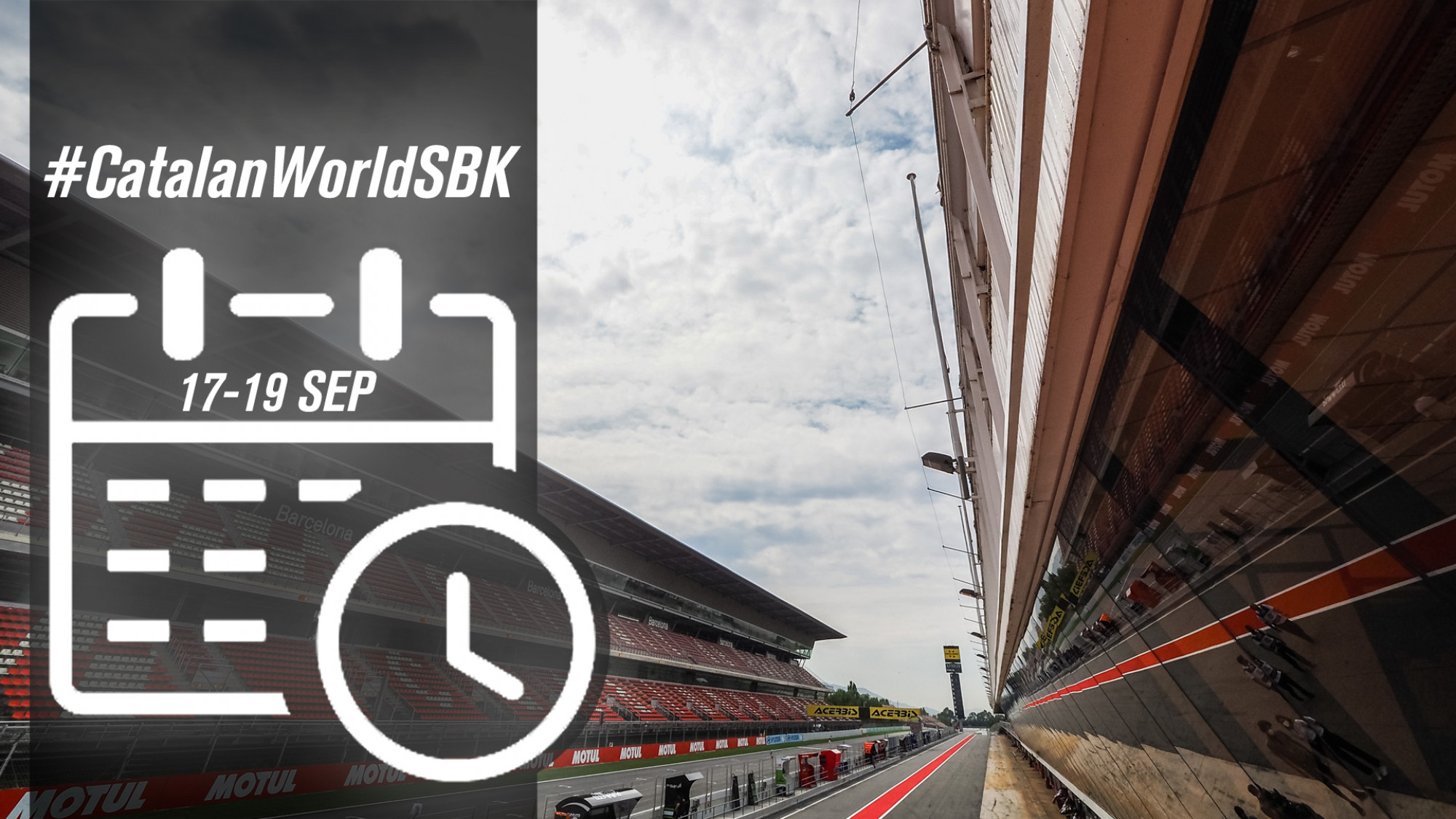 WorldSBK returns to the Circuit de Barcelona-Catalunya for its second visit to the Catalan venue with a new schedule for Sunday's action
The MOTUL FIM Superbike World Championship returns to the Circuit de Barcelona-Catalunya for the Hyundai N Catalunya Round with a brand-new Sunday schedule for the day's three races. Action kicks off on Friday at 09:45 Local Time (GMT+2) with WorldSSP300 FP1, with WorldSBK machines on track for the first time at 10:30 and WorldSSP at 11:25. The schedule follows the same format in the afternoon, with WorldSSP300 taking to the track at 14:15 before WorldSBK at 15:00 and WorldSSP at 16:00. Saturday's on-track programme starts with WorldSBK FP3 at 09:00 before jumping straight into three back-to-back Tissot Superpole sessions: WorldSSP300 at 09:45, WorldSSP at 10:25 and WorldSBK at 11:10. Racing starts on Saturday too with WorldSSP300 Race 1 at 12:45, WorldSSP at 13:45 and WorldSBK at 15:15. Warm-Up sessions start Sunday from 09:00 before racing gets underway with the Tissot Superpole race at 11:00. WorldSSP Race 2 gets underway at 12:30 before the NEW Sunday schedule comes in: WorldSSP300 will start at 13:45 on Sunday before WorldSBK starts at a new time of 15:15. The Yamaha R3 bLU cRU European Cup will also be on track on Saturday and Sunday as that Championship will be decided this weekend.
Watch all the action from Catalunya in all three classes using the WorldSBK VideoPass!
Friday 17th September (all times Local Time (GMT+2))
Yamaha R3 Cup Free Practice – 09:00-09:30
WorldSSP300 FP1 – 09:45-10:15
WorldSBK FP1 – 10:30-11:15
WorldSSP FP1 – 11:25-12:10
Yamaha R3 Cup Superpole – 13:00-14:00
WorldSSP300 FP2 – 14:15-14:45
WorldSBK FP2 – 15:00-15:45
WorldSSP FP2 – 16:00-16:45
Saturday 18th September
WorldSBK FP3 – 09:00-09:30
WorldSSP300 Tissot Superpole – 09:45-10:05
WorldSSP Tissot Superpole – 10:25-10:45
WorldSBK Tissot Superpole – 11:10-11:25
Yamaha R3 Cup Race 1 – 11:45
WorldSSP300 Race 1 – 12:45
WorldSSP Race 1 – 13:45
WorldSBK Race 1 – 15:15
Yamaha R3 Cup Race 2 – 16:15
Sunday 19th September
WorldSBK Warm-Up – 09:00-09:15
WorldSSP Warm-Up – 09:25-09:40
WorldSSP300 Warm-Up – 09:50-10:05
WorldSBK Tissot Superpole Race – 11:00
WorldSSP Race 2 – 12:30
WorldSSP300 Race 2 – 13:45
WorldSBK Race 2 – 15:15