Aegerter: "My goal was to lead as much as I could!"
Tuesday, 1 June 2021 07:54 GMT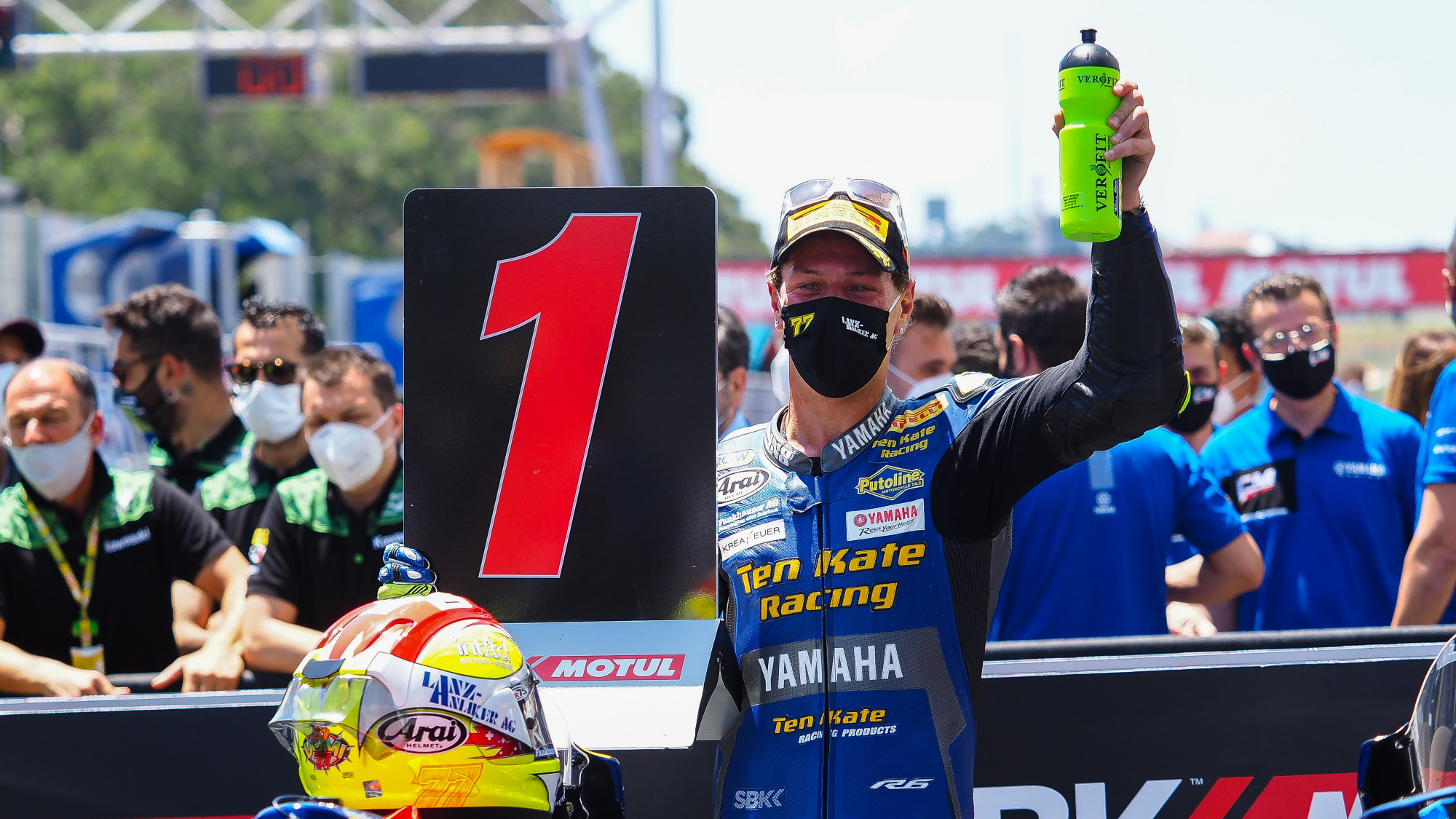 Swiss rider Aegerter reflects on an emotional Race 2 victory at Estoril after claiming his first WorldSSP victory
The Gaerne Estoril Round was the scene of so many memorable moments and one of these came in the FIM Supersport World Championship when Dominique Aegerter (Ten Kate Racing Yamaha) claimed his first win in the Championship after a stunning ride at the Circuito Estoril, in emotional circumstances for the Swiss rider.
Aegerter started Race 2 from the middle of the second row and had to battle back from a bad start to re-join the lead group, before taking advantage of some incidents and misfortune for riders ahead of him. Raffaele De Rosa (Orelac Racing VerdNatura) crashed out on the exit of Turn 9 while Steven Odendaal (Evan Bros. WorldSSP Yamaha Team) suffered a technical issue on the final lap.
It allowed Aegerter to pull away from the chasing group after those two incidents as well as Jules Cluzel (GMT94 Yamaha), who had been in that group, came down at Turn 1 on his own, dropping the Frenchman down to 12th. It enabled Luca Bernardi (CM Racing) to finish in second place with Aegerter taking an emotional victory.
Looking back on his path to victory, Aegerter said: "I was fighting on Saturday for the podium position, but I waited a bit too long in the race to overtake them, so I had a big fight with Cluzel. My goal was to lead as much as I could, but the start was, again, not so good. It's not usually my weak point but I think we need to work on the start. But then, I have a very good rhythm, I could brake very late and also the speed of the bike we improved a lot. There was a big fight between many riders. I think, when I watch the race back, I will enjoy it!"
Aegerter dedicated his win to the late Jason Dupasquier, and his family, after his sad passing at Mugello, with Aegerter saying: "We got this very sad news just before the start. When we go to the grid, we heard that Jason, the young Swiss talent, passed away. My condolences to the team, his family and all his friends. It's very sad news to hear. I will dedicate my win to his family. We continue working, we love racing, so I pushed very hard in the race. I tried to concentrate 100 percent."
The combination of Aegerter's victory and Odendaal's technical issue means the gap between the pair at the top of the Championship to just six points; with South African Odendaal on 75 points having taken three victories out of four so far in 2021, and Aegerter on 69 points after a strong start to his rookie season.
Don't miss a single moment of action from WorldSSP in 2021 using the WorldSBK VideoPass!