Top 10… title-deciding final rounds in World Superbike
Tuesday, 13 October 2020 12:03 GMT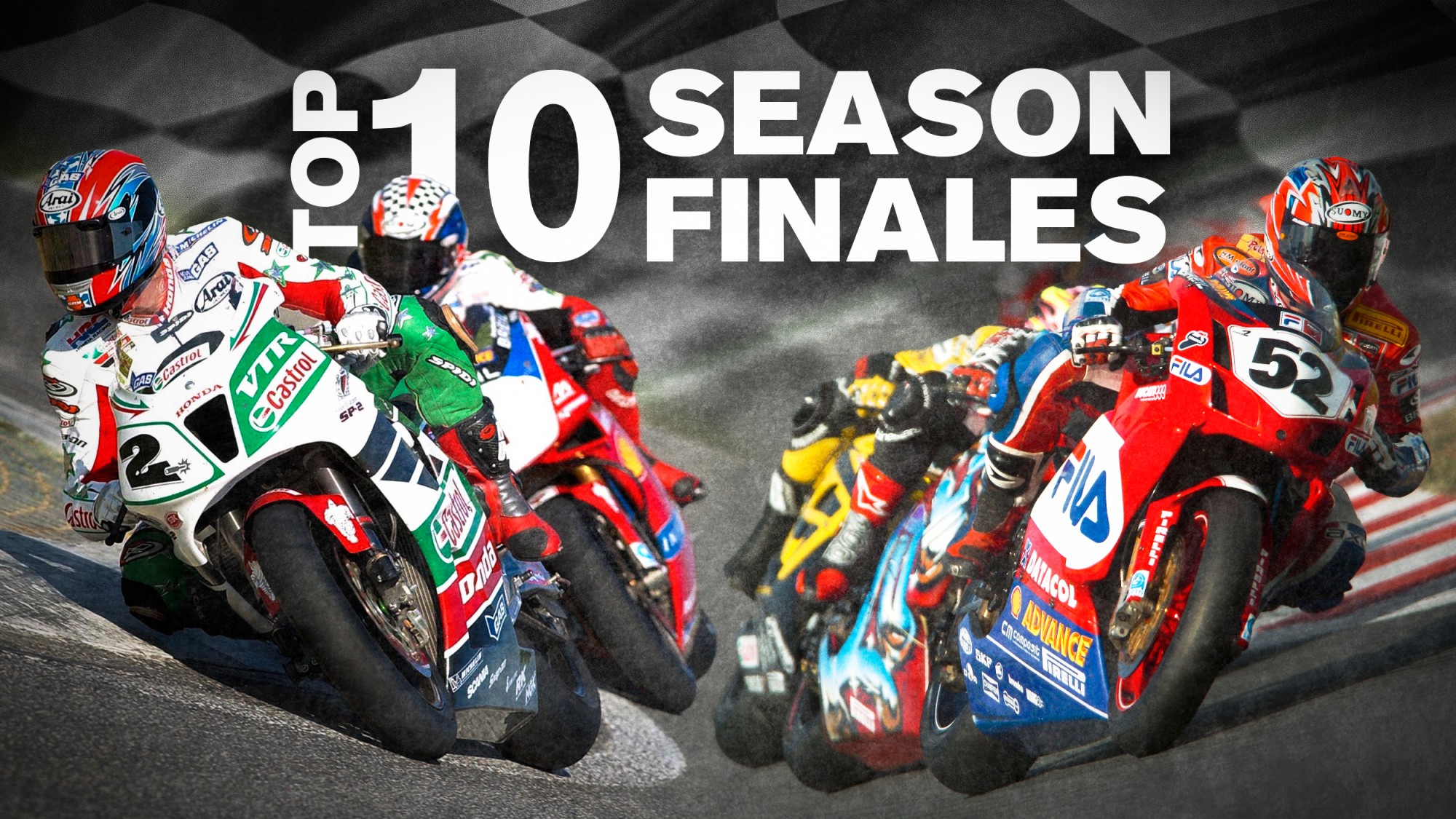 With the 2020 season going to the wire, we've seen similar duels before…
The 2020 MOTUL FIM Superbike World Championship is coming to an end and for the first time in four years, we have a final round showdown. However, the WorldSBK paddock is no stranger to these, especially in the blue-ribband class; we've whittled down the title battles that went to the final round and put them in order: the top ten WorldSBK final round deciders.
The most recent last round duel was 2016, as Jonathan Rea led teammate Tom Sykes by 48 points into Losail. Rea, as expected, wrapped the title up in Race 1 with second, ahead of Sykes in third whilst an in-form Davies won. In Race 2, the Kawasakis swapped places and Sykes was second but Rea was Champion regardless, the only time until 2020 he's fought for the crown at the last round.

9.) Australia vs New Zealand Down Under: Phillip Island, 1996
1996 is often forgotten as going to the final round, mainly due to Troy Corser's domination. However, Aaron Slight was just 26 behind Australian Corser as they headed to Phillip Island for the last round. A crash for Slight was enough to give a fourth-placed Corser the crown in Race 1 to the delight of the home crowd, whilst New Zealand's Slight missed out on the WorldSBK crown again.

8.) New Zealand hosts the first final: Manfeild, 1988
The first ever year of WorldSBK went to the wire, in 1988. At Manfeild in New Zealand, the top four could be Champion but a twist was in store. Davide Tardozzi led into the round but just fifth in Race 1 and Fred Merkel's win saw Merkel at the top, ahead of Fabrizio Pirovano by 1.5 points. A final race duel saw Tardozzi not start, Merkel fifth and Pirovano 13th, giving Merkel the first ever crown.

7.) The final round that wasn't meant to be: Estoril, 1993
31 points was the gap into Estoril in 1993 but there was a twist – the Portuguese Round was meant to be the penultimate round of the year. Scott Russell led into and out of the round, having his lead reduced marginally to just 29 by Carl Fogarty after Race 2 before a first trip to Mexico. However, the Mexican event was cancelled on the Saturday of the round and Scott Russell took the title. Bizarre.

6.) A close call: Magny-Cours, 2007
Going into Magny-Cours and the last round of 2007 with a 31-point lead, it looked a certain second title for James Toseland, this time with Honda. Race 1 was tough for Toseland, as Lorenzo Lanzi crashed at Turn 1, forcing the Brit in the gravel and to the back. Into Race 2, the gap to Haga in second was down to 17 and come down to two, but Toseland was Champion, just ahead of Haga.

5.) Jubilation and elation, dejection and despair: Portimao, 2009
Ben Spies faced a ten-point deficit to become Champion in the 2009 finale. However, Championship leader Noriyuki Haga crashed in Race 1, whilst Ben Spies won to take the Championship lead with a margin going into Race 2. Haga was second to Ducati teammate Michel Fabrizio in Race 2 whilst Spies was fifth, enough to give Spies the title as a rookie in one of the most unpredictable seasons.

4.) It doesn't get any closer, or more dramatic: Magny-Cours, 2012
A 39.5-point lead over Tom Sykes meant Max Biaggi looked to have the title in the bag going into the final round of the 2012 season at Magny-Cours. But Biaggi crashed in Race 1 whilst Sykes won, reducing the gap to 14.5. In Race 2, Sykes won again but Biaggi bought it home for fifth, meaning he held on, becoming a double Champion by half-a-point; the closest Championship finish in history.

3.) Toseland defies the odds to make history: Magny-Cours, 2004
Behind teammate Regis Laconi by four points into Magny-Cours at the end of 2004, 23-year-old James Toseland, wasn't expected to beat a home-hero. However, that's exactly what he did; a Race 1 victory with Laconi just third saw him take the title lead by five points. Second in Race 2 with Laconi third again was enough to become the youngest ever Champion – a record still to this day.

2.) Three-way fight at Sugo, literally: Sugo, 1998
The 1998 finale is one of the most dramatic in WorldSBK history. Troy Corser, Aaron Slight and Carl Fogarty, covered by six points going to the showdown at Sugo, Japan. Poleman Corser fell in Warm Up and was unfit, Honda's Slight had a heated post-Race 1 fracas with Neil Hodgson, with the Brit inadvertently in his way and Foggy, with just three wins, took the title as those near him crumbled.
1.) The most spectacular decider of all-time: Imola, 2002
It's the round WorldSBK is famed for and in front of nearly 100,000 fans. Colin Edwards vs Troy Bayliss at Imola in 2002 was a spectacle to behold; leading Bayliss by a point into the round, Race 1 went Edwards' way and Race 2 went to the last lap. A Race 2 win gave Edwards the crown in an extraordinary sporting showdown, with Bayliss leading by 58 points at one point that year.
Enjoy the final round with the WorldSBK VideoPass!