Top 10… WorldSBK comebacks of all time: Part 2
Wednesday, 8 April 2020 09:26 GMT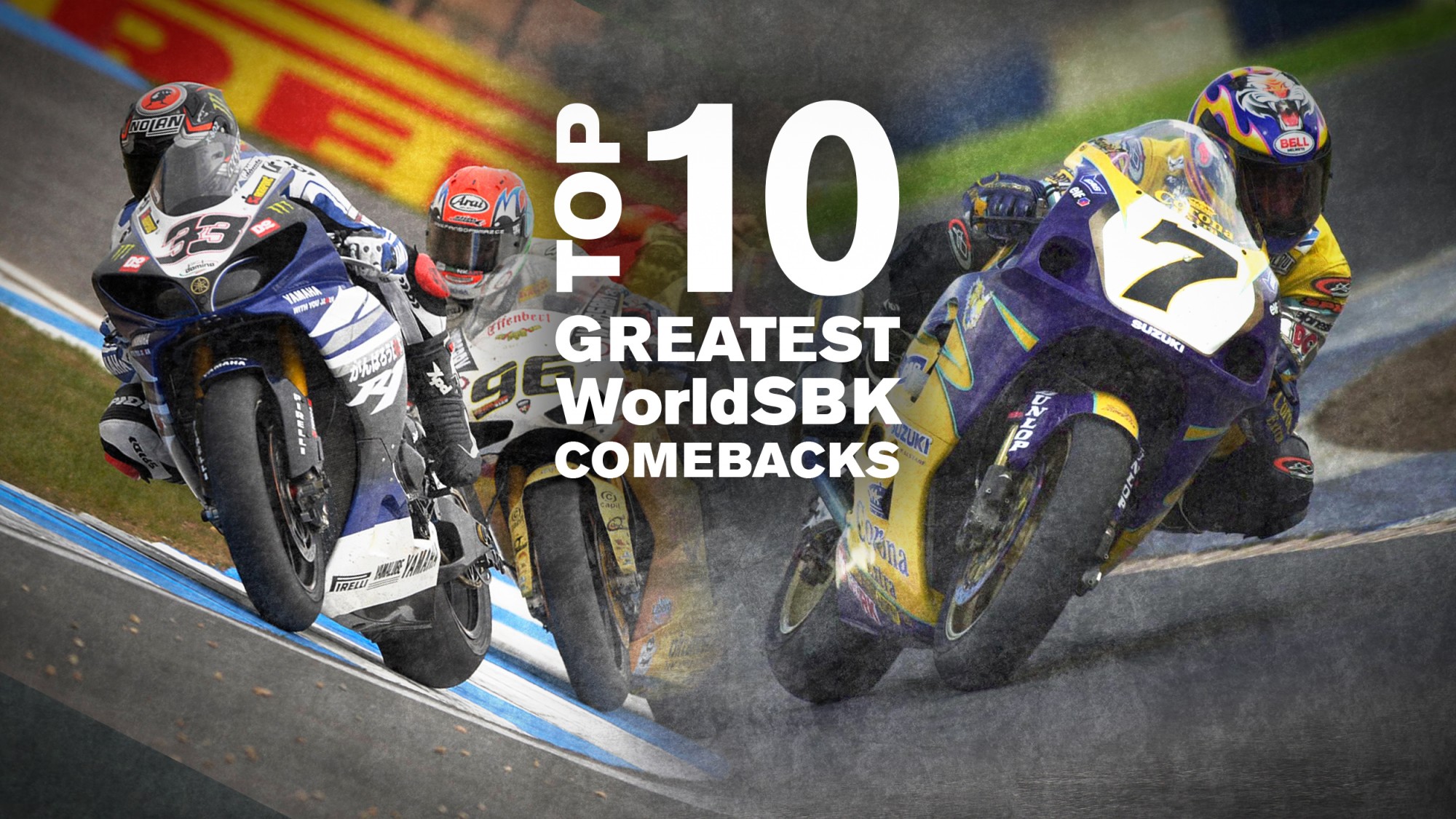 Tyre luck, bad weather and big returns: Part 2 is here!
Having enjoyed Part 1 of the ten best WorldSBK comebacks, Part 2 is now here and features gems from across the eras as the pause in action gives time to reminisce. From tyre gambles to last lap slipstreaming battles, history-making first wins and phenomenal wet weather prowess, the top five have landed.
5.) Old dog, new tricks: Misano, Race 2, 2004
Pierfrancesco Chili dropped to 11th in Race 2 at Misano in 2004, leaving himself plenty of work. On an intermediate rear tyre despite rain threatening, Frankie charged ahead and with 10 to go, was 10 seconds behind leader Regis Laconi. A last lap pass saw Chili take an incredible surprise win, which would be his last.
4.) Hodgson's history: Donington Park, Race 2, 2000
Neil Hodgson was back to prove his worth as a wildcard in 2000 at Donington Park and it would be the race to restart his career. On the final lap, he overcame a one second gap on race leader Frankie Chili to win at home, passing the Italian at the Foggy Esses to an incredible reception. A comeback to remember in the race, whilst marking the comeback of Hodgson's WorldSBK career.
3.) Chili wins amidst last lap lunacy: Monza, Race 2, 1996
Frankie Chili was on his way to what looked like a certain home win but then, he went across the gravel and ended up back to fourth on the last lap. Taking third, he pinched second into the Parabolica, powered down the front straight and snatched victory. In half a lap, Chili went from fourth to first in determined fashion for home glory.
2.) Toprak dethrones Rea: Magny-Cours, Race 1, 2019
WorldSBK's 800th race didn't disappoint as from 16th on the grid, Toprak Razgatlioglu went into the last lap in second place with one second between him and leader Jonathan Rea. A combination of Rea's complacency and Toprak's tenacity meant that at Turn 13, Toprak made his move to take a first win for Turkey in a race that had it all; Toprak's talent had deservedly been unearthed.
1.) Walker walks on water: Assen, Race 1, 2006
Chris Walker ran off-track on Lap 1 of the opening race at Assen. He was last, but it was far from over. With the race leaders crashing and Walker's renowned wet weather pace coming into its own, "Stalker" carved through, joining the battle for second with nine laps to go, whilst race leader Noriyuki Haga crashed. Walker passed Andrew Pitt to lead before storming to victory in the closing stages. His 131st start gave him a well-deserved win, even if it wasn't easy!
Don't forget to enjoy the season LIVE with the WorldSBK VideoPass!