Top 10… Magical Jonathan Rea race wins: Part 2
Tuesday, 25 May 2021 09:39 GMT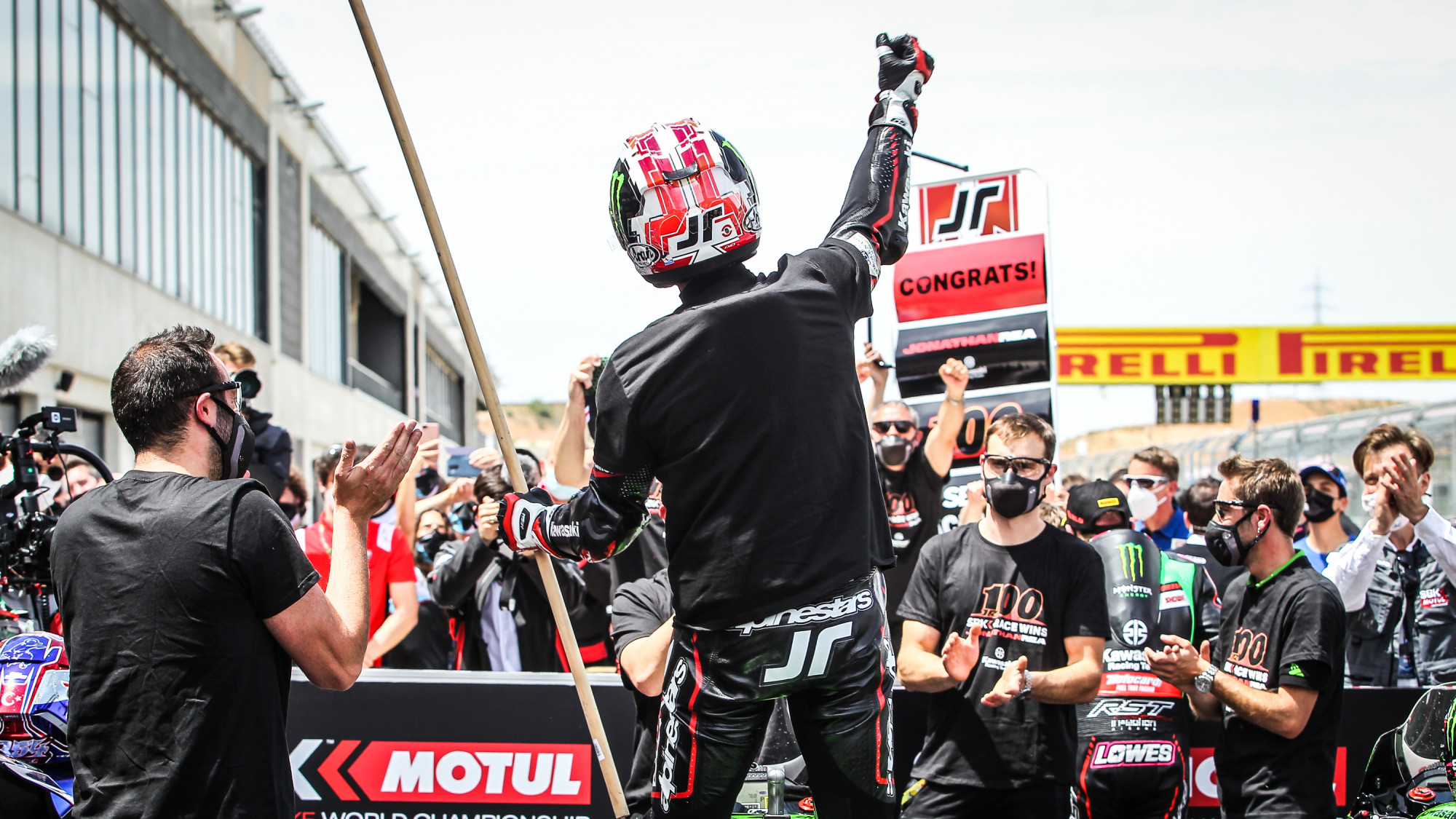 Jonathan Rea's given us many memories in WorldSBK and as he hits 100 wins, we pick the best ten…
There's very little Jonathan Rea (Kawasaki Racing Team WorldSBK) hasn't achieved in the MOTUL FIM Superbike World Champion – a six-time Champion and now with more than 100 wins to his name, Rea's sheer ability to keep on smashing records has barely been seen in many sports. Having already seen the first half of his ten best victories, enjoy the top five wins of his career.
5.) The first of many duels with Davies: MotorLand Aragon Race 1, 2015
Since their rivalry started, there's been little love lost between Jonathan Rea and Chaz Davies and their first major tussle for victory was no different. Chaz Davies was aiming to take his first win at Ducati and the Italian manufacturer's first win with the V-Twin, but Rea wouldn't allow it. Despite Davies attacking into Turns 15 and 16, Rea scythed back through on the final corner – an unusual passing place – to power his ZX-10RR to the line for a win, defeating Davies in a heroic final lap.

4.) Toppling Davies… again: Phillip Island Race 1, 2016
The first race of the 2016 was the classic we expected, and the final lap was something to behold. Jonathan Rea led Chaz Davies as they started the final few kilometres of a scintillating race. Davies missed his first opportunity to pass Rea at Turn 4 but made it count at Turn 10, diving through on the inside and it looked like Rea had been beaten. But, never one to go down without a fight, Rea got the lead back on the outside of Turn 11 and held on to take victory. A fine ride in a thrilling fight.
3.) A ding-dong at Donington: Donington Park Race 2, 2012
It's back to the Honda era as Jonathan Rea's quest for a home victory begun. Yet to win at his home round, Rea was in a five-rider fight for victory in one of the best WorldSBK races. Making a big move at the final corner on BMW star Leon Haslam, who was passing teammate Marco Melandri. The end result was Rea colliding with Haslam, spearing him into Melandri and both going down on the last corner on the last lap, whilst Rea took an incredible win. Brute force got him this one at Donington.
2.) The first Kawasaki win: Phillip Island Race 1, 2015
Jonathan Rea's first ever win with Kawasaki was yet another example of never writing him off in a last lap fight. The Ulsterman trailed Leon Haslam on the final lap at the majestic Phillip Island circuit but an incredible move at Turn 9 saw him hit the front and then have the presence of mind to hold his line into Turn 10. Despite a slipstream to the line, Rea held-off Aprilia's Haslam and Ducati's Chaz Davies to take a first win for Kawasaki. A turning point in his career and the start of a new era of WorldSBK history; the start of a sporting record that will stand for many years to come.
1.) The big 100: Aragon Race 1, 2021
It was a vintage performance from Jonathan Rea in his 100th race victory, as he led from lights to flag and went more-or-less unchallenged at the front. He found a rhythm, settled down and put in one of the finest performances of his career, at a circuit which has historically never favoured Kawasaki. Rea became the first rider in the history of any FIM Road Racing World Championship to win 100 races in one class. A sporting legend, an international star and still, yearning to continue this incredible display of talent, commitment and dedication – whilst also being humble.
Join the conversation and congratulate Rea on his stunning achievement with the #REAch100 hashtag, and enjoy all of your favourite races and more with the must-have WorldSBK VideoPass!