The numbers behind a record-breaking 2020 WorldSSP300 season
Monday, 9 November 2020 10:43 GMT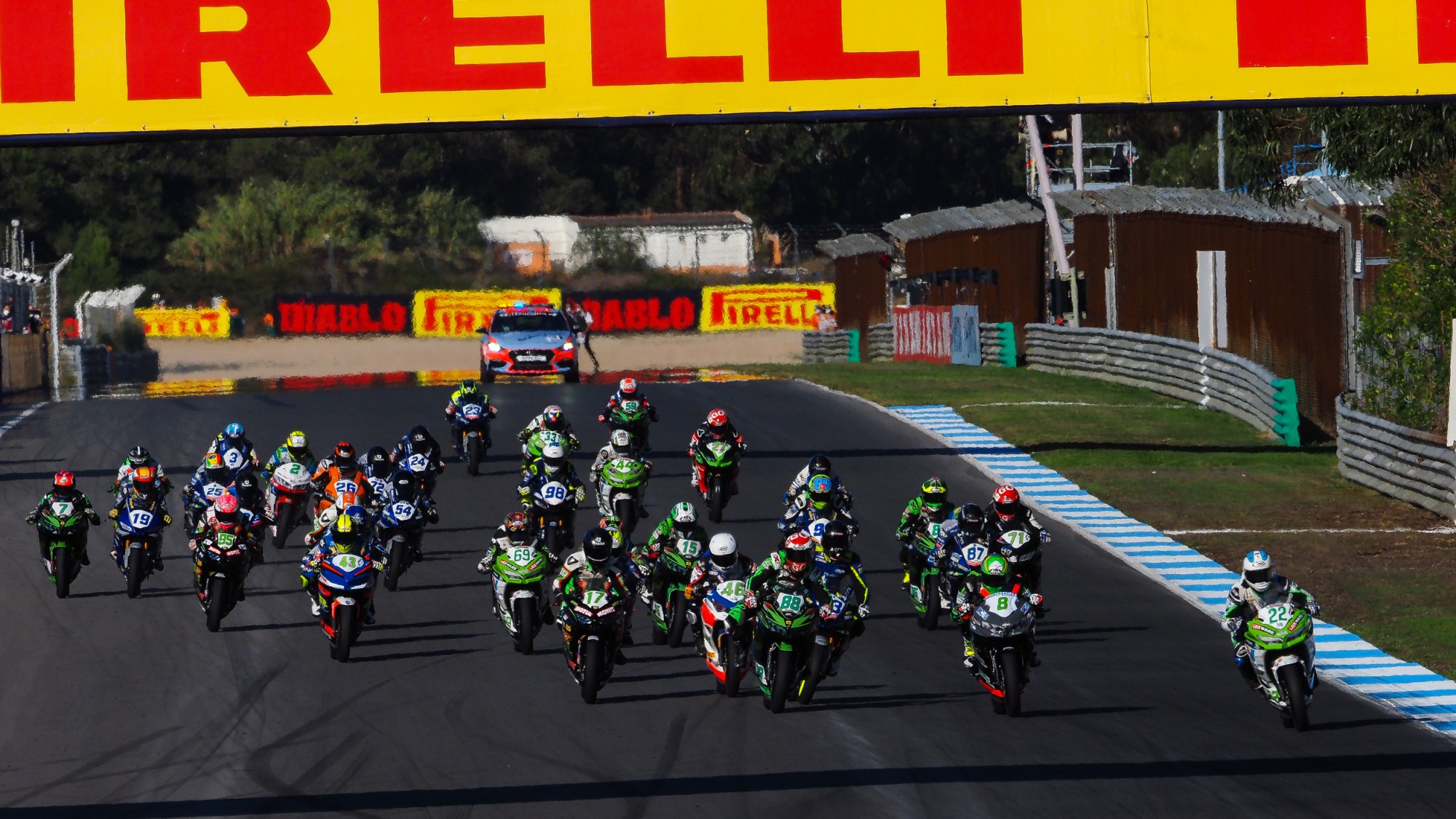 Take a look at just some of the history-making statistics set throughout the 2020 WorldSSP300 season
After a thrilling FIM Supersport 300 World Championship came to a tense conclusion, it's time to look back on some of the numbers behind the action after a record-breaking and historic season as teammates Jeffrey Buis (MTM Kawasaki MOTOPORT) and Scott Deroue engaged in a titanic title battle. Besides them however, Unai Orradre (Yamaha MS Racing) made history as well as the high numbers of winners at ten, being a new record in the class.
509 – Scott Deroue is the first rider to surpass 500 points in WorldSSP300 as he has now scored 509 points in his four seasons.
221 – Jeffrey Buis scored the most points ever in a WorldSSP300 season with 221, with the caveat that 2020 had more races than any other season – with two races per weekend.
41 – 41 different riders scored points throughout the 2020 season which matches the number from 2019.
34 – The 34-point winning margin from Jeffrey Buis to Scott Deroue was the largest in WorldSSP300 history, beating the 2019 margin between Manuel Gonzalez and Deroue (30 points). In both 2017 and 2018, the title was decided by just one point.
26 years, 1 month, 2 days – Koen Meuffels (MTM Kawasaki MOTOPORT) became the oldest winning rider in the final race of the season as he won just one more after turning 26.
16 years, 3 months, 24 days – in contrast, at just 16 years old, Unai Orradre became the youngest ever WorldSSP300 winner with victory in Race 1 at Jerez.
15.79 – Jeffrey Buis averaged 15.79 points per race in 2020, the second-best record in WorldSSP300. Manuel Gonzalez has the best record of points per race with 17.89 in 2019.
14 ­– 2020 featured more races than any other WorldSSP300 season thanks to the new two-race format, with 14 races across seven rounds; four more races than the previous record.
12 – 12 different riders stood on the podium throughout 2020, the most since 2018 when 14 riders claimed a spot on the rostrum.
9 ­­– The 14 fastest laps were shared between nine riders, the highest number of riders to claim a fastest lap in one season. Only three riders claimed multiple fastest laps: Ana Carrasco (Kawasaki Provec WorldSSP300) (4), Jeffrey Buis (2) and Samuel Di Sora (Leader Team Flembbo) (2).
8 – In Race 2 at the Circuit de Barcelona-Catalunya, eight riders finished within a second of the winner; the second highest ever (one behind TT Circuit Assen from 2019, with nine).
6.870s – Jeffrey Buis' first win of the season and his career was the second-biggest winning margin in WorldSSP300 history as he won Race 1 at MotorLand Aragon by 6.870s.
6 – Dutch riders claimed six wins throughout 2020 (Jeffrey Buis 4, Scott Deroue 1, Koen Meuffels 1) which doubles the total from the Netherlands from 2017-2019.
3 ­– Kawasaki claimed its third consecutive Manufacturers' Championship in WorldSSP300, meaning it has won all but one Championship since the Championship started in 2017.
2 – Bahattin Sofuoglu (Biblion Motoxracing Yamaha WorldSSP300) claimed two wins in 2020; the first two wins for Turkey in the Championship
2 – Tom Booth-Amos (RT Motorsport by SKM-Kawasaki) claimed Great Britain's first two pole positions in WorldSSP300 when he claimed pole at Catalunya and Magny-Cours.
1 – For the first time, a rider not from Spain won the Championship as Dutchman Jeffrey Buis claimed the 2020 World Championship.
1 ­– Both Japan and Great Britain scored their first wins in WorldSSP300 in 2020 with Yuta Okaya and Tom Booth-Amos claiming wins.
0.863s – The largest gap in Tissot Superpole sessions was 0.863s with Meikon Kawakami (Team Brasil AD 78) claiming pole position at Jerez.
0.035s – The smallest margin between first and second on the grid, with Tom Booth-Amos and Yuta Okaya at Catalunya. Both riders would go on to take their first wins in the class and subsequently, the first wins for their respective countries that weekend.
0.013s – The smallest winning margin of the season came in Race 1 at Circuito Estoril when Mika Perez (Prodina Ircos Team WorldSSP300) held off Koen Meuffels by just 0.013s. This was also the second-closest finish of all time.
Review the thrilling 2020 season and look forward to more action in 2021 with the WorldSBK VideoPass!