Going the distance
Thursday, 15 October 2020 11:03 GMT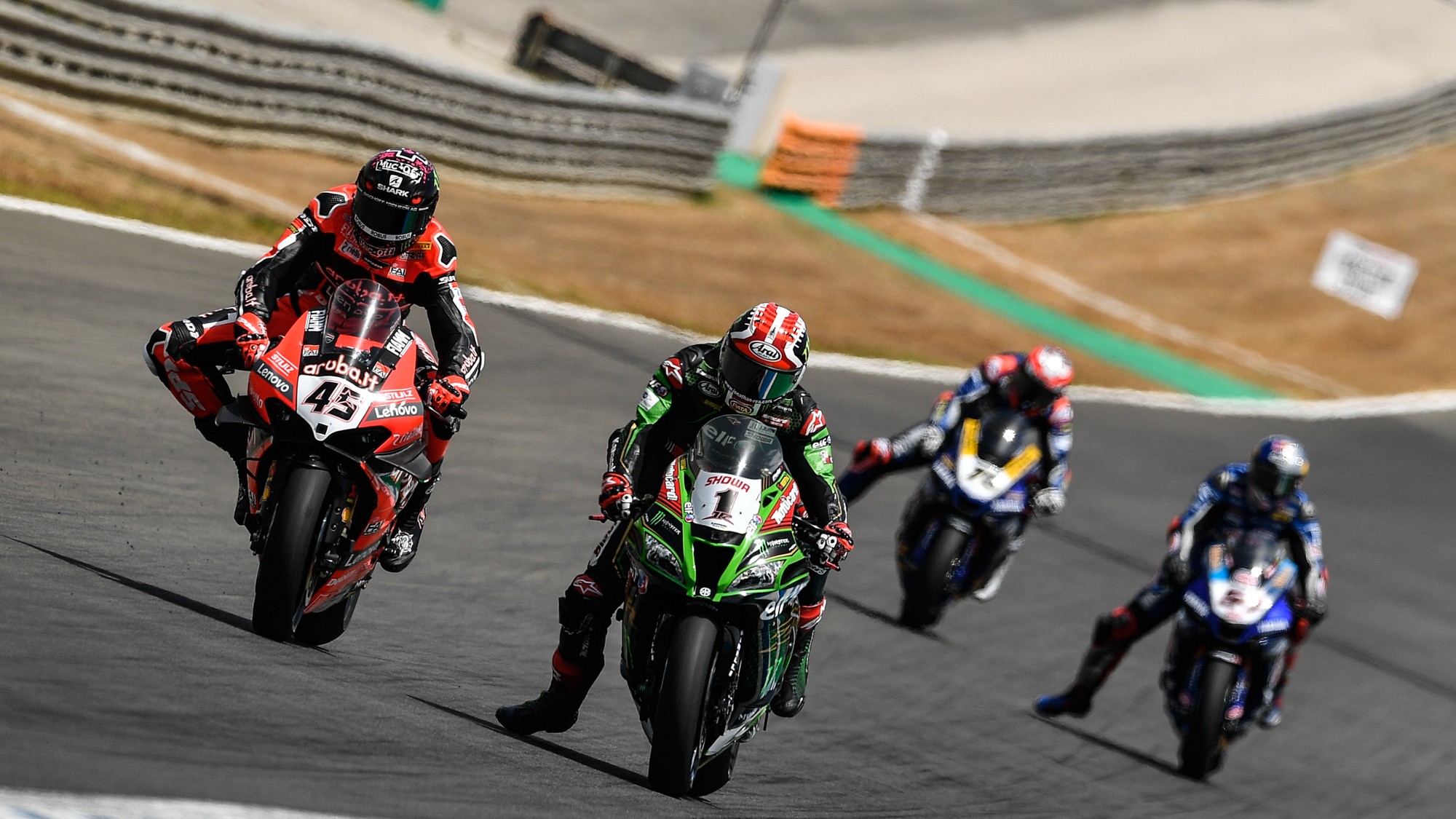 On track there's been little to separate Jonathan Rea and Scott Redding but again, consistency has been key for KRT's star. Commentator Steve English spoke with both ahead of 2020's grand finale.
The WorldSBK title fight goes down to wire at Estoril. With a 59-point lead, Jonathan Rea has nine fingers on the trophy and is ready to lift it but after the most unique season in the Championship's history, he'll not be taking anything for granted. The battle distilled to the expected scrap between Jonathan Rea and Scott Redding. Kawasaki versus Ducati. Champion versus rookie.
Of course, Redding doesn't see himself as a rookie; a veteran of eleven seasons in Grand Prix racing and a BSB champion, he was ready to hit the ground running in 2020. From Round 1 at Phillip Island, he showed himself to have the speed to be at the front but the season hasn't been perfect. The nature of a year with so many races in a short period of time possibly hurt Redding's chances more than anyone realised at the time.
"It's been great to be involved in WorldSBK," said Redding. "Having the first round and then so much time off didn't really affect my riding but I think that we missed time developing the bike because it's been a sprint season. We've won races, we've led the Championship, we've battled with the best of the best in WorldSBK but we've had some tough weekends that put us on the back foot a little bit for the Championship. I knew coming into the season what I had to avoid doing. The crash in Aragon was something that I knew I'd have to avoid, but I've really enjoyed being in the mix."
Aragon was certainly one that got away for Redding. While Rea said it was "two of the best races of his career" to win there, his rival was left looking at what might have been. At the time, his mindset seemed preoccupied with things that he couldn't do – using the softer SCX tyre in the race – and it seemed that he had taken his eye off the ball. Ultimately, Redding felt that this was due to trying to find a way to get the most out of the bike.
"I needed to beat Jonny and I was looking in areas where I could take a gamble and see if it pays off. It was such a tough decision in Aragon about whether it was worth using the SCX. We're a great package but we still need to understand more. The good thing for Jonny is that he's always the fastest guy on a Kawasaki so he's not looking at guys that are faster than you on the same bike. When that happens, you've to look at why it's happening. He doesn't have that issue so that means that he doesn't doubt his decisions whereas I'm confident in what I've chosen; I look at what other riders are doing; if they've gone for a big step in a different direction, because Rinaldi humiliated everyone with the SCX at Aragon, I have to look at those possibilities."
That defeat by Rinaldi was an eye-opener for Redding in many ways. From that point onwards, he had to deal with Rinaldi and Chaz Davies as close competitors on the Ducati. Whereas Rea was able to fight on a single front by trying to beat Redding for the title, his rival was fighting to beat his fellow Ducati riders. It was another example of how the Ducati can be a fantastic bike when everything is perfect but tricky to get the most out of if it's not in that perfect operating window.
"There's a very small window with this bike and when it works, it's great and you can win. When it doesn't work, it's not great and you're fighting for a podium or a top five. With the Kawasaki, when it's good they can win and when it isn't, Jonny is still second or third. That's the difference that it takes to win Championships. We just need to tweak the bike for different tracks, different conditions and different circumstances. I think that's where we need to work for the future."
Getting the most from the Kawasaki has been the key to Rea's success since 2015. Five titles in a row and closing in on a sixth has made for an unparalleled career but it's his relationship with his team and his crew chief, Pere Riba, that sets him apart. The trust and belief in each other means that confidence keeps building year on year.
"We know our strengths and weaknesses inside and out," said Rea. "You can't make a bike do what it doesn't want to do and I feel that I've always gotten the best out of our package. I think that other riders haven't done that with their bikes at times but they're now figuring out how to do that and how to be more consistent. It's very competitive now and I think that everyone else is now more consistent over a full season.
"I really believe that Riba is one of the best crew chiefs in the world. I know that he's been approached by MotoGP™ teams in the past but he's always wanted to stay. I feel very lucky to have him and I never doubt him. I'm very lucky to have people like Pere or Fabian Foret to not be afraid of telling me that I'm making mistakes or that I'm struggling. They don't mind telling me that I'm wrong and that I need to change. That's not easy when you're winning races and leading the Championship because it'd be easy to think everything is perfect but they always keep telling me what I need to hear and not what I want to hear. We all respect each other so much."
Join the final showdown of 2020: enjoy all the action at Estoril with the WorldSBK VideoPass!