Carrasco remains with Kawasaki Provec for 2021 title challenge
Thursday, 29 October 2020 14:05 GMT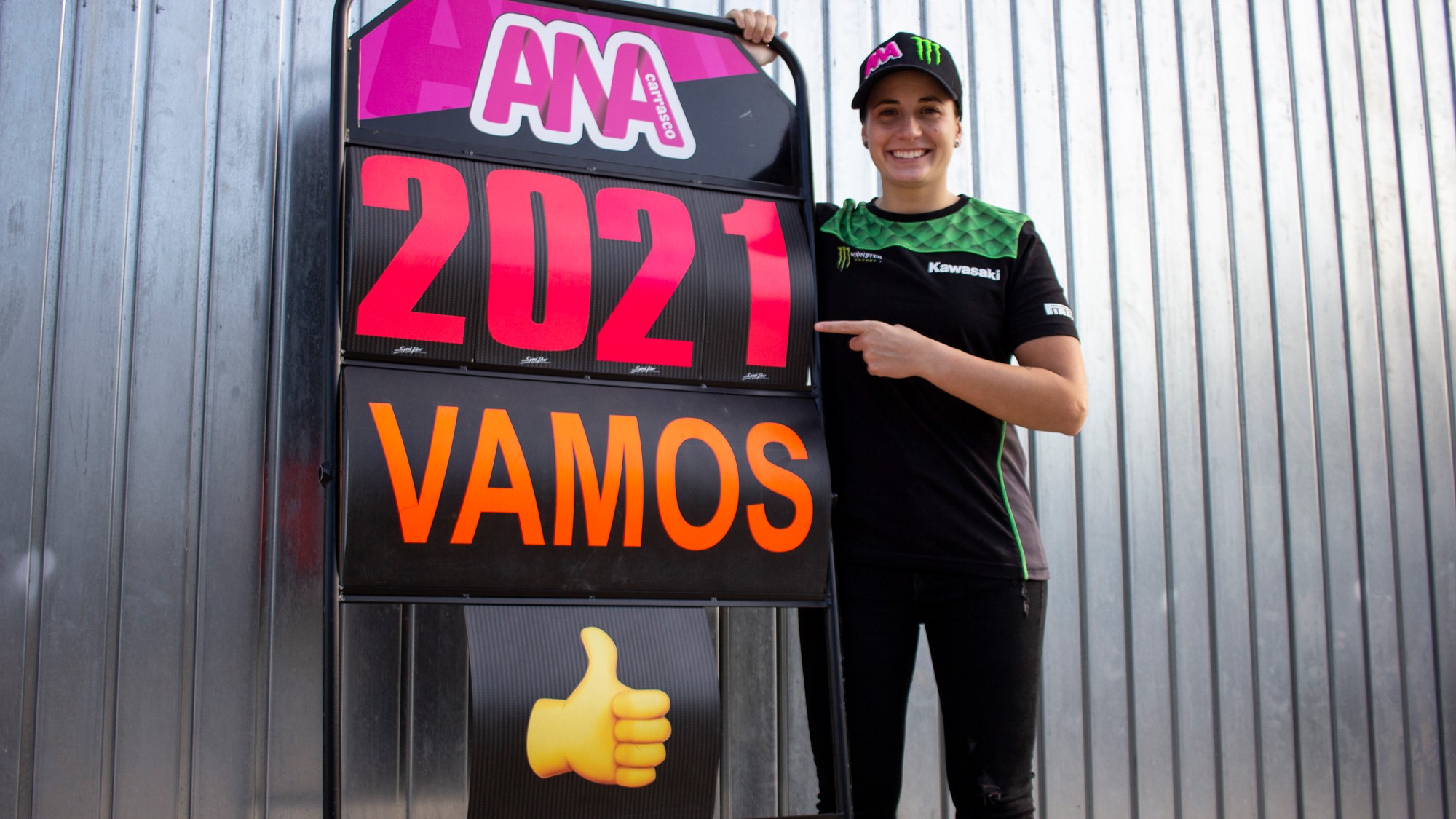 The 2018 WorldSSP300 Champion will compete in the Championship for a fifth consecutive season
A familiar face will return to the 2021 grid for the FIM Supersport 300 World Championship as Ana Carrasco will remain with Kawasaki Provec WorldSSP300 as she looks to win her second World Championship in WorldSSP300 as she once against links up with the Provec-run Kawasaki outfit as she continues to be a trailblazer in motorsport and looks to make more history in the Championship.
Carrasco claimed one victory in the 2020 season which was curtailed due to an injury sustained in a testing crash at Circuito Estoril, meaning she missed the final six races of the season. Her strong start, which featured three podiums including her solitary victory in eight races, meant Carrasco was able to still claim a top ten Championship finish as she finished in eighth.
The Murcia-born rider has claimed six wins across her four seasons in WorldSSP300 with 11 podiums in total from 34 races and has finished in the top three in the Championship on two occasions; winning the World Championship in 2018 and claiming third spot in 2019. In her first season in WorldSSP300, Carrasco finished in eighth place and she repeated that with her disrupted 2020 campaign.
Carrasco, who suffered several fractured vertebrae in the crash, has been focusing on her recovery with the vertebrae now successfully fused, said: "2018 was a very special year for me and, in some ways, it only feels like yesterday. Winning the WorldSSP300 World Championship for sure changed my life forever. Not only had I achieved one of my life goals but also I became a symbol for other women to aspire to make their dreams real. On the grid, I am a racer like anyone else, not a woman but a competitor. It's on this level I will race with the support of Provec and Kawasaki in 2021 and my desire to win the championship a record second time has been the fuel for my recent recovery. I want to thank not only Kawasaki and Provec, but also all our partners and sponsors that even in this Covid situation and despite the injury they support this project for coming season."
Provec runs both the WorldSSP300 team and the Kawasaki Racing Team WorldSBK which has had so much success in recent years, including six consecutive riders' titles with Jonathan Rea. Guim Roda (Team Manager at KRT as well as working with Provec) added: "Both Ana and the Provec team have unfinished business in the WorldSSP300 Championship. There is such a depth of support for her in Spain and across the world which psychologically seems like it's worth a second per lap off her times. We have the machinery, the expertise and, most importantly, the rider to succeed in the coming season. This is a project only built for Ana, her effort will benefit the WorldSSP300 Championship and secures incredible media exposure to all Championships and to Kawasaki, so we feel our obligation to secure her a competitive project to keep making history. She deserves, as a rider, and as a person, this effort – for sure, 2021 will be her time to make history once more."
Steve Guttridge, Race Planning Manager at Kawasaki, explained why this was a logical fit between the parties: "Since its inception, Kawasaki has been the major player in this Championship and for 2020 we remain manufacturers', teams' and riders' champions. Success on track for the Ninja 400 is matched by interest in Kawasaki showrooms across the globe. For us this strong connection between racing and our customers is one of the things that makes this Championship so attractive. For Kawasaki, Ana is what you could call the "final part of the jigsaw"; a former World Champion for Kawasaki and a globally recognised athlete in her own right. Her fight back to fitness is characteristic of her determination on track. Kawasaki and Provec are both determined to play a part in her journey towards a second World Championship in 2021."
Follow all the action throughout 2021 using the WorldSBK VideoPass!