Bullet points from Max Biaggi: debriefing ahead of racing at Aragon…
Saturday, 29 August 2020 06:09 GMT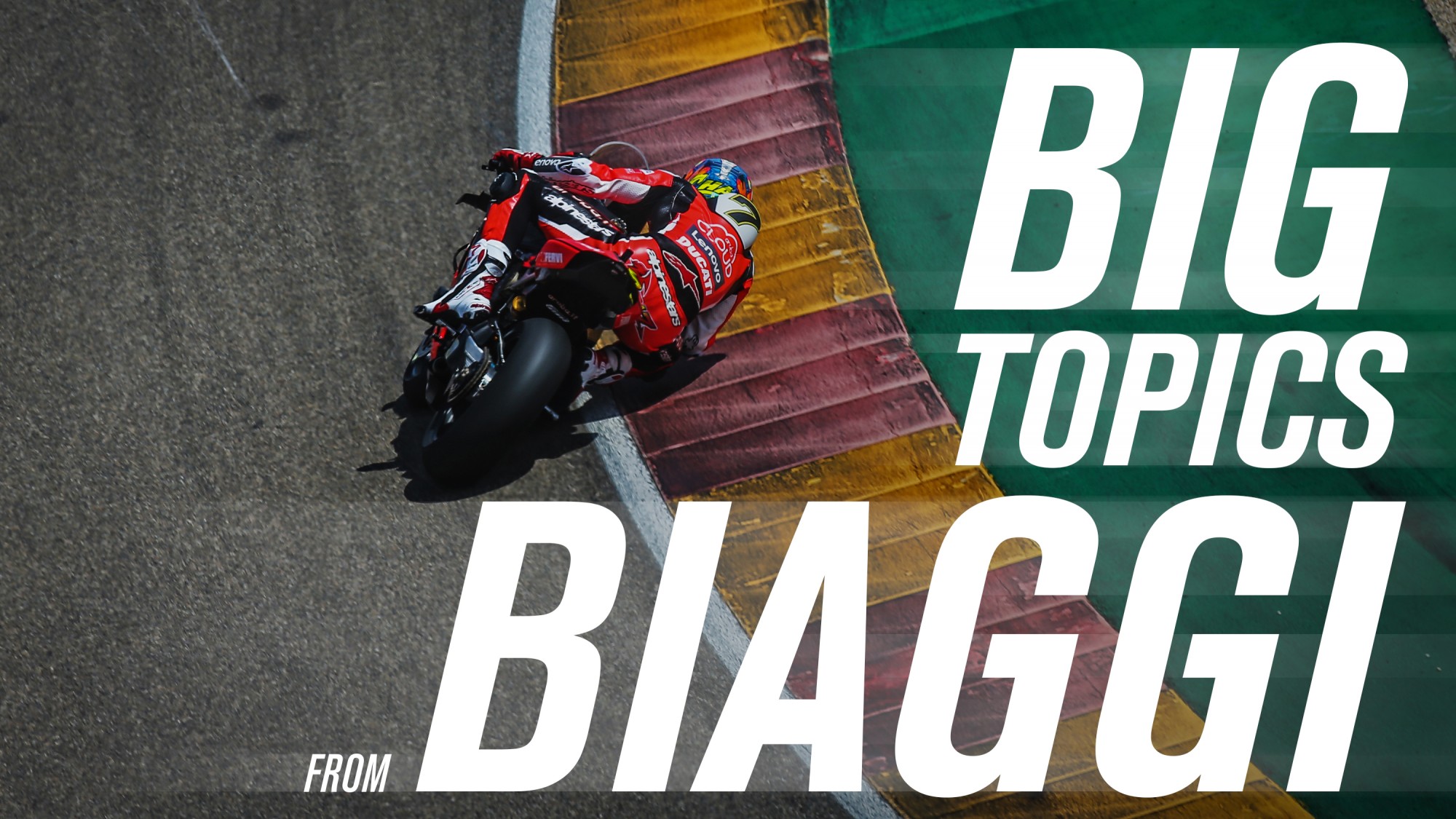 The double WorldSBK Champion expresses his insight into the title race, why Ducati are performing well and how Honda's development has great potential…
Ahead of the first race day at the MotorLand Aragon venue for the Prosecco DOC Aragon Round, double World Superbike Champion Max Biaggi discussed a variety of topics. Some had made the headlines before the round got underway, whilst he also spoke about well many topics that have come to light during the round. From the battle for the Championship lead, the Spanish heat and his "disappointment" at not seeing Eugene Laverty at BMW, 'The Roman Emperor' left no stone unturned.
What is the key to Ducati's success at MotorLand Aragon?
"From my point of view, there is no secret that Ducati have become very competitive since they introduced their new V4 R. Besides that, I think they have an advantage of having the strongest engine overall in the class and they develop all the areas of the bike. I think Chaz has also been very fast there, and I remember him in 2012 that with the Aprilia, he was very fast there too. Maybe Jonathan Rea can stop them but on the main straight, I think Ducati is still stronger!"
Rea vs Redding: who will be the Championship leader after this round and why?
"It's a big question but I will say that still Jonathan is able to manage it. If both riders crash, then Jonny will still be in the front. Scott will still be strong in the race but at the end of the day, if Jonny and Kawasaki can find a way to not lose so much time on the straight, then they will come away from Aragon with the Championship lead."
Alvaro Bautista developing is developing the new Honda: a mixed first day at Aragon, what will he be thinking?
"I saw he had an issue with the engine, and it cost them all of FP2. It is never easy; of course, Honda can make a very good bike but they need some time to find the correct balance and points. For sure, Bautista is in a good spot with a strong manufacturer behind him, but they need some time to catch up with Ducati and Kawasaki, as they have developed their bikes every year. Honda have been away from WorldSBK as a factory for a long time, so I think in the end, they will be there, but they need time."
BMW have completed their line-up for 2021 just this week: what are your thoughts and are they more relaxed?
"For sure they have a program and they made very early announcements, then they will have a strong program coming out with both Michael van der Mark and Tom Sykes. On the other hand, I am very disappointed that Eugene Laverty is not aboard; he has a great potential and has great sensations to develop a motorcycle. In a racing Championship, there is never time to rest or relax because when you're behind, you try to catch up with those ahead, so you need to go faster. There's always a big rush to get a bike better."
Aragon in summer: how to beat the heat?
"I think as always that high heat makes problems for grip, but I think that Aragon is not so bad for that. Anyway, the layout of the track has long corners with the same angle for a long time, and that isn't easy for the riders – but it will make their skill shine more. The way you set-up your bike with the electronics, traction control etc, it is crucial."
What's the most technical part of MotorLand Aragon to get right?
"Turn 10, 11 and 12 are very hard to get right, the long, left-handers at Aragon are difficult. If you can be fast there, then it is good but then is harder to be strong in the esses and direction changes. You need a lot of support from the rear of the bike to have stability, especially when the tyres are going off; that is when you're going to pay the most."
Don't forget to enjoy the round's races in style with the comprehensive WorldSBK VideoPass!